Always scroll to the bottom of the page for the main download link.
We don't believe in fake/misleading download buttons and tricks. The link is always in the same place.
---

Cyotek Color Palette Editor v1.7.0.411

Color palette editing made easy

Cyotek Palette Editor allows you to create and work with colour palettes, in a variety of formats such as JASC, GIMP and Adobe Photoshop. Palettes can be created from scratch, imported from other palettes or created from images. Easy editing is provided using RGB or HSL color spaces, although palettes using CMYK can also be opened. Palettes can be converted between formats (including batch conversion), or swatch images exported.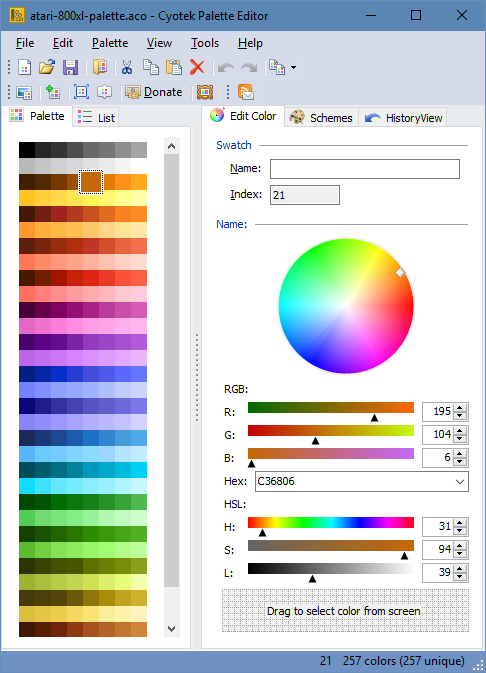 Minimum Requirements

Windows 10, 8.1, 8, 7, Vista SP2
Microsoft .NET Framework 4.6
20MB of available hard disk space

Cyotek Palette Editor has a small but growing set of powerful features.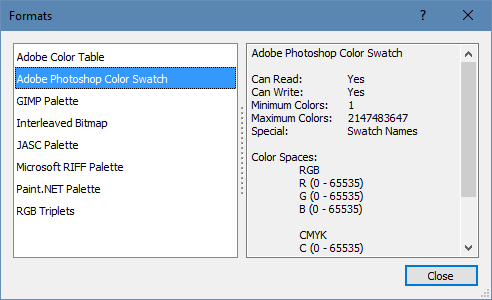 Multiple palette formats

Out of the box Palette Editor supports multiple file formats including Adobe Photoshop, Microsoft RIFF, Gimp and JASC.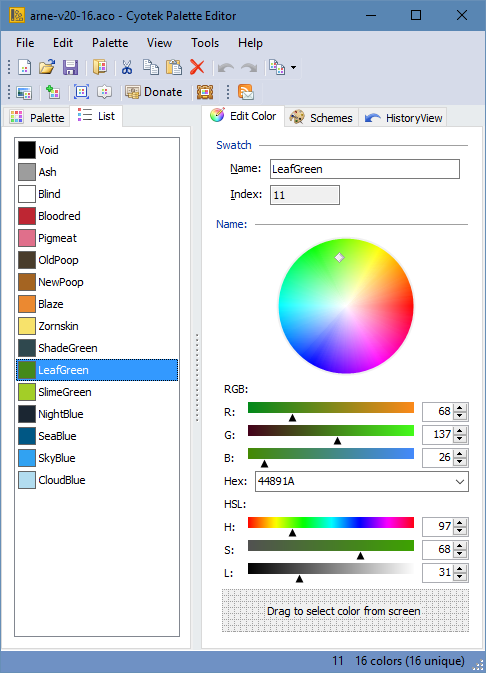 Easy to use

The editor features a simple interface to allow you to edit a palette without distraction. Enter colours using hex, RGB or HSL notations. Duplicate colours to make variations, or import from external files.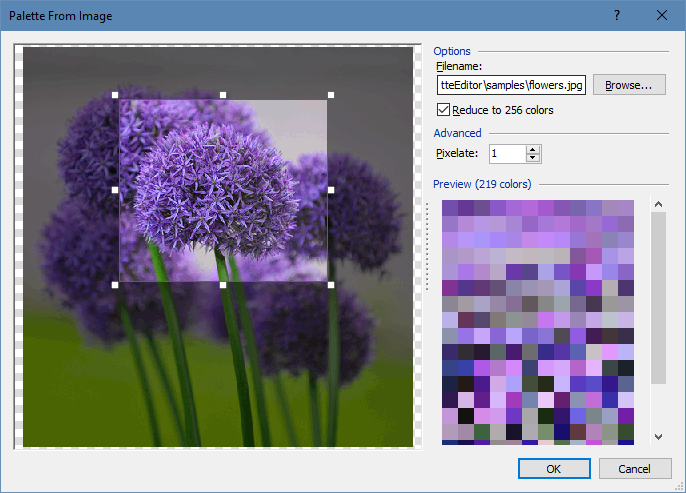 Create a palette from an image

As well as creating palettes from scratch, you can get a helping hand by generating a palette from all or part of an existing image.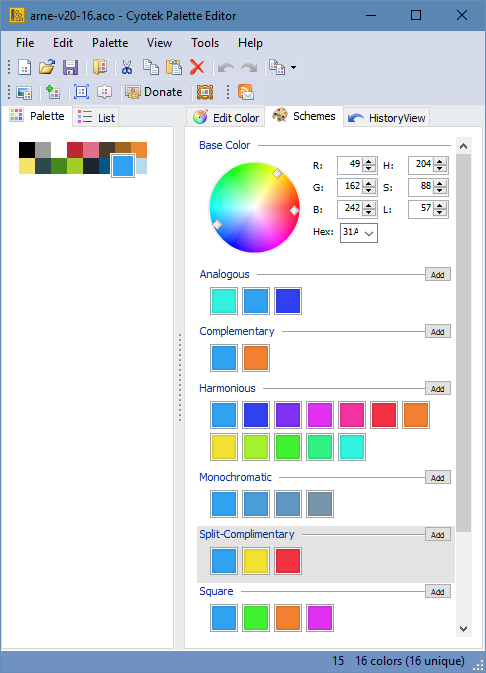 Dynamic palette schemes

Automatically generate colour from a base color using a variety of harmonious schemes.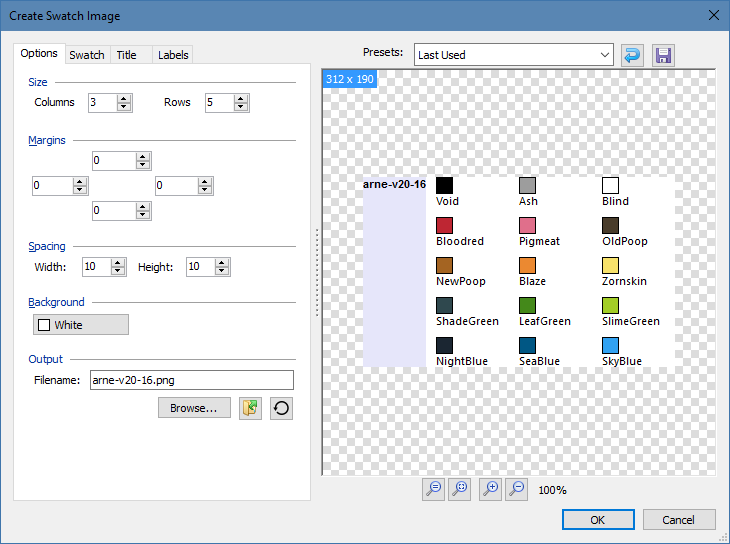 Generate swatch image

Create a swatch image containing the contents of a palette - perfect for online previews. Images can be customised in a number of ways, and reusable presets saved.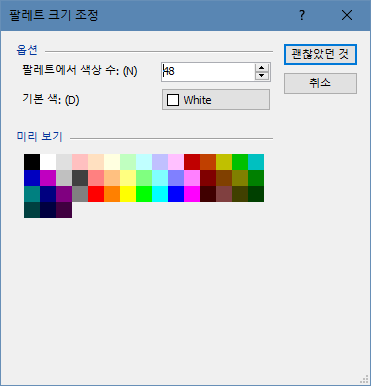 Localised

Beta localisation support means you can enjoy using the product in your native language. Is your language not listed?







Cut, Copy, Paste

Cyotek's Palette Editor allows you to copy colours to the clipboard in a variety of formats, and paste colours back into the palette as well.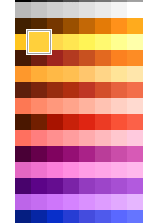 Reordering of colour swatches

In addition to several methods for automatically reordering colour swatches, you can also do this manually - both by drag and drop, or with the keyboard.






Import and Export

Existing palettes can also be imported into the current palette as required. You can also export palettes to a variety of formats.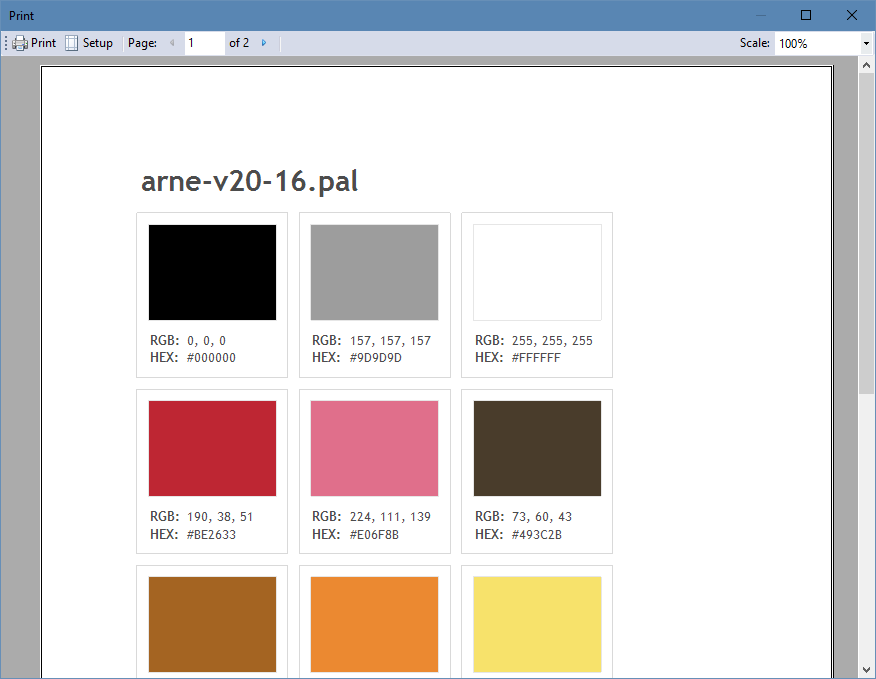 Printing

As well as being able to generate HTML swatch sheets, you can also directly print swatch sheets from within the palette editor.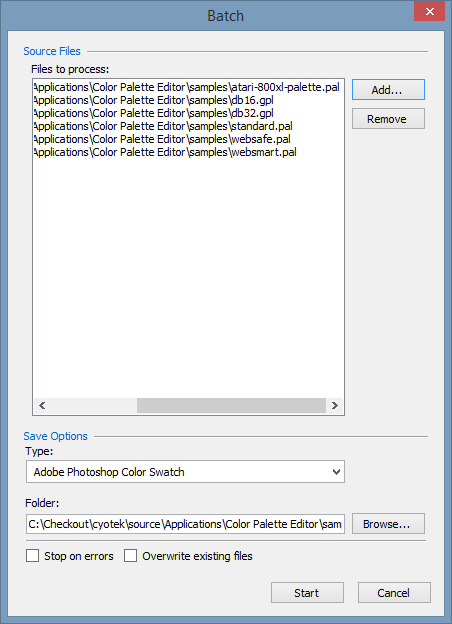 Batch Conversion

Have colour palettes in different formats? Use the Batch tool to convert a series of source palettes into alternative formats.

Changes:
Version 1.7.0.411 08 June 2021
Added

Added initial support for Adobe Swatch Exchange palettes in RGB format [#27]
Added initial support for CorelDRAW PAL/XML palettes in RGB, HSL, CMY and CMYK format [#42]
Added support for Hex palettes [#301]
Added support for Gravit Designer palettes
Added new Reverse Palette command
Added new Variations view, allowing easy selection of a colour based on an existing hue
Added automatic translations for Arabic and Czech
Added a new function for submitting colour palettes that the editor can't open for analysis
Templates can now be duplicated via the Template Manager
Added a new guid tag for use in templates to generate new globally unique identifiers
Added a new modal dialogue for editing a colour
The Batch Conversion dialogue now has new options for padding converted palettes to a minimum size
Added Save Copy As command
Added new Compare command for comparing one palette with another
Added new nocrashreport switch to command line clients
Command line clients can now display solution information when reporting crashes [#201]
Pressing the Insert key in the colour grid now adds a new swatch

Changed

Attempting to open an image file will now initiate the Palette From Image action
When adding a new swatch, it is now added after the currently selected colour, rather than always at the end of the palette
Formats dialogue now includes file extension information
Tabbed or tree based option/property dialogues now include a search field
Batch conversion log output is now displayed in the batch dialog, rather than a pop-up dialogue
Minor improvements to External Tools dialogue
Minor start-up improvements
No longer forced to run as 32bit in 64bit environments
Setup now uses InnoSetup 6.1

Fixed

Empty analytics sessions are no longer transmitted
Template output no longer includes UTF8 BOM's [#266]
The Feedback extension crashed if the application language was set to a value other than English [#283]
Fixed an issue where it was possible that text tokens weren't replaced
Setup would display an error stating Unknown custom message name "lcid" if an appropriate version of .NET Framework was not installed and was required to be downloaded by Setup
Uninstall should no longer prompt for feedback when running Setup to upgrade an existing installation
A crash would occur when executing a template and no default extension was set [#299]
Setup now includes all available languages when using the default Typical installation
Preset manager no longer correctly handled some data types causing the Create Swatch Image dialogue to crash when trying to use a preset [regression]
Corrected some settings that weren't being cached
Exception reports no longer include the user name of the current user
Exception reports no longer include the raw host name
Backup files had the wrong file extension (regression)
Partial output is no longer printed by CLI tools when using the quiet switch
Statistics are now printed when using the statistics switch even if quiet is also specified
All output is now correctly written to log files when the log switch is used, irrespective of the quiet switch setting
Setup programs were only signed with SHA256, meaning Windows Vista couldn't read the signatures
Setup tried to install .NET 4.6.2, causing an installation failure on Windows Vista which only supports 4.6.0
Fixed a crash that could occur when closing the options dialogue after switching views
Windows that save their position and size should no longer keep increasing in size each time the window is opened and a custom font is being used with a point size above 8
Options dialogues are now slightly more usable when using custom fonts with a point size above 8
Photoshop Swatch palettes could be subtly corrupted if the number of colours in the palette was 256





Click here to visit the author's website.
Continue below for the main download link.