Always scroll to the bottom of the page for the download link.
We don't believe in fake/misleading download buttons and tricks. The link is always in the same place.
---

OpenMPT v1.29.07.00

OpenMPT is a popular tracker software for Windows. OpenMPT (short hand for Open ModPlug Tracker) is completely free and allows you to create and play back some great music on your computer. Based on the original ModPlug Tracker written by Olivier Lapicque, OpenMPT is free software, can import a wide variety of module formats and offers an intuitive, native GUI as well as advanced features such as VST plugins and ASIO output.
In addition to its own song format, OpenMPT can natively edit Impulse Tracker, FastTracker, Scream Tracker and ProTracker module files.


Features

OpenMPT is being developed since 1997 (initially named ModPlug Tracker) and can be used as a "classic" sample-based tracker to edit and play your favourite tracked music, but also as a modern DAW with plugin support and other great features. Here, you can find some of the key features of the tracker.
General

Native and fast Windows GUI – accessible by screen readers and suitable for blind users
No installation needed, fully portable
VST effects and VST instruments supported
DirectX audio plugins (DMO effects) supported
Fully configurable keyboard layout (OpenMPT comes with key maps in various flavours including Impulse Tracker and Fasttracker 2 style, as well as a Dvorak layout) - shortcuts can also be bound to MIDI CCs.
Support for multiple sequences ("songs") in one file - write entire soundtracks in one little module file!
Support for custom tunings
Suitable for live performances: Queue patterns, automate VST parameters using a MIDI keyboard, start and stop your modules with MIDI messages…
Decimal tempos are supported for perfect syncing with other sound sources.
Templates can be used to quickly access often used combinations of samples, pattern, instrument, plugin,… settings.
Built-in OPL3 emulator.
High compatibility with Impulse Tracker, Scream Tracker 3, Fasttracker 2 and ProTracker.

Editor features

True multiple document interface - open many modules at the same time and copy&paste between them!
Tabbed layout
Support for drag and drop in various places
Fast access to various places through the treeview: Load modules, samples and instruments directly from the treeview's built-in file browser
Up to 127 channels for editing (256 virtual channels)
Two editor modes: MOD / XM and S3M / IT effect notation
Many supported sample and instrument formats: WAV, FLAC, W64, PAT, S3I, SBI, AU, CAF, SMP, ITS, RAW, AIFF, 8SVX, DLS, MSS, SF2, XI, ITI, SFZ, Ogg, Opus, MP3 and more through Media Foundation codecs!
A versatile sample editor with useful features like sample normalization, DC offset removal, phase inversion, amplification, high-quality resampling, etc… You can even draw your own samples using the mouse!
Record live from your MIDI keyboard directly into the patterns or send pattern notes to any external MIDI device
Automate VST plugins directly from the patterns and write automation data directly into the pattern when turning the knobs on your VST interface
Edit one module in multiple windows, e.g. on several monitors

Audio output

Output via WaveOut, DirectX or low-latency ASIO, WASAPI and Kernel Streaming / WaveRT
Up to 192 kHz, 32-Bit, quad surround
Several resampling algorithms are available
Built-in global equalizer to correct for sound system deficiencies

Supported file formats
Loading
Modules

Composer 669 / UNIS 669 (669)
ASYLUM Music Format / DSMI Advanced Music Format (AMF)
Extreme's Tracker / Velvet Studio (AMS)
CDFM / Composer 670 (C67)
Digi Booster Pro (DBM)
Digi Booster (DIGI)
X-Tracker (DMF)
DSIK Format (DSM)
Digital Tracker / Digital Home Studio (DTM)
Farandole Composer (FAR)
General Digital Music (GDM)
Ice Tracker / SoundTracker 2.6 (ICE / ST26)
Imago Orpheus (IMF)
Impulse Tracker (IT)
Impulse Tracker Project (ITP)
Jazz Jackrabbit 2 Music (J2B)
SoundTracker and compatible (M15 / STK)
DigiTrakker (MDL)
OctaMED (MED)
MO3 compressed modules (MO3)
ProTracker / NoiseTracker / etc. 1 - 99 channels, 15 or 31 samples (MOD)
OpenMPT (MPTM)
MadTracker 2 (MT2)
MultiTracker (MTM)
Oktalyzer (OKT)
Disorder Tracker 2 (PLM)
Epic Megagames MASI (PSM)
ProTracker 3.6 IFF (PT36)
PolyTracker (PTM)
ScreamTracker 3 (S3M)
SoundFX / MultiMedia Sound (SFX / SFX2 / MMS)
ScreamTracker 2 (STM)
SoundTracker Pro 2 (STP)
UltraTracker (ULT)
Unreal Music Package (UMX)
Grave Composer (WOW)
FastTracker 2 (XM)
Compressed modules in ZIP / LHA / RAR / GZ archives

Other

MIDI (MID) - OpenMPT is not a MIDI editor, though.
Uncompressed Wave (WAV)

Saving
Modules

Impulse Tracker (IT)
ProTracker 4 - 99 channels, 31 samples (MOD)
OpenMPT (MPTM)
ScreamTracker 3 (S3M)
FastTracker (XM)

Rendering / Exporting

PCM and Float Audio up to 192 KHz, 32-bit, quad surround (WAV, FLAC, AU)
Opus, Ogg Vorbis (built-in) and MPEG-1 Audio Layer III (MP3) through external codecs
MIDI (MID)


This download is for the 64bit version. If you need the 32bit version, download here.


OpenMPT 1.28 - Release Notes

It's been a while since the last major feature update, and we have been working on a bunch of great new features for this new version. This document should give a rough overview about the greatest changes in OpenMPT 1.28.
What's new?
General

First and foremost, to avoid some possible confusion: In order to use more standardized terms, some interpolation filters have been renamed: "XMMS-ModPlug" is now "Sinc", and "Polyphase" is now "Sinc with Low-Pass".
OpenMPT now supports synthesized FM instruments in S3M and MPTM files! S3M is one of the few tracker formats that allow both samples and FM instruments based on the OPL2 chip to be used simultaneously, and OpenMPT finally supports this rarely used feature. In fact, it even supports some OPL3 extensions (intended to be used in the MPTM format only), such as more operator waveforms, 18 instead of 9 simultaneous voices and left / center / right panning.
The LAME MP3 encoder is now shipped with OpenMPT. Lossy and lossless stream export are now done through the same menu entry / shortcut.
Previewing MIDI Library items associated with soundfonts now previews the correct instrument inside that soundfont.
Can now pass more than one file via command line parameter to open with OpenMPT. Use the /shared parameter to send the files to an existing OpenMPT instance rather than opening a new instance.
Added menu item and keyboard shortcut to save a copy of a module.
OpenMPT now warns if saving a module or MIDI export failed (e.g. because of insufficient storage space).
On Windows Vista and later, the Places bar in file dialogs now contains links to OpenMPT's default directories. On those systems, the new file dialog style is now also used when audio file preview is enabled.
Allow compatibility flags to be part of MPTM templates. They are still reset for legacy module types to always enforce maximum compatibility even when opening templates saved with an older OpenMPT version.
Wine 1.6 is no longer supported. The minimum required version is Wine 1.8.
New shiny icons, splash and about screens by Úlfur Kolka!

Pattern Editor

Effect memory is now also used for volume column input.
When using a custom pattern font, all ASCII characters are now usable for rendering custom note names in tunings.

Plugins

When showing a list of missing plugins on startup, you can now remove all or some of them.
"Pass keys to plugin" is no longer required to be activated when a standard input field is focussed in a plugin GUI to be able to enter texts.

Sample / Instrument Editor
OPL Instrument Editor

Add Apple CAF and Sony Wave64 sample import. Only basic uncompressed formats are supported and no detailed instrument or sample metadata is imported for now.
Add SBI OPL2 instrument import. To be able to save your FM instruments, you can now also use the S3I format.
It is now possible to optimize samples (Edit → Sample Trimmer) by automatically playing the whole song and recording how much of each sample is played.
Faster sample normalization.
Decreased memory consumption during saving of FLAC samples.
SFZ instrument export. Note that many instrument properties do not map cleanly to SFZ features, so this export is quite lossy.
In the envelope scaling dialog, it is now also possible to add an offset to the y axis.
Can now specify the color of the release node section of envelopes.

Playback

A couple of playback behaviours have been changed and improved:

The Amiga Resampler is now enabled by default for Amiga-type modules.
MIDI macros now support three new undocumented (but fully supported by Impulse Tracker) characters: h (tracker channel), o (sample offset) and m (sample loop direction).
In addition, MIDI macros now support the non-standard macro character s, which automatically calculates the correct checksum for a GS SysEx message.
NNA channel allocation did not handle instruments only associated to plugins correctly, causing VSTi NNA channels to be "lost" in many cases (unable to control with S7x).
More logical release node behaviour. The release part is now scaled by the ratio between the value of the key-off point and the release node. The old behaviour is retained through a compatibility flag.
A few more sensible IT compatibility flags are now enabled by default in MPTM files to be more consistent with IT.
Several compatibility fixes for MOD, XM and S3M files.

File Format Support

Can now import C67 (CDFM / Composer 670) files, another tracked music format supporting both samples and FM instruments.
An option was added to MIDI export to prevent instruments from overlapping on the same MIDI channel for more "classical" MIDI export rather than expecting each track to be sent to its own device / plugin.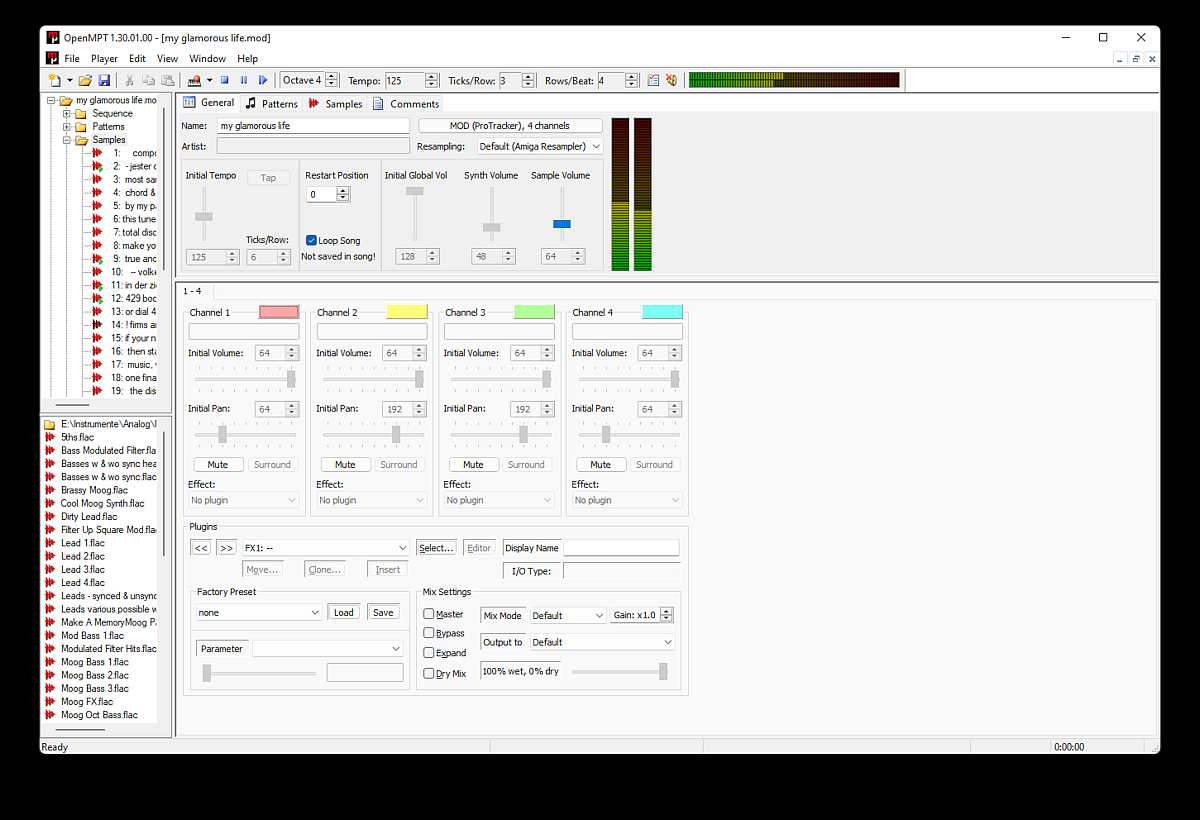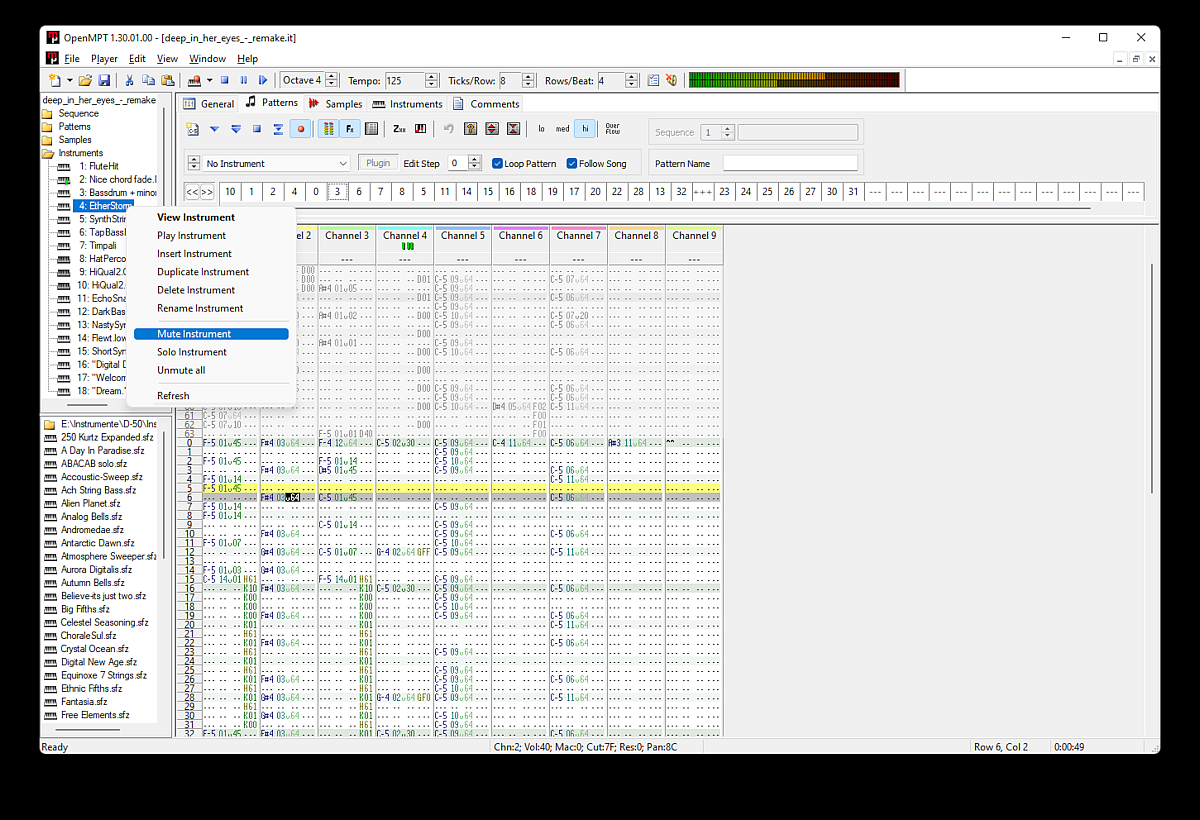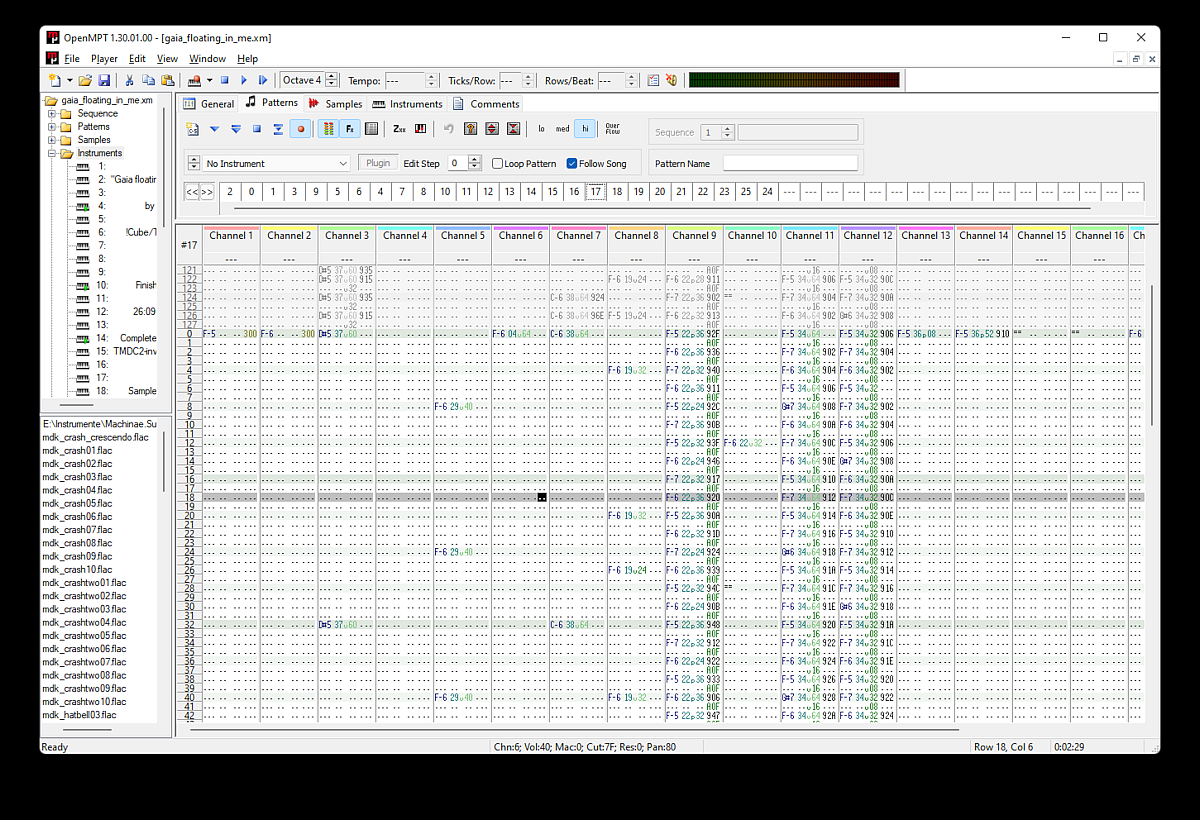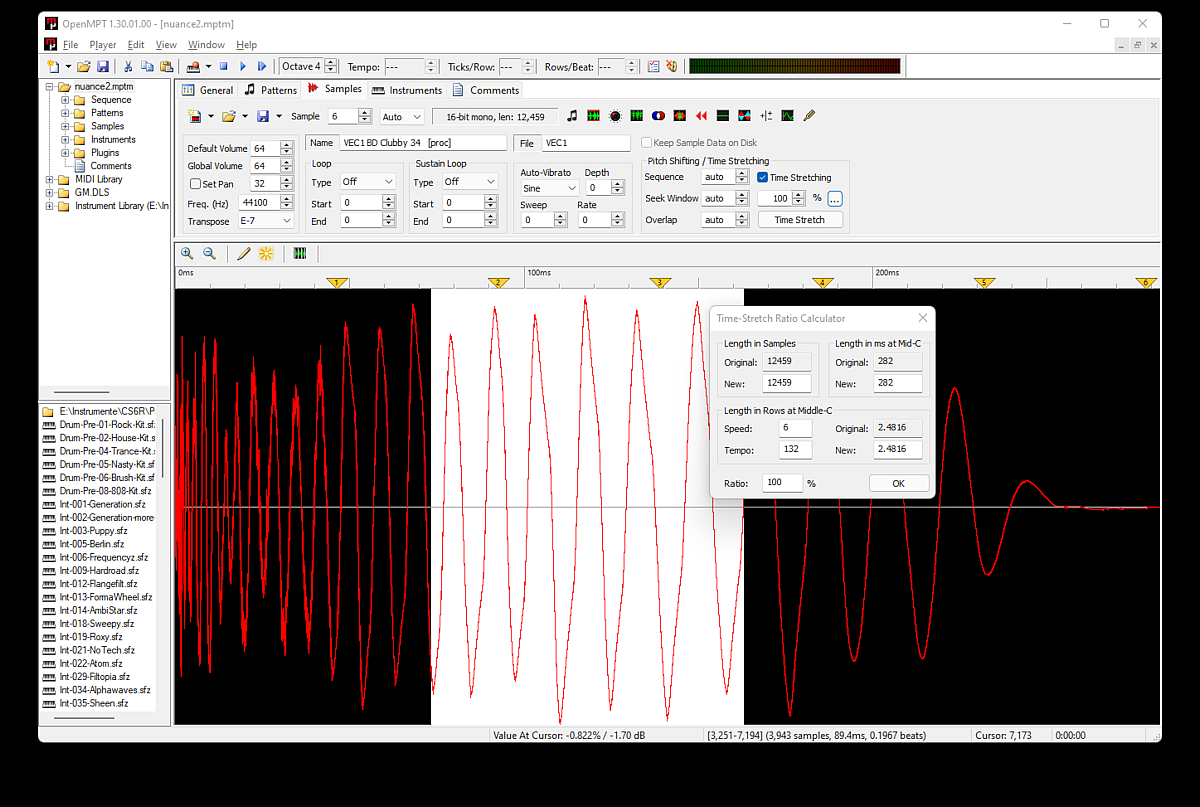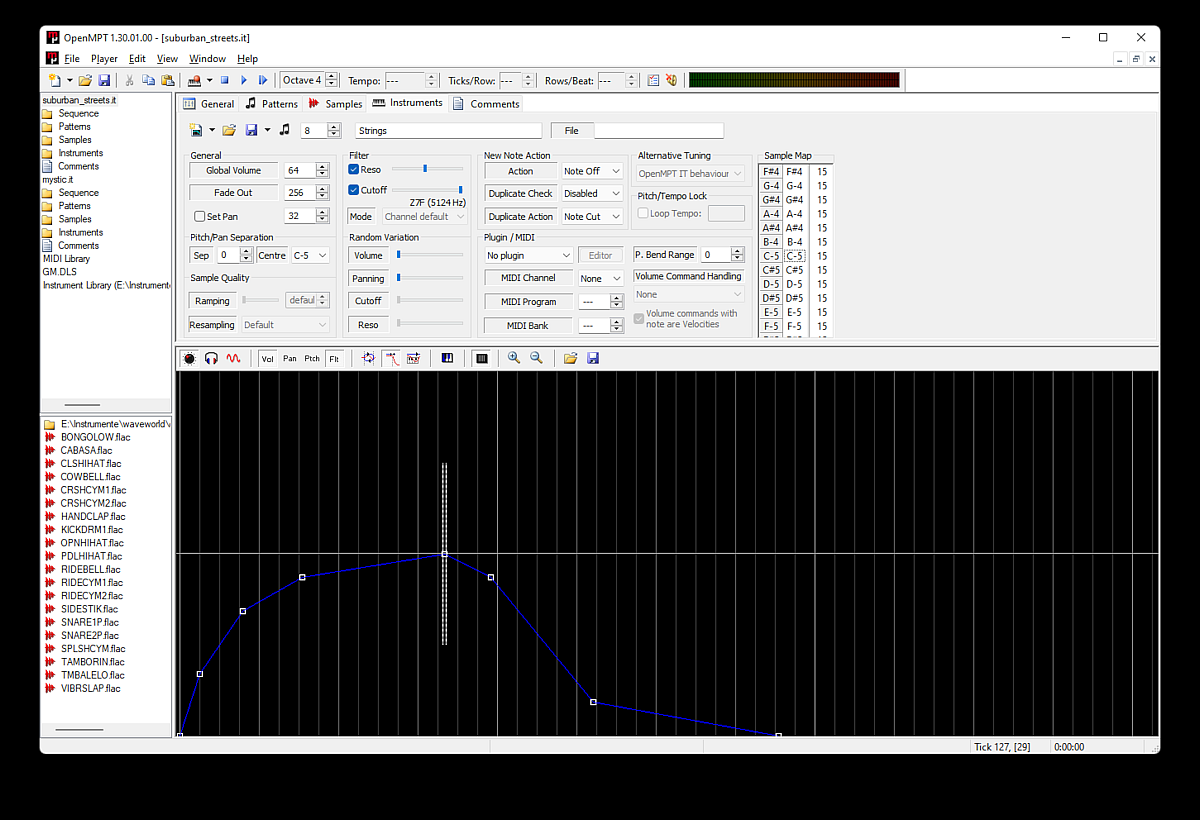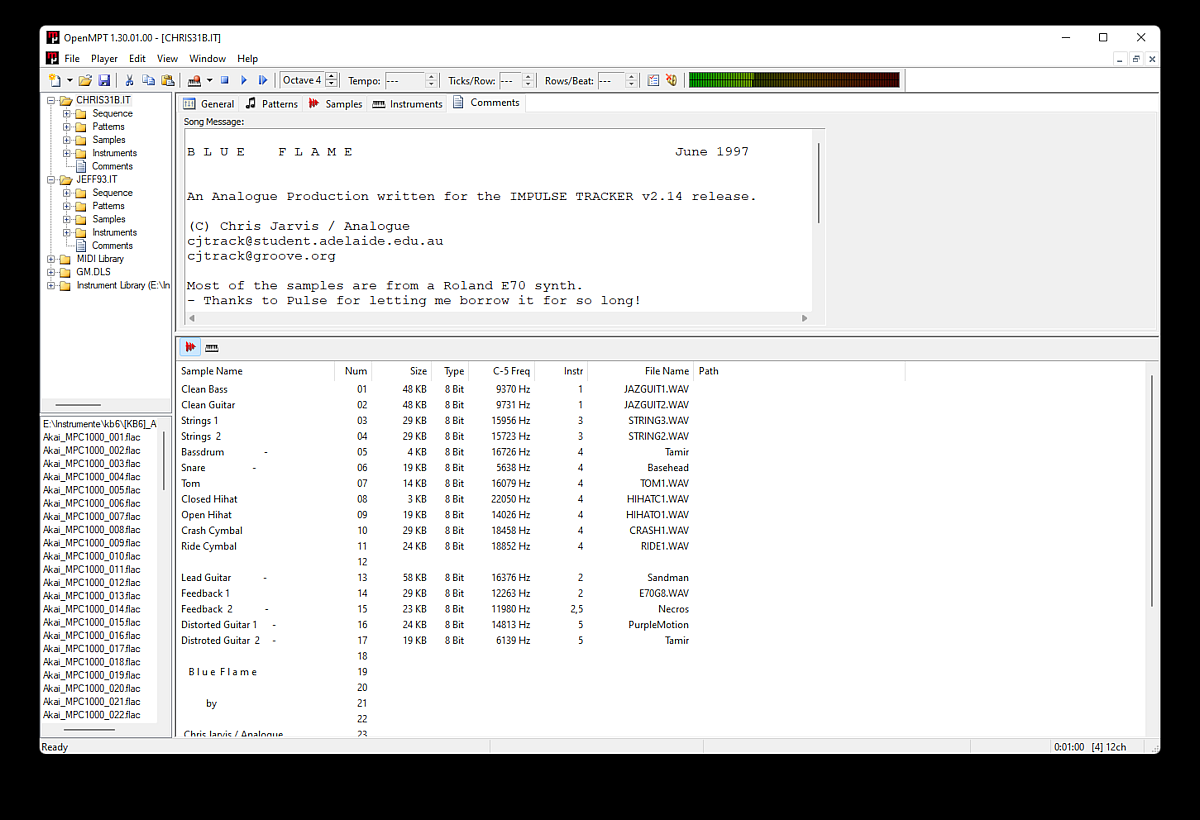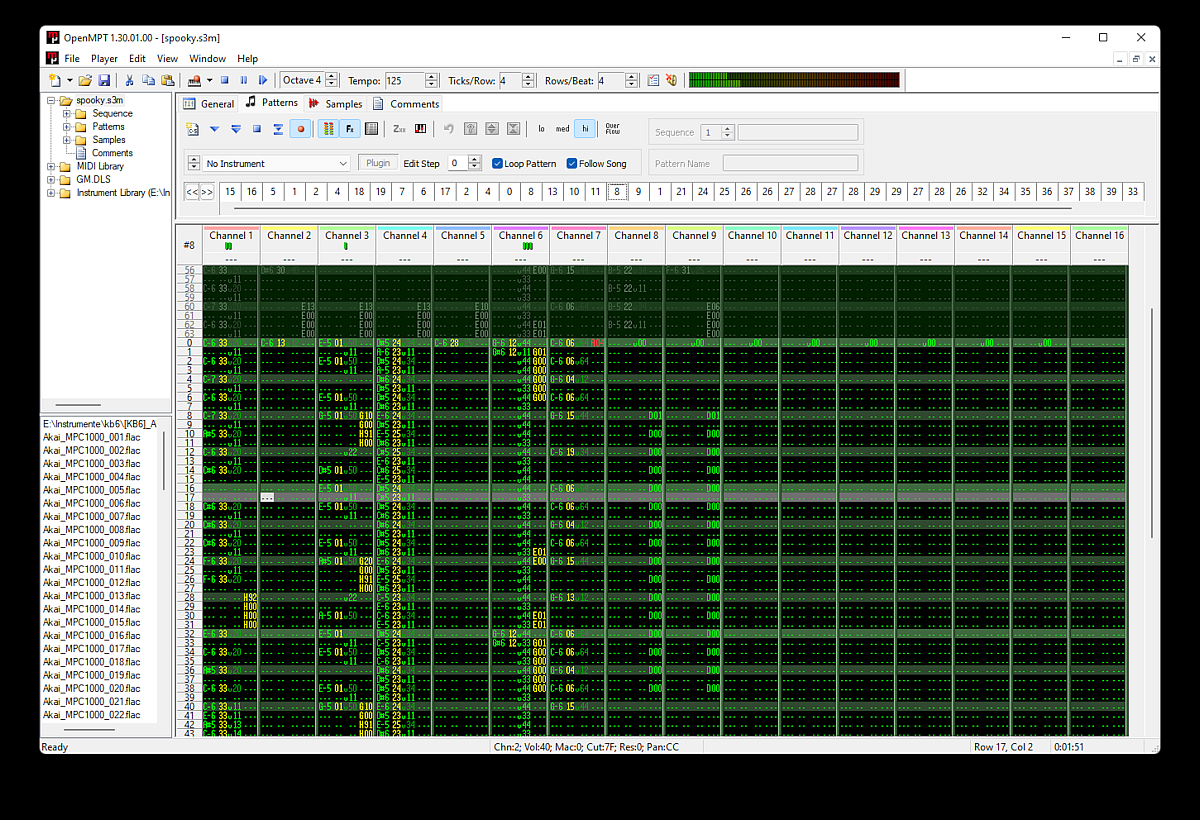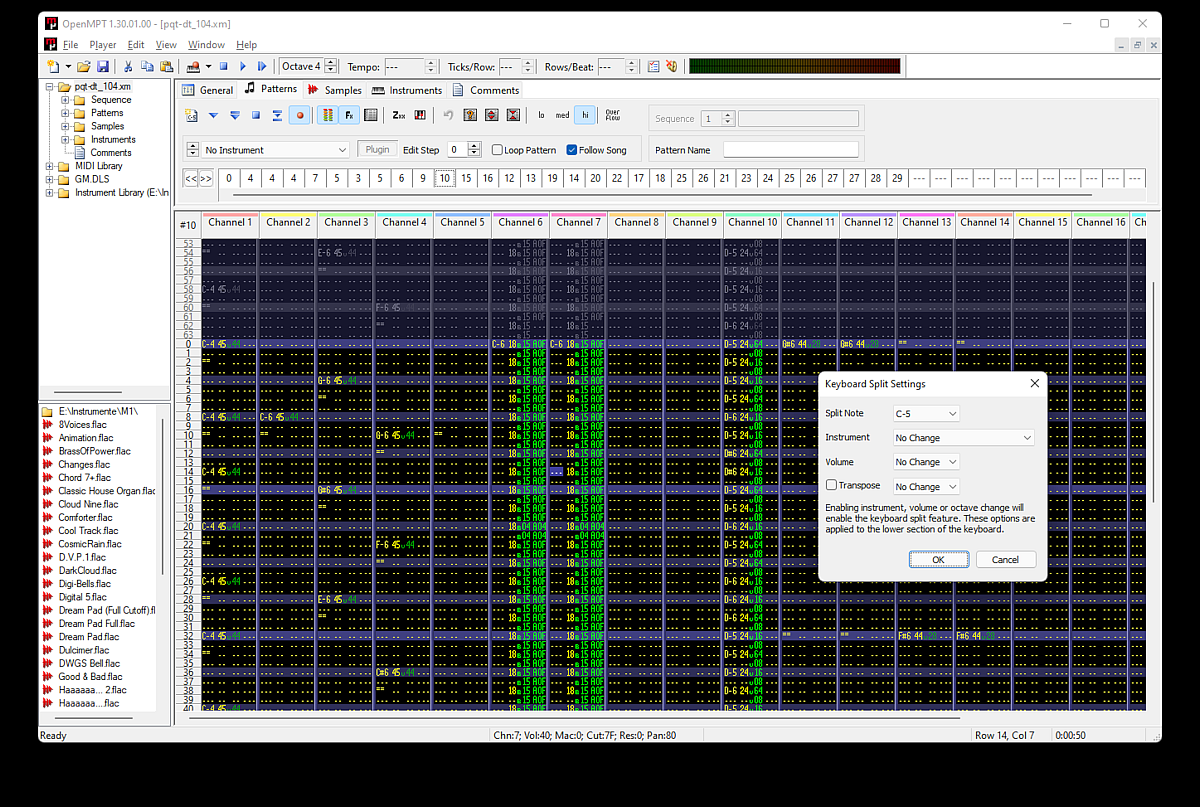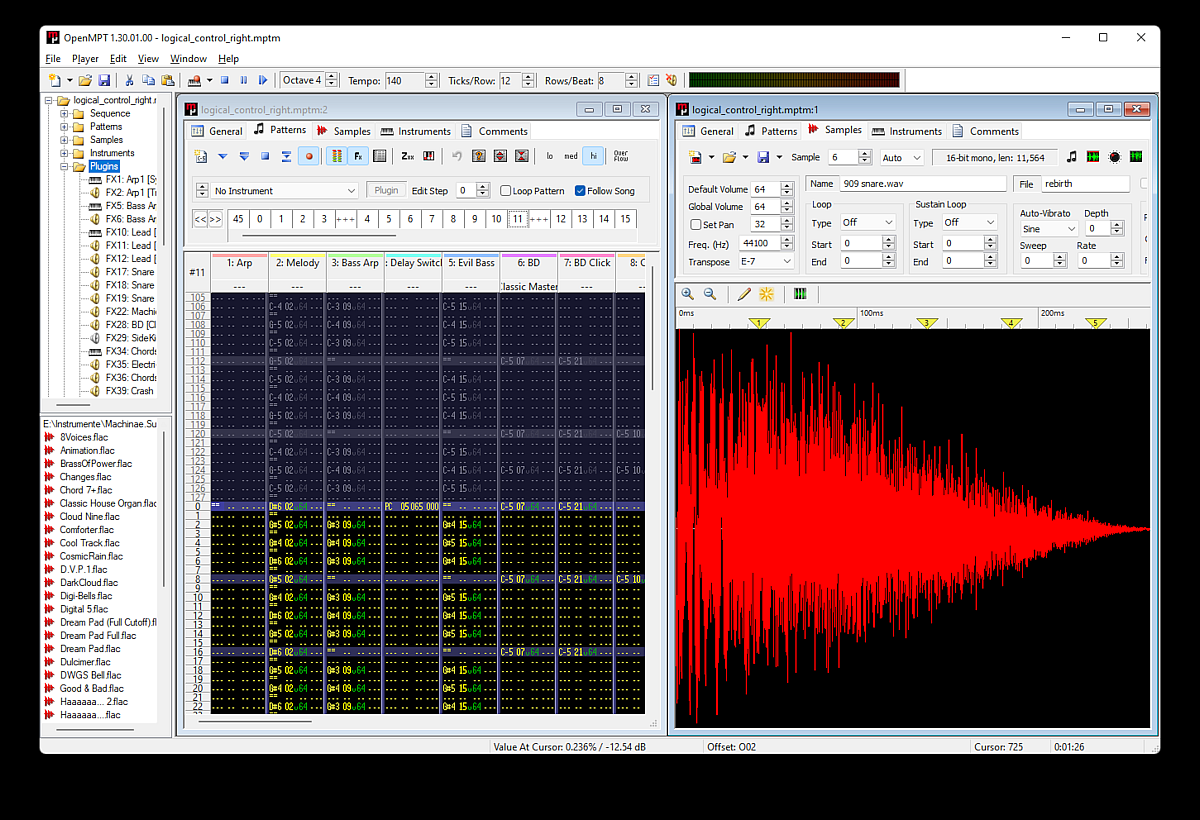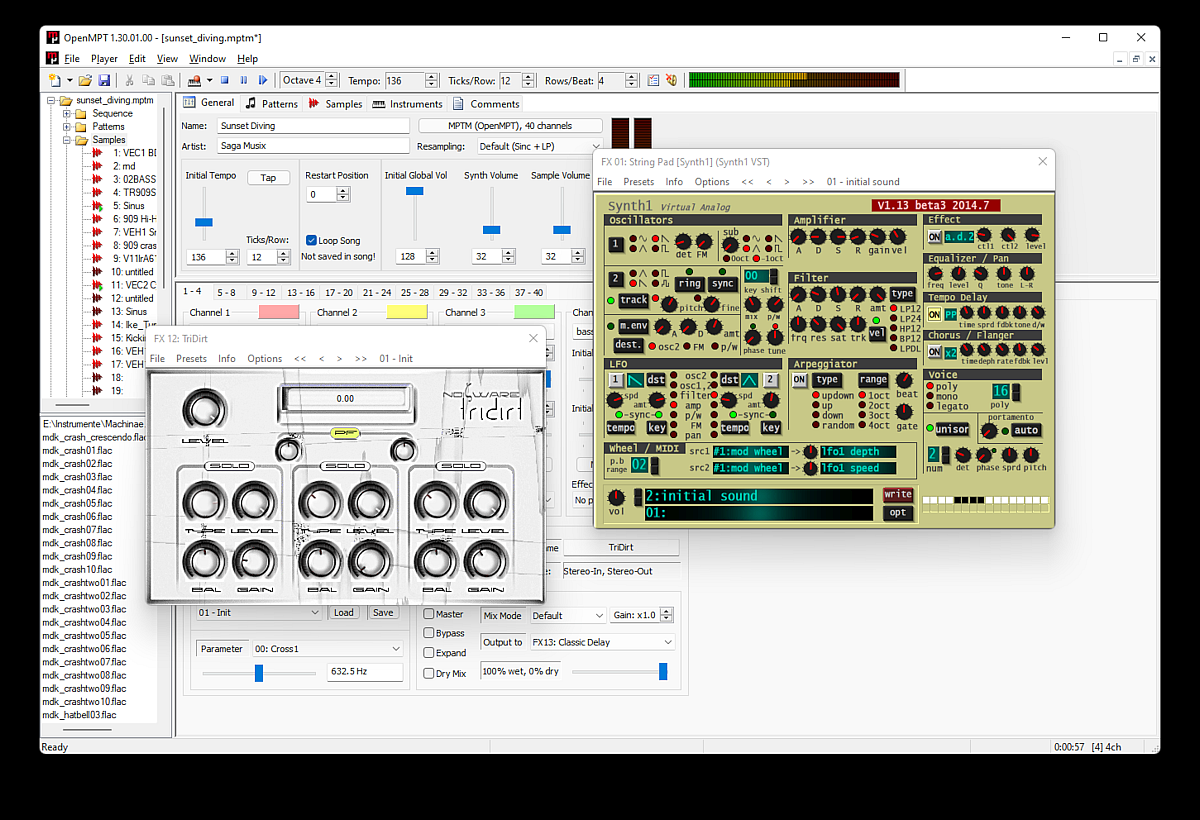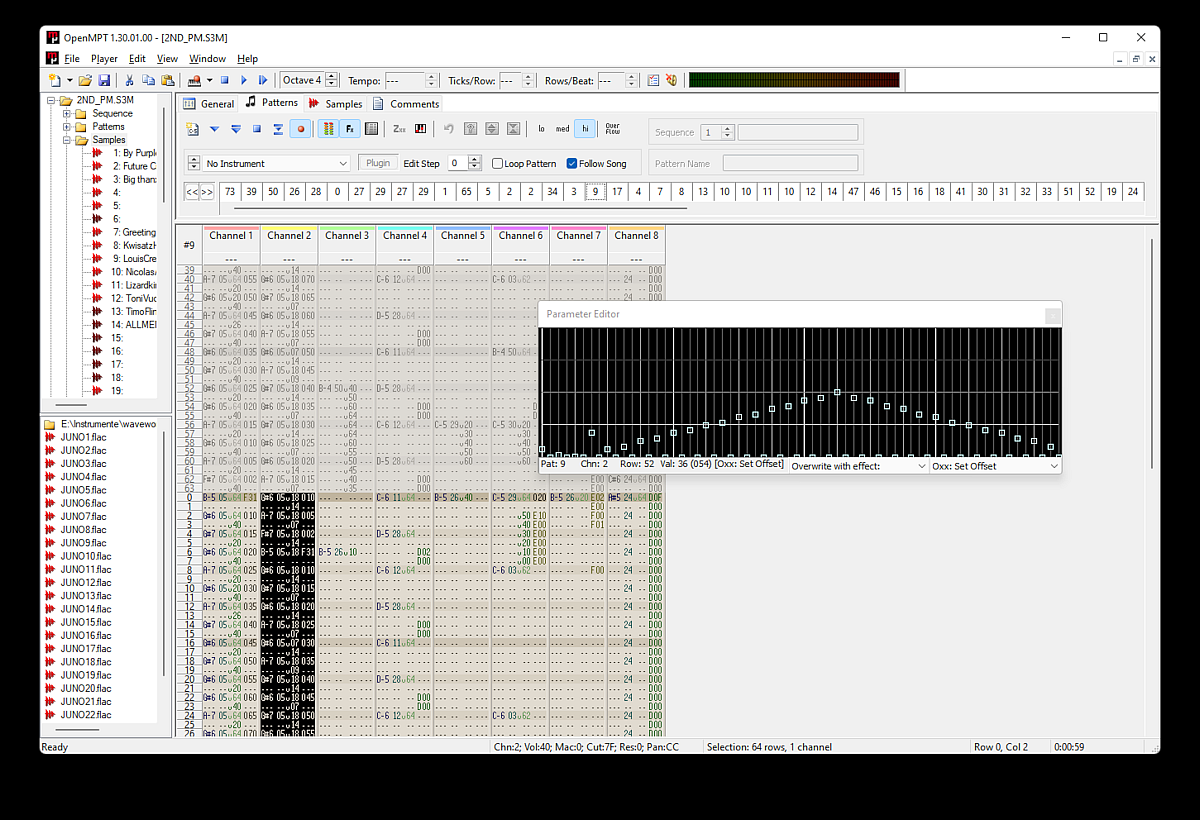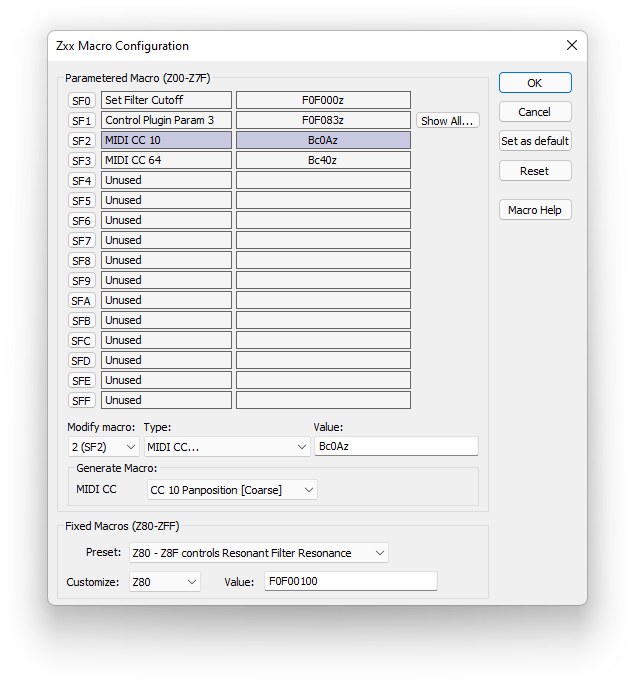 Click here to visit the author's website.
Continue below to download this file.