Always scroll to the bottom of the page for the download link.
We don't believe in fake/misleading download buttons and tricks. The link is always in the same place.
---

OpenMPT v1.29.10.00

OpenMPT is a popular tracker software for Windows. OpenMPT (short hand for Open ModPlug Tracker) is completely free and allows you to create and play back some great music on your computer. Based on the original ModPlug Tracker written by Olivier Lapicque, OpenMPT is free software, can import a wide variety of module formats and offers an intuitive, native GUI as well as advanced features such as VST plugins and ASIO output.
In addition to its own song format, OpenMPT can natively edit Impulse Tracker, FastTracker, Scream Tracker and ProTracker module files.


Features

OpenMPT is being developed since 1997 (initially named ModPlug Tracker) and can be used as a "classic" sample-based tracker to edit and play your favourite tracked music, but also as a modern DAW with plugin support and other great features. Here, you can find some of the key features of the tracker.
General

Native and fast Windows GUI – accessible by screen readers and suitable for blind users
No installation needed, fully portable
VST effects and VST instruments supported
DirectX audio plugins (DMO effects) supported
Fully configurable keyboard layout (OpenMPT comes with key maps in various flavours including Impulse Tracker and Fasttracker 2 style, as well as a Dvorak layout) - shortcuts can also be bound to MIDI CCs.
Support for multiple sequences ("songs") in one file - write entire soundtracks in one little module file!
Support for custom tunings
Suitable for live performances: Queue patterns, automate VST parameters using a MIDI keyboard, start and stop your modules with MIDI messages…
Decimal tempos are supported for perfect syncing with other sound sources.
Templates can be used to quickly access often used combinations of samples, pattern, instrument, plugin,… settings.
Built-in OPL3 emulator.
High compatibility with Impulse Tracker, Scream Tracker 3, Fasttracker 2 and ProTracker.

Editor features

True multiple document interface - open many modules at the same time and copy&paste between them!
Tabbed layout
Support for drag and drop in various places
Fast access to various places through the treeview: Load modules, samples and instruments directly from the treeview's built-in file browser
Up to 127 channels for editing (256 virtual channels)
Two editor modes: MOD / XM and S3M / IT effect notation
Many supported sample and instrument formats: WAV, FLAC, W64, PAT, S3I, SBI, AU, CAF, SMP, ITS, RAW, AIFF, 8SVX, DLS, MSS, SF2, XI, ITI, SFZ, Ogg, Opus, MP3 and more through Media Foundation codecs!
A versatile sample editor with useful features like sample normalization, DC offset removal, phase inversion, amplification, high-quality resampling, etc… You can even draw your own samples using the mouse!
Record live from your MIDI keyboard directly into the patterns or send pattern notes to any external MIDI device
Automate VST plugins directly from the patterns and write automation data directly into the pattern when turning the knobs on your VST interface
Edit one module in multiple windows, e.g. on several monitors

Audio output

Output via WaveOut, DirectX or low-latency ASIO, WASAPI and Kernel Streaming / WaveRT
Up to 192 kHz, 32-Bit, quad surround
Several resampling algorithms are available
Built-in global equalizer to correct for sound system deficiencies

Supported file formats
Loading
Modules

Composer 669 / UNIS 669 (669)
ASYLUM Music Format / DSMI Advanced Music Format (AMF)
Extreme's Tracker / Velvet Studio (AMS)
CDFM / Composer 670 (C67)
Digi Booster Pro (DBM)
Digi Booster (DIGI)
X-Tracker (DMF)
DSIK Format (DSM)
Digital Tracker / Digital Home Studio (DTM)
Farandole Composer (FAR)
General Digital Music (GDM)
Ice Tracker / SoundTracker 2.6 (ICE / ST26)
Imago Orpheus (IMF)
Impulse Tracker (IT)
Impulse Tracker Project (ITP)
Jazz Jackrabbit 2 Music (J2B)
SoundTracker and compatible (M15 / STK)
DigiTrakker (MDL)
OctaMED (MED)
MO3 compressed modules (MO3)
ProTracker / NoiseTracker / etc. 1 - 99 channels, 15 or 31 samples (MOD)
OpenMPT (MPTM)
MadTracker 2 (MT2)
MultiTracker (MTM)
Oktalyzer (OKT)
Disorder Tracker 2 (PLM)
Epic Megagames MASI (PSM)
ProTracker 3.6 IFF (PT36)
PolyTracker (PTM)
ScreamTracker 3 (S3M)
SoundFX / MultiMedia Sound (SFX / SFX2 / MMS)
ScreamTracker 2 (STM)
SoundTracker Pro 2 (STP)
UltraTracker (ULT)
Unreal Music Package (UMX)
Grave Composer (WOW)
FastTracker 2 (XM)
Compressed modules in ZIP / LHA / RAR / GZ archives

Other

MIDI (MID) - OpenMPT is not a MIDI editor, though.
Uncompressed Wave (WAV)

Saving
Modules

Impulse Tracker (IT)
ProTracker 4 - 99 channels, 31 samples (MOD)
OpenMPT (MPTM)
ScreamTracker 3 (S3M)
FastTracker (XM)

Rendering / Exporting

PCM and Float Audio up to 192 KHz, 32-bit, quad surround (WAV, FLAC, AU)
Opus, Ogg Vorbis (built-in) and MPEG-1 Audio Layer III (MP3) through external codecs
MIDI (MID)





Release Notes

v1.29.10.00 (16 May 2021, revision 15016)
-----------------------------------------
General tab
- [Fix] <js> The tempo slider handle was shown in the wrong position for tempos close to 1000 BPM.

Pattern tab
- [Imp] <js> Interpolating the volume column between a cell with a Set Volume command and a cell with no volume command but a note and instrument is now possible (it uses the default volume of that sample for interpolation).
- [Fix] <js> Duplicating / adding / removing a channel, undoing and then redoing it caused the contents of the last channel to be lost (http://bugs.openmpt.org/view.php?id=1442).
- [Fix] <js> "Maintain sample sync on mute" was only enforced after manually muting a channel, and e.g. by restarting playback broke it again (http://bugs.openmpt.org/view.php?id=1125).

Sample tab
- [Imp] <js> Can now resample all samples at once by holding shift when pressing the resample button (http://bugs.openmpt.org/view.php?id=1368).

Instrument tab
- [Fix] <js> Saving an XI instrument from an IT or MPTM module could cause wrong transposition for samples with a middle-C frequency below 8363 Hz (http://bugs.openmpt.org/view.php?id=1449).
- [Fix] <js> Saving an ITI instrument from an XM module converted auto-vibrato sweep incorrectly.

Playback
- [Fix] <jh> In quad surround mode, Bass Expansion incorrectly applied DC removal to the front channels twice instead of applying it once to front and back channels.

MPTM
- [Fix] <js> The "Do not reset OPL channel status at end of envelopes" compatibility flag was effectively force-enabled for all modules made with OpenMPT 1.29, while it should have been disabled.
- [Fix] <js> Files with OPL instruments were sometimes written in a way so that older OpenMPT and libopenmpt versions without OPL support could no longer read certain song properties and warn that the file was created with a more recent version of OpenMPT.
- [Fix] <js> The old OpenMPT 1.28 retrigger behaviour for OPL instruments differed depending on the chosen output sample rate. Retrigger now always retriggers notes as expected, which was already the case when the mix rate was chosen to be 48000 Hz. The corresponding compatibility setting was removed, as it is no longer required.

IT
- [Imp] <js> Full OpenMPT version information (e.g. 1.29.10.00 instead of 1.29) is now written to IT files also when using compatibility export.

S3M
- [Imp] <js> Emulate IT short sample retrigger quirk in S3M files saved with Impulse Tracker and Schism Tracker.
- [Imp] <js> Full OpenMPT version information (e.g. 1.29.10.00 instead of 1.29) is now written to S3M files.

MOD
- [Fix] <js> Fixed possible crash when sample-swapping to a previously-deleted sample (tx bryc).
- [Fix] <js> ProTracker 3.6 doesn't support sample swapping. It is now disabled when loading a ProTracker 3.6 IFF module.
- [Fix] <js> Some files with "hidden" garbage patterns (e.g. altoflyt.mod) were not played correctly since OpenMPT 1.29.05.00 (http://bugs.openmpt.org/view.php?id=1458).
- [Fix] <js> E9x retrigger now works the same way as in ProTracker 2.

Other formats
- [Mod] <js> 669: Reject files that contain any pattern tempo higher than 15.
- [Fix] <js> MDL: Improve auto-vibrato accuracy.
- [Fix] <js> In OpenMPT 1.29.09.00, the "Save As" dialog now may have shown up every time after opening a file in an import-only format. Some actions like running the Automatic Sample Trimmer may have also prevented the dialog from showing up.
- [Fix] <js> Reduce memory consumption of malformed XPK-compressed files.

Stream Export
- [Fix] <jh> Exported 8-bit FLAC output was distorted since OpenMPT 1.29.01.00.
- [Fix] <jh> Do not offer dithering for 64-bit floating-point export.

Audio I/O
- [Mod] <jh> MME / Wave Out output devices are no longer marked as deprecated for now.

Misc
- [New] <js> Added keyboard shortcuts for increasing and decreasing tempo and ticks per row of currently playing module (tx jseb).
- [Fix] <js> Launching OpenMPT could take longer than it should depending on the current working directory, e.g. when opening modules from the task bar's jump list (http://bugs.openmpt.org/view.php?id=1444).
- [Fix] <js> Opening the help didn't open the correct page if the upper half of the view was focussed.
- [Fix] <js> Stop all playing samples when toggling "Compute note frequency in Hertz" compatibility setting.

Third-Party Libraries
- [Imp] Update mpg123 (v1.27.2)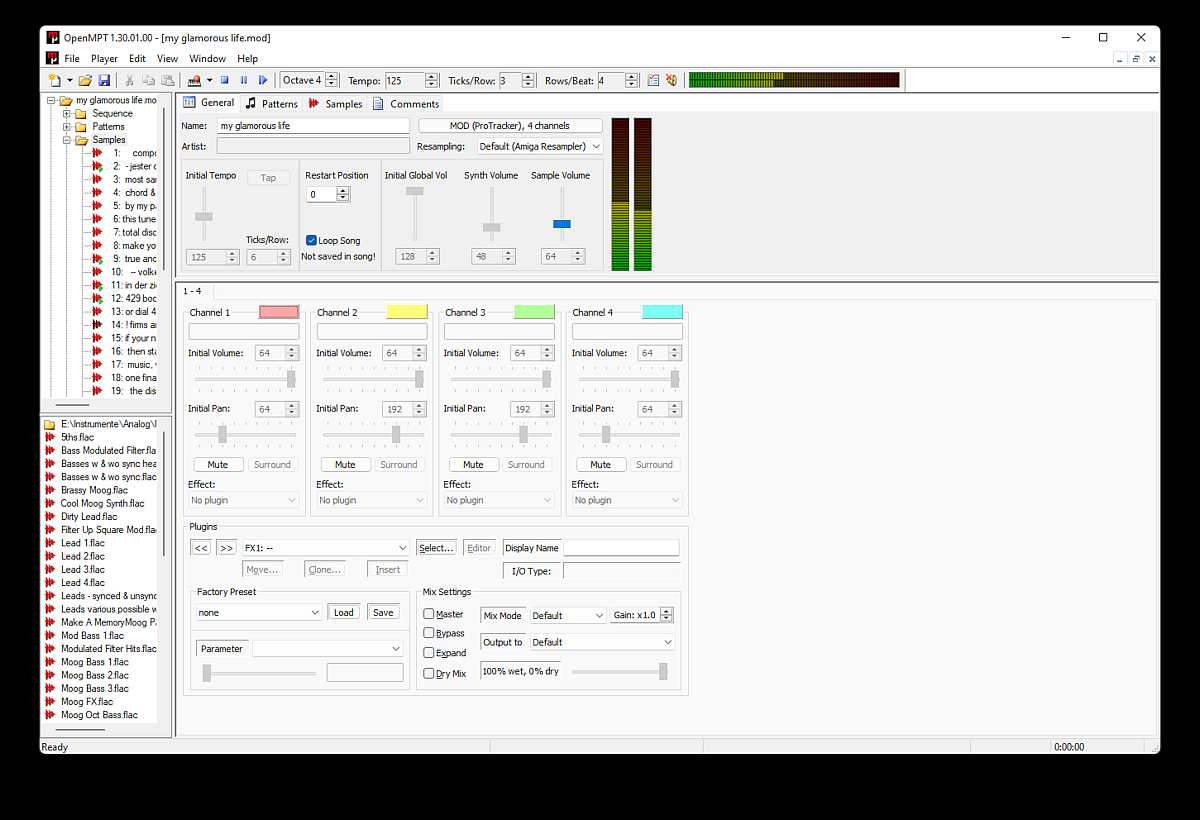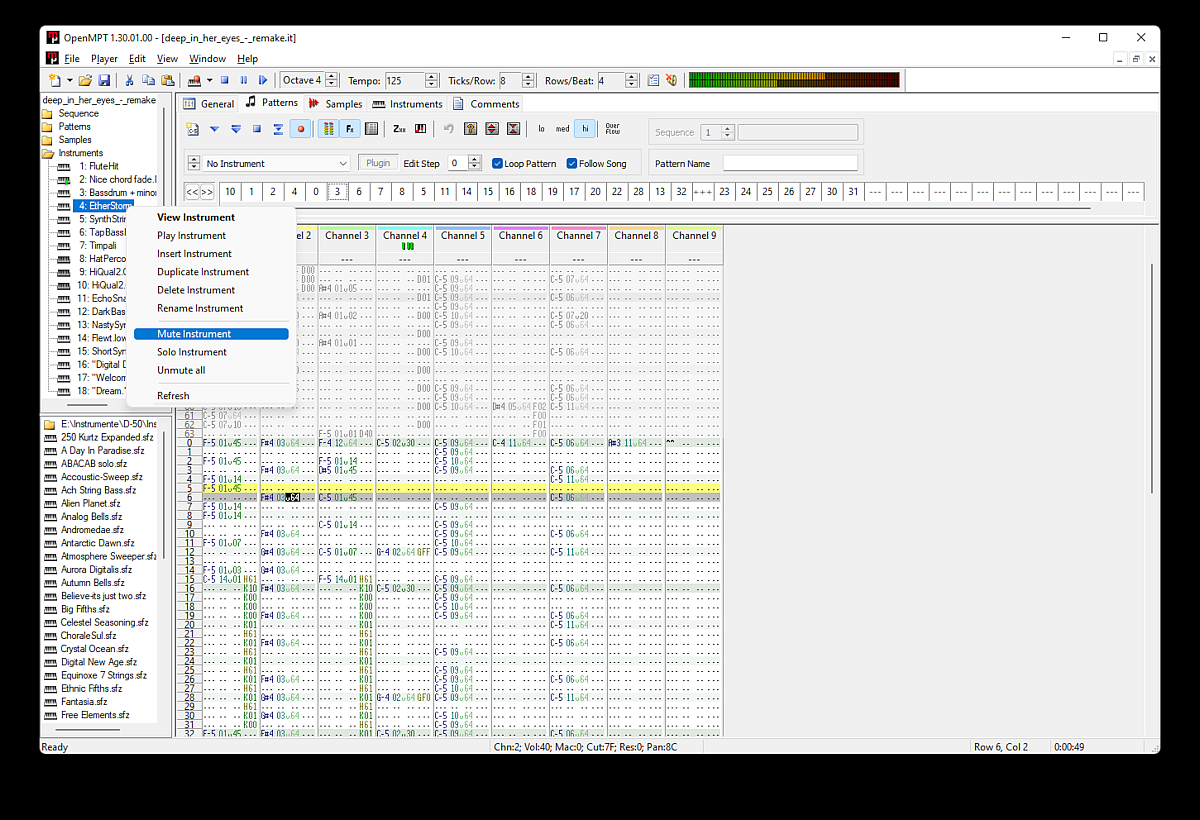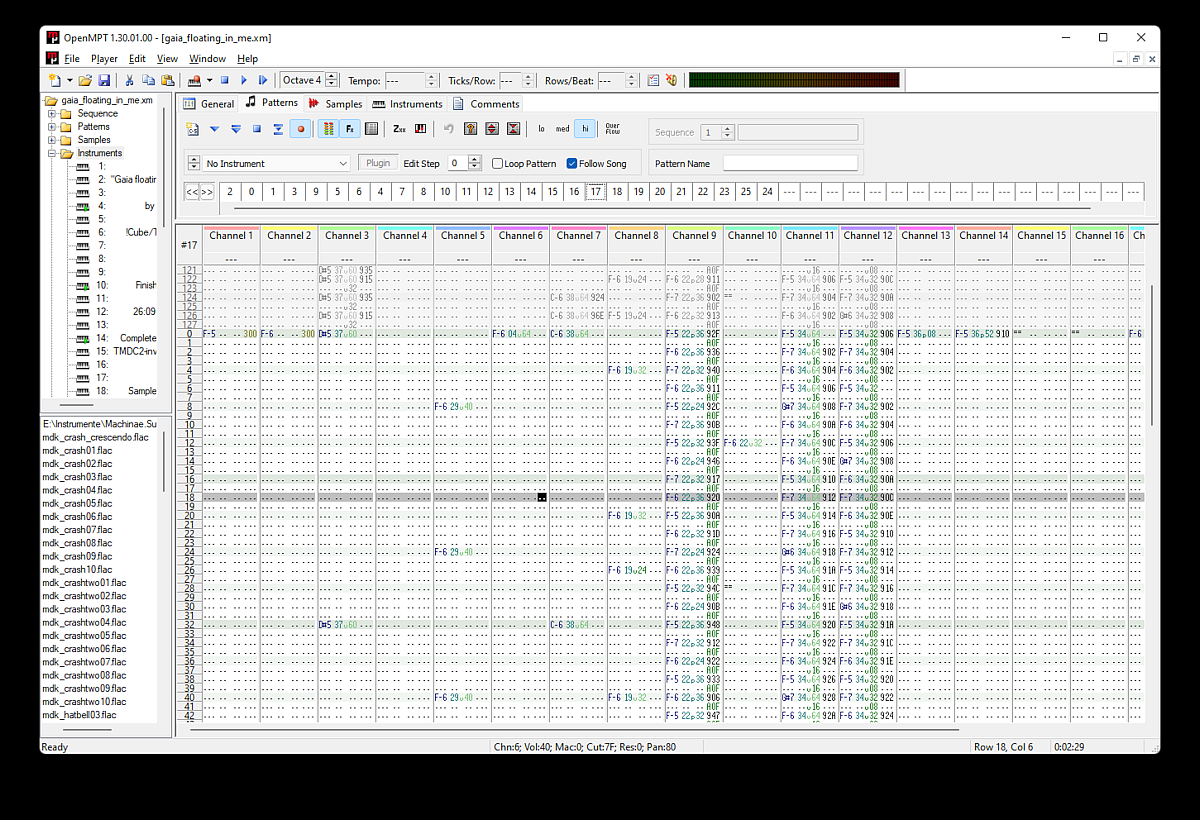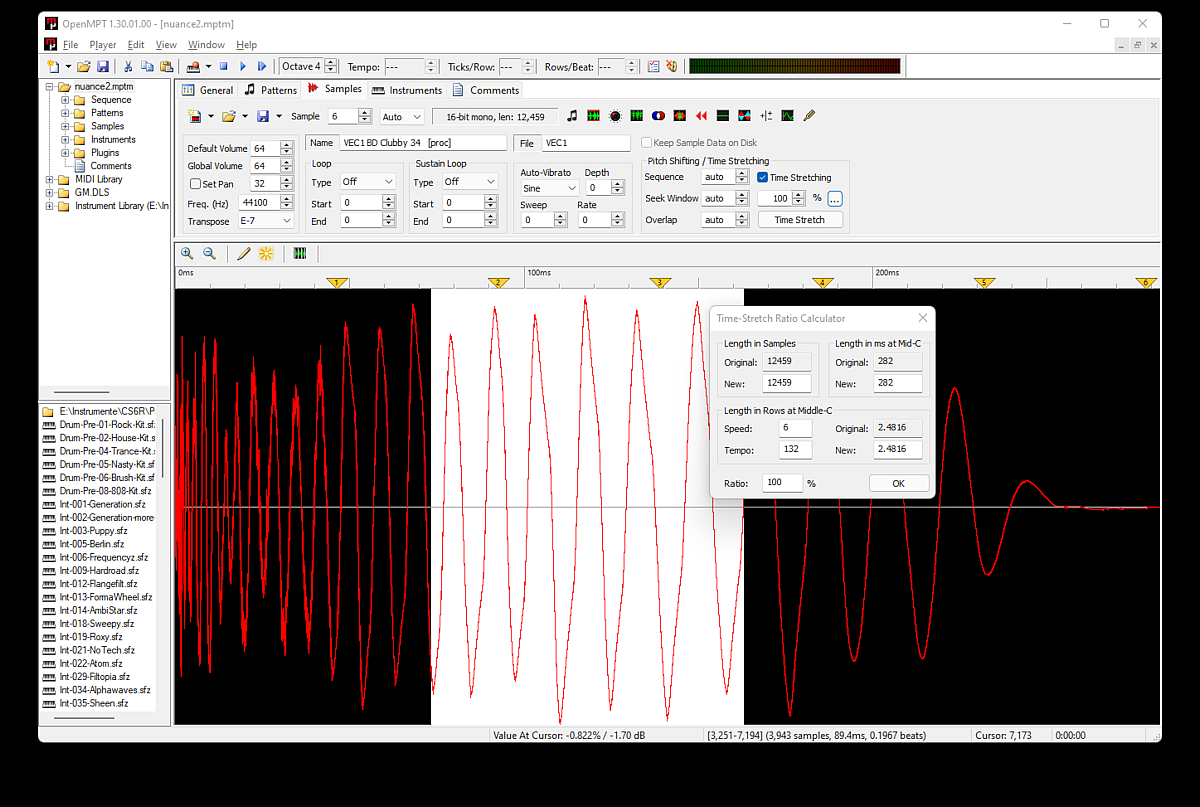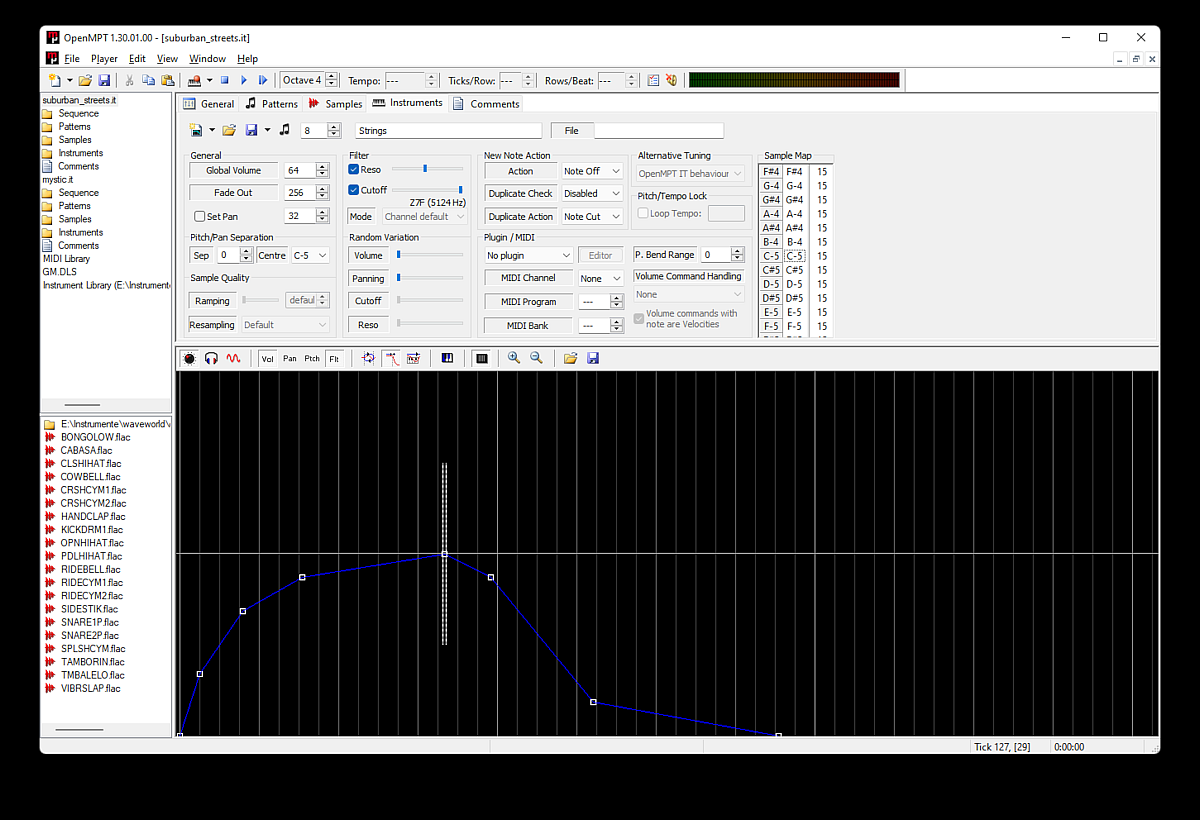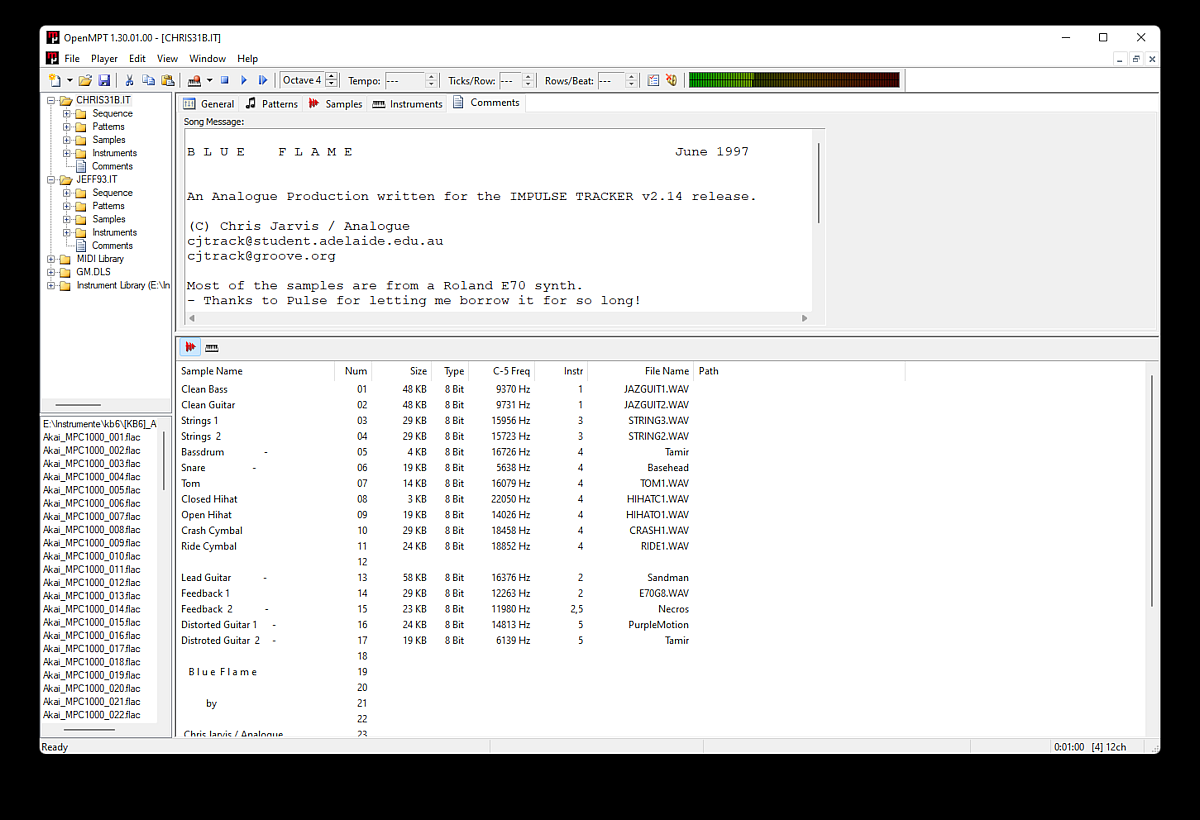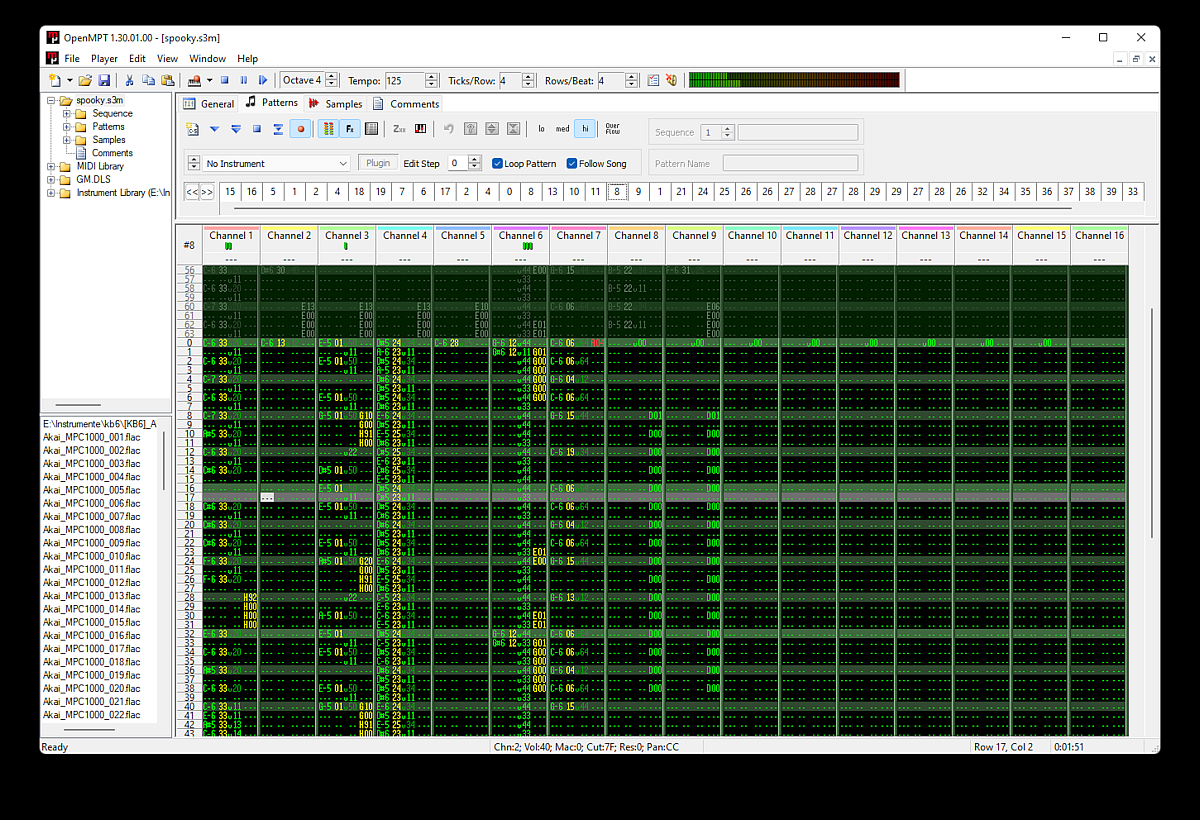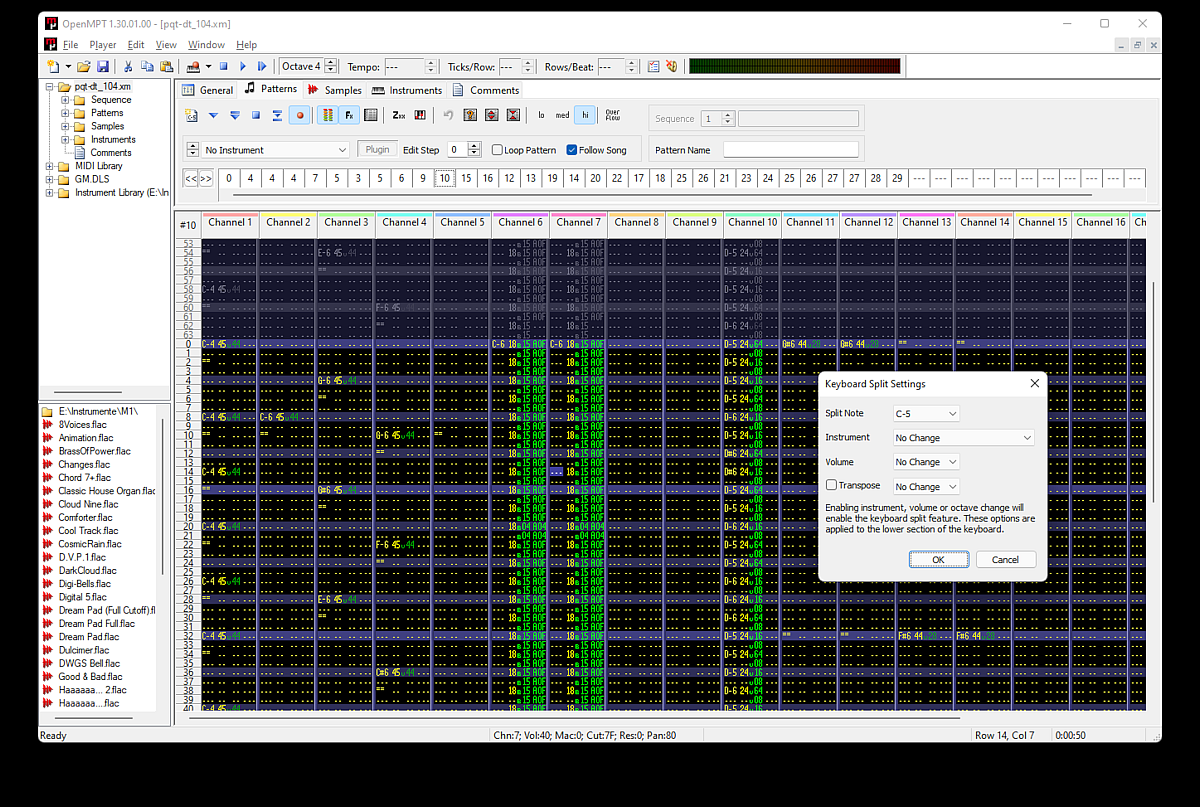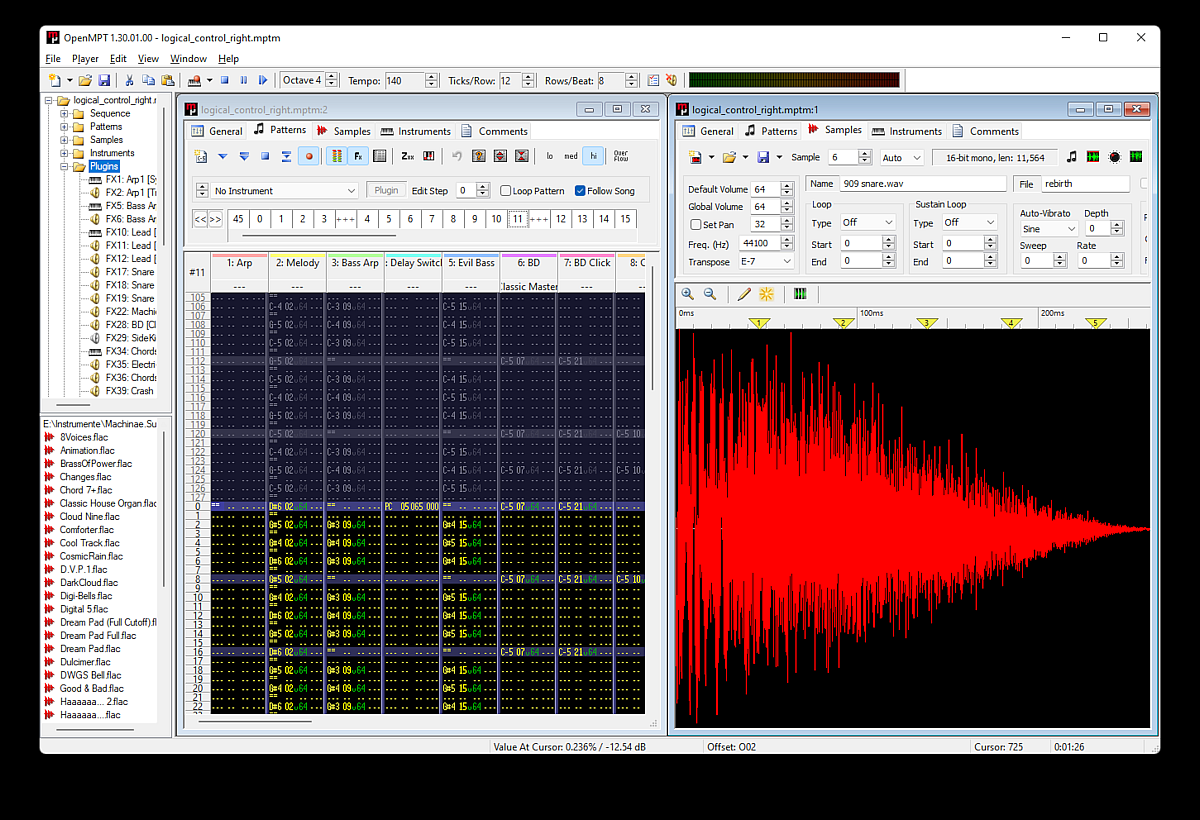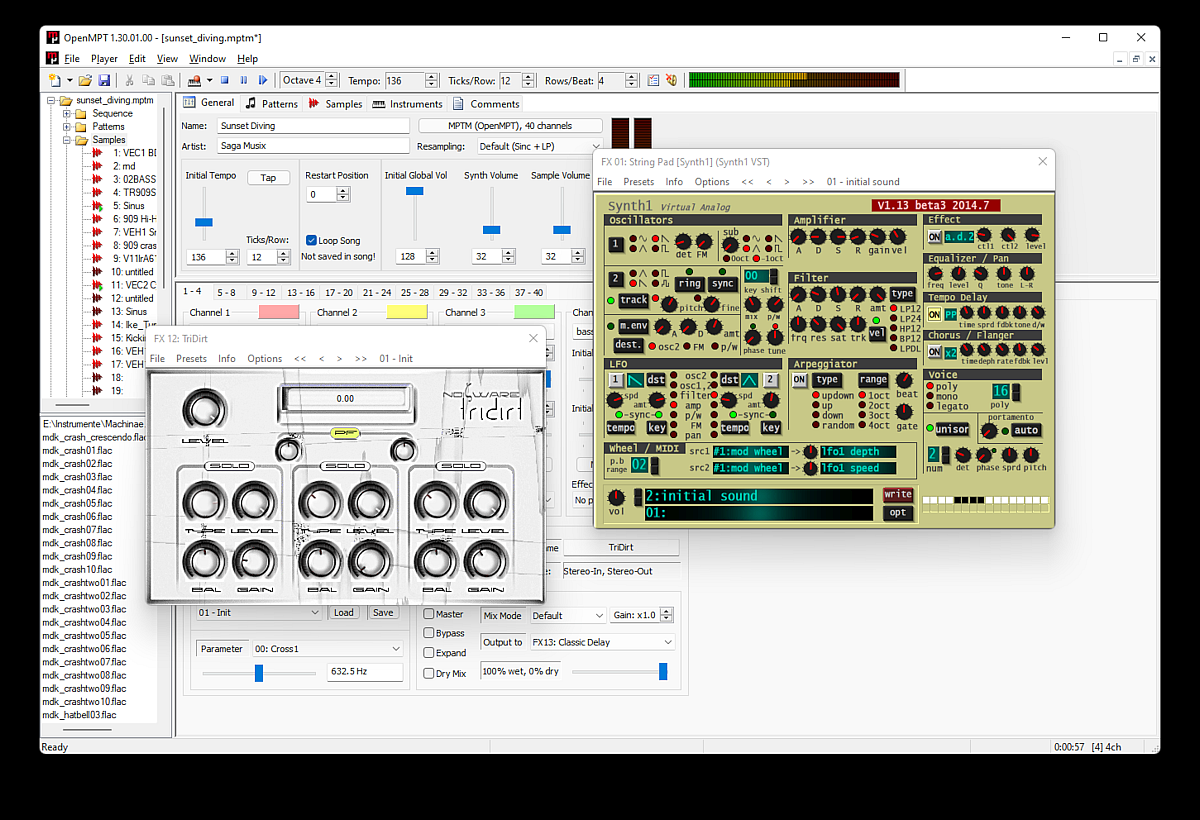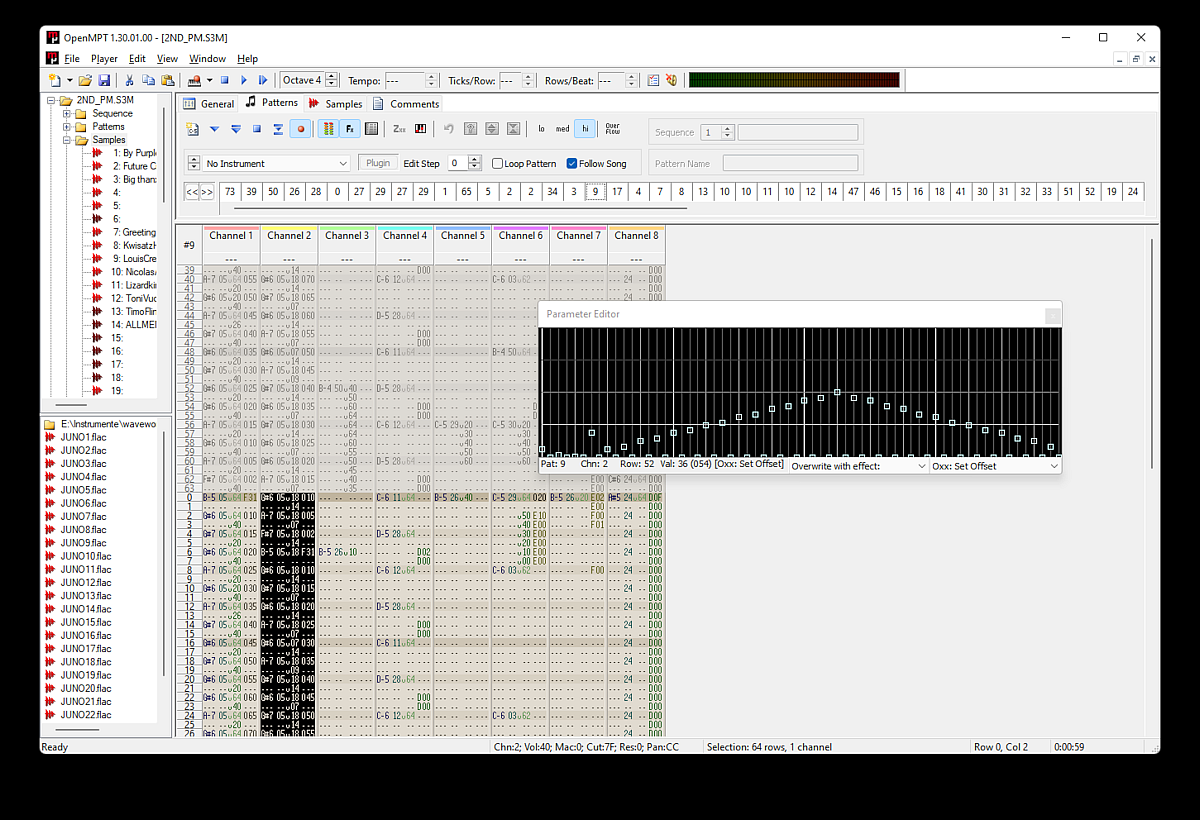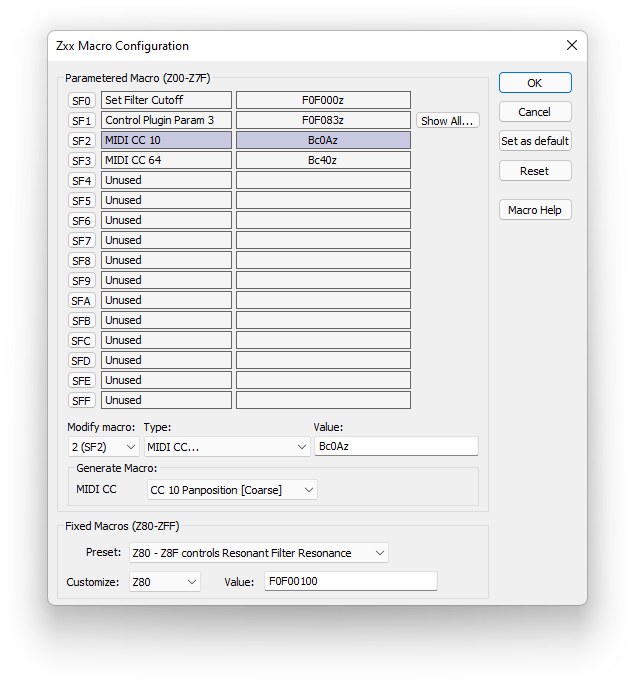 This download is for the 64bit version. If you need the 32bit version, download here.




Click here to visit the author's website.
Continue below to download this file.