FYI, always scroll to the bottom of the page to download files on OlderGeeks.com.
We don't believe in fake/misleading download buttons and tricks. The link is always in the same place.
---

Brave v1.4.96

You deserve a better Internet.

Brave Team:

So we reimagined what a browser should be.
It begins with giving you back power. Get unmatched speed, security and privacy by blocking trackers. Earn rewards by opting into our privacy-respecting ads and help give publishers back their fair share of Internet revenue.


We all know what's wrong.

As a user, access to your web activity and data is sold to the highest bidder. Internet giants grow rich, while publishers go out of business. And the entire system is rife with ad fraud.


Brave Shields for Privacy
Block data-grabbing ads and trackers

The vast bulk of websites and ads include software that tries to to identify you. They want to track your every move across the web. Brave blocks all this, allowing you to browse freely.


BROWSE AT WARP SPEED
Blocking harmful ads and trackers means a faster Internet

Brave loads major news sites up to six times faster than Chrome, Safari and Firefox on mobile and desktop.


REAL PRIVACY
Browse much more privately with Tor*

Other browsers claim to have a "private mode," but this only hides your history from others using your browser. Brave lets you use Tor right in a tab. Tor not only hides your history, it masks your location from the sites you visit by routing your browsing through several servers before it reaches your destination. These connections are encrypted to increase anonymity.

*Available on desktop, coming soon to mobile.


BRAVE REWARDS
Earn frequent flier-like tokens just for browsing

Turn on Brave Rewards to earn frequent flier-like tokens for viewing privacy-respecting ads. You can set the number of ads you see per hour. Currently you can support your favorite web creators with your tokens, but soon you'll be able to spend tokens on premium content, gift cards, and more.


A BETTER DEAL
Tip and contribute to websites directly through Brave Rewards

Today, you can donate tokens to your favorite websites. Coming soon, some creator sites will feature Brave Ads, which helps them earn more ad revenue than existing ad models.



Browse Faster
Load pages 3x to 6x faster

Watch Brave in action, head-to-head-to-head against Chrome and Firefox. Brave loads pages three times as fast out of the box with nothing to install, learn or manage.


switching is easy
Import and continue where you left off
It's easy to import your settings from your old browser. You can do it during the welcome tour or later through the menus.

All of your old browser profiles will appear in a list. You can import other browser data through the main menu item called "Import Bookmarks and Settings."


Give Some Back
Support your favorite sites with Brave Rewards

Turn on Brave Rewards and give a little back to the sites you frequent most. Earn frequent flyer-like tokens (BAT) for viewing privacy-respecting ads through Brave and help fund the content you love

Browsing the web with Brave is free: with Brave Rewards activated, you can support the content creators you love at the amount that works for you.



Browse Safer
Experience unparalleled privacy and security.

Brave fights malware and prevents tracking, keeping your information safe and secure. It's our top priority.
We're not in the personal data business.

Our servers neither see nor store your browsing data – it stays private, on your devices, until you delete it. Which means we won't ever sell your data to third parties.
Customize your shield settings

Choose your settings on a per-site or browser-wide basis. See how many ads and trackers are being blocked by Brave every day on the New Tab Page.

Security meets simplicity

If you're willing to research, download, and install multiple extensions, and carefully configure and correctly maintain settings in both the browser and extensions, you can match some of Brave's privacy and security.

Brave does all that work for you. Simple, right?

Whenever possible using the HTTPS Everywhere list, Brave automatically upgrades to HTTPS for secure, encrypted communications when an ordinary browser would use an insecure connection.
Defaults that matter

Browse confidently with default settings that block phishing, malware, and malvertising. Also, plugins, which have proven to be a security risk, are disabled by default.
Sync your devices bravely

Brave Sync, currently in beta, can be enabled to encrypt and synchronize your preferred settings and bookmarks. However, Brave does not have the keys to decrypt your data.




Full Release Notes

No audio output in Google Meet (blocked by autoplay).(#4621 2)
Application crashes when calculating the winning page classification category.(#7866)
Buttons on top tiles removed message needs padding.(#8282)
Duplicate sync object id of bookmarks.(#8325 7)
Wayback machine feature should be disabled in Tor windows or use Tor.(#8419 3)
Upgrade from Chromium 80.0.3987.122 to Chromium 80.0.3987.132.(#8499 4)


This download is for the Windows 64bit version.
If you need the Windows 32bit version, download here.
If you need the MacOS version, download here.
If you need the Linux version, go here.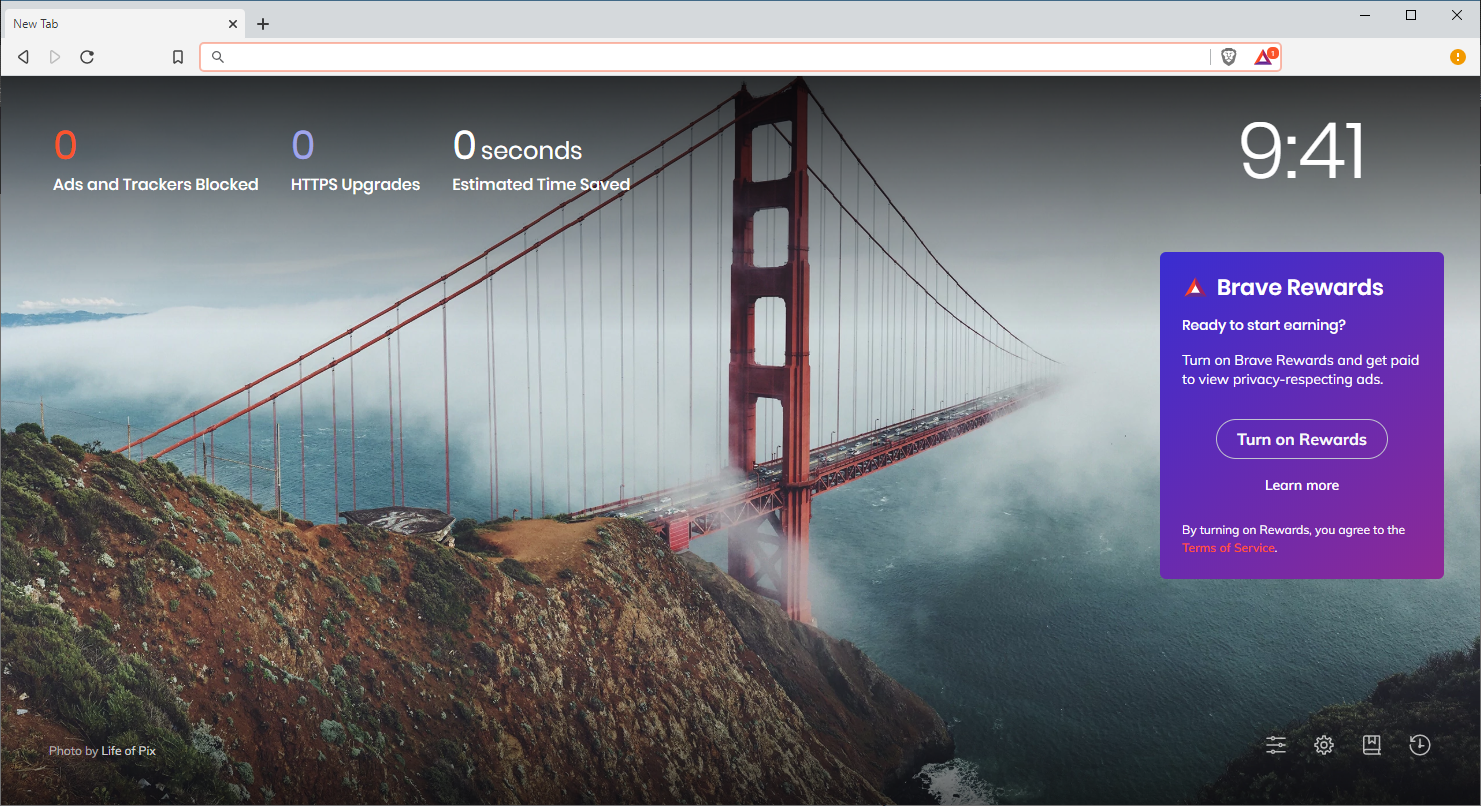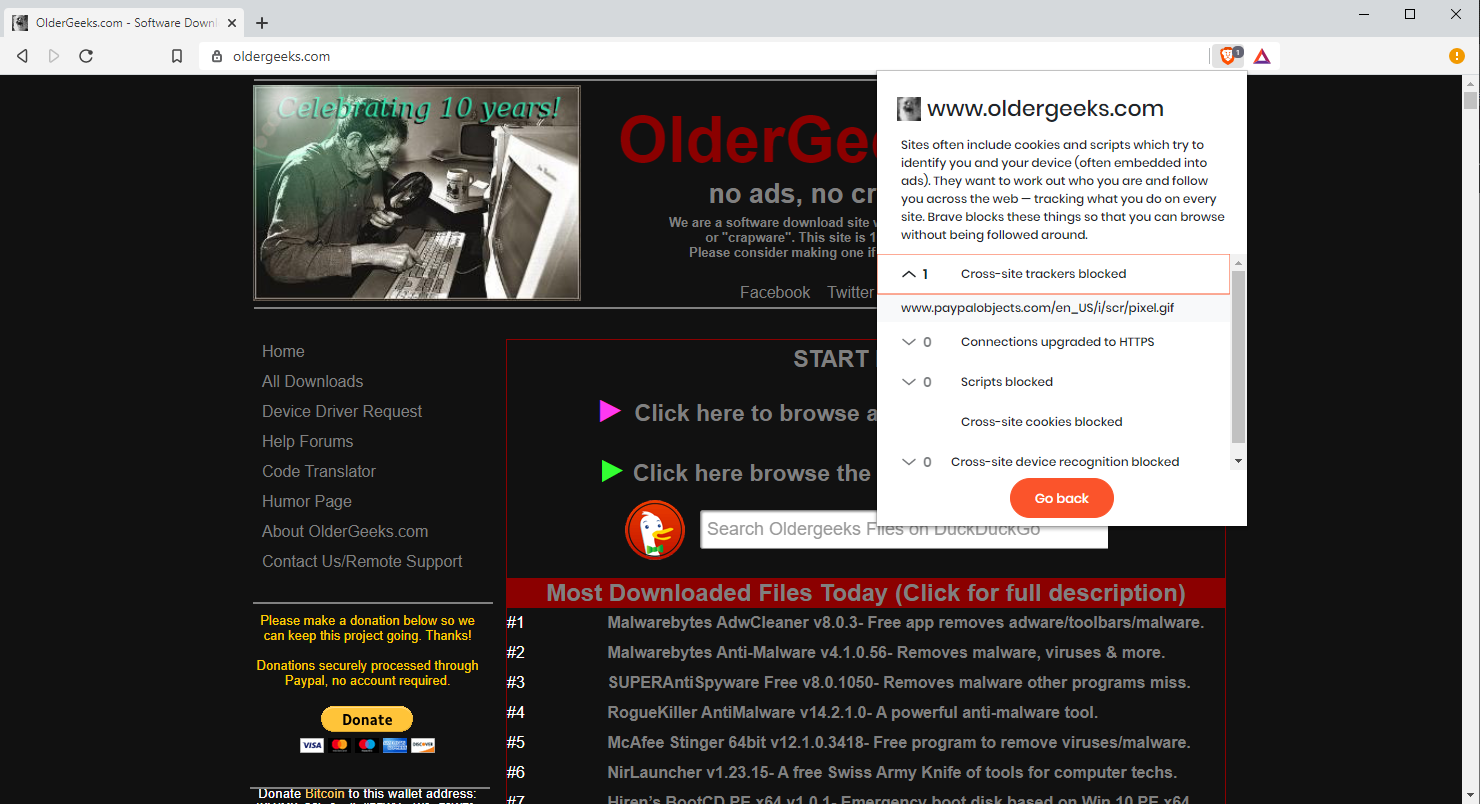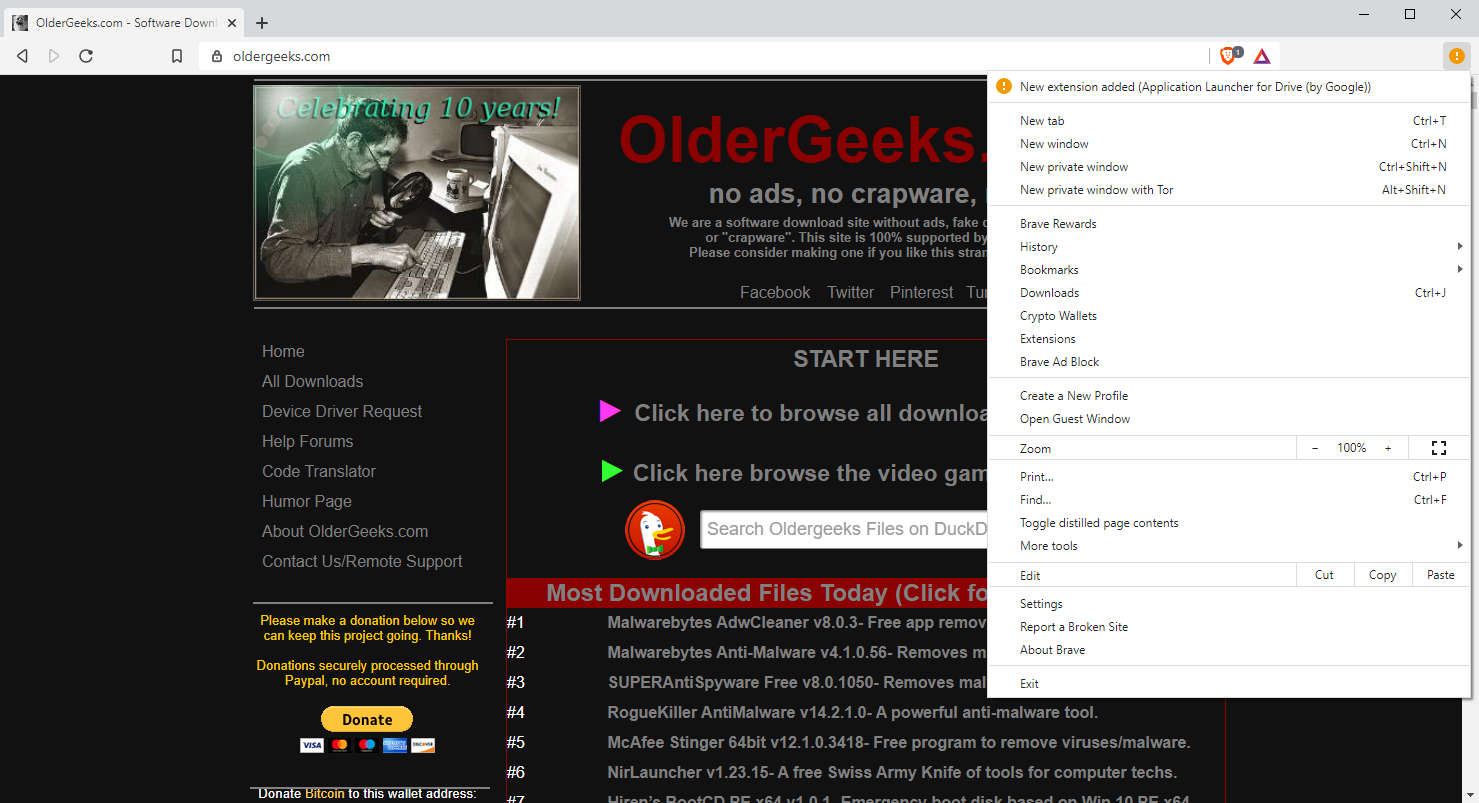 Click here to visit the author's website.
Continue below to download this file.