Always scroll to the bottom of the page for the main download link.
We don't believe in fake/misleading download buttons and tricks. The link is always in the same place.
---

Ekiga v4.0.1

Ekiga (formerly known as GnomeMeeting) is an open source SoftPhone, Video Conferencing and Instant Messenger application over the Internet.

It supports HD sound quality and video up to DVD size and quality.

Because it uses both of the major telephony standards (SIP and H.323), it is interoperable with many service providers and many types of hardware and software.


Ekiga Softphone Features
Main Features of the Ekiga Softphone in a nutshell Version 4.0

Ease of use with a modern Graphical User Interface
Audio and Video free calls through the internet
Free Instant Messaging through the internet with Presence support
Audio (and video) calls to landlines and cell phones with support to the cheapest service providers
High Definition Sound (wideband) and Video Quality up to DVD quality (high framerate, state of the art quality codec and frame size)
Free of choice of the service provider
SMS to cell phones if the service provider supports it (like the default provider)
Standard Telephony features support like Call Hold, Call Transfer, Call Forwarding, DTMF
Remote and Local Address Book support: Remote Address Book support with authentification using the standard LDAP technology, Local Address support in Gnome (Evolution)
Multi platform: Windows and GNU/Linux
Wide interoperability: Ekiga use the main deployed stantards for telephony protocols (SIP and H.323) and has been tested with a wide range of softphones, hardphones, PBX and service providers


Graphical User Interface Version 4.0

HIG Compliant GUI: Ekiga looks right, behaves properly, and fits into the GNOME user interface as a whole
Translated into Many Languages
Contact centric interface: preferred contacts can be listed in the main user interface (Buddy List)
Contact's presence display: Offline, Away, Busy, Online status (SIP/SIMPLE)
Automatic addition of network neighbours contacts in the main user interface (using the Bonjour/ZeroConf protocol)
Separate call window
Desktop wide notifications
Connection quality meter in the statusbar
Message Waiting Indications Support: Ekiga can tell you how many Voice Mails are waiting
Easy to use short-cuts
Easy account selection when dialing for a contact: auto-completion



Call Version 4.0

Call Hold: This effectively pauses Video & Audio transmission
Call Transfer: You can transfer the remote user to another user
Call Forwarding on No Answer, on Busy, Always: This allows you to configure Ekiga to forward incoming calls to a specified user
Message Waiting Indications Support
Dialpad: This allow you to dial numbers using a graphical alphanumeric keypad
DTMFs Support: This feature is necessary when using services asking you to dial numbers
Calls History: This is a convenient way about all outgoing and incoming calls
Call Monitoring: Statistics about the network traffic caused by Ekiga are displayed in the status bar
Call Auto-Answer: Automatically answer all incoming calls
Enum Support: Enum is a standard method to provide a unified numbering system between the public switched telephone network (PSTN) and various VoIP providers. It is officially deployed country wide




Audio Version 4.0

Wideband Codec Support: HD sound quality
Dynamic Threshold Algorithm for Silence Detection
Echo Cancellation
Dynamic Jitter Buffer
13 audio codecs supported; including G.711 for high interoperability and HD sound (G.722, G.722.1 and SILK)




Video Version 4.0

High Framerate support (up to 30 fps)
Configurable Resolution, up to DVD quality (from 176x144 to 704x576)
Full-Screen Video
Support for hardware rendering (DirectX under Windows, XVideo under GNU/Linux)
Quality of images Versus Speed (framerate) slider
6 video codecs supported; including the best free codec (Theora) and state of art video codec (H.264)




Text chat Version 4.0

Instant Messaging with built-in smiley support (SIP)
Graphical selection of smiley for easy inclusion in text message
Presence display: display your peer chat status




Contacts Version 4.0

Presence Status with Custom Message (SIP): The status of your contacts are displayed in the main User Interface with a custom message, and you can set your own Status (Online, Away, Busy) with a custom message
Advanced Addressbook: The Address Book is a feature which allows you to find users to call and/or to save locally your list of persons that you call on a regular basis
Remote Address Book Support: Ekiga can load the list of users from a remote LDAP directory (with authentification)




Devices Version 4.0

Hotplug: Automatic detection of hotplugging of audio devices and video devices on Linux (ALSA and V4L1/2)
Devices Auto-Detection
Sound API: on Windows DirectX, on GNU/Linux OSS and ALSA Compatible Soundcards Support or PulseAudio
Video API: on Windows DirectX 9 video input and output, on GNU/Linux Video4Linux, Video4Linux 2 Cameras Support




Voice Over IP services Version 4.0

Possibility to Simultaneously Register to Several Accounts: You can register as many SIP or H.323 provider accounts as you want, and you're able to use them simultaneously
SIP Compliant: You can use any SIP compliant VoIP provider. They may provide you address for VoIP similar to e-mail address, PC-to-Phone calls, Phone-to PC calls, Voice mails, ...
H.323v4 Compliant: You can use any H323v4 compliant VoIP provider. (Gatekeeper -RAS- Support)
Outbound Proxy Support: Some providers use a relay for your communications and require this setting
SIP dialog-info notifications: they allow displaying notifications of incoming calls in the roster, and being informed of incoming calls reaching your contacts (if the server supports it, e.g. Ekiga.net, Kamailio and Asterisk do)



Codecs Features Version 4.0

SIP Capabilities exchange: Ekiga will automatically select the common codecs between the peers
Video Bandwidth Limitation
Intel IPP Codecs
Plug-in support for audio and video codecs


Audio Codecs Version 4.0

G.711-Alaw
G.711-uLaw
Speex (NarrowBand and WideBand)
G.722 (wideband), G.722.1 (aka Siren 7), G.722.2 (aka GSM-AMR-WB)
iLBC
GSM-06.10, MS-GSM
G.726
G.721
SILK (Skype's codec)
CELT ultra-low delay (32 kHz or 48 kHz). Experimental


Video Codecs Version 4.0

THEORA Video Codec (SIP only)
H.264 Video Codec (SIP only)
H.263 Video Codec (SIP only)
H.263+ Video Codec (SIP only)
H.261 Video Codec (SIP and H323)
MPEG4 Video Codec (SIP only)



Network Version 4.0

Local network integration using the Rendez-Vous/Bonjour/ZeroConf protocol: Ekiga users in the local network will show up automatically
Detection of dynamic IP address changes and dynamic addition and removal of network interfaces
Assisted NAT Support (automated STUN support): Ekiga has extensive and improved NAT support. In most of the cases, you do not have any configuration to do.
Gateway/Proxy Support




Integration Version 4.0

Part of the Gnome Desktop
Integration with Novell Evolution: You can share your contacts with the groupware client for Linux, "Novell® Evolution™"
KDE and GNOME Compatibility
Remote LDAP server integration for network address-book integration
State-of-the-art LDAP support (supports authentication)
Interoperability with PBX like Asterisk™




Configuration Version 4.0

Configuration Assistant: The Configuration Assistant is a 8 step-by-step questionnaire that will guide you through all the steps involved in creating the basic configuration you will need to operate Ekiga
Configurable Sound Events: You can customize sounds and select a special sound device for them to play; you're able to have the ring in your Hi-Fi hardware and the call in the headset
In call Instant-Apply Support for Settings
Gnome's GConf and External Configuration support: Ekiga can store its settings in Gnome's GConf application or in a standalone file (e.g. on Windows)
Configurable Port Ranges (SIP and H323): Ekiga uses standards ports; in rare cases you might change the ports. (Advanced setting)



Protocols Support Version 4.0
Session Initiation Protocol (SIP) Version 4.0

SIP re-INVITE support
Unique port : Use only one port for all outgoing SIP requests going to the same destination
Proxy support
Outbound Proxy support
SIP: SIMPLE presence support
SIP Presence subscriptions : SIP SUBSCRIBE/NOTIFY
SIP Presence publishing : SIP PUBLISH
SIP Presence document : SIP PIDF and Rich PIDF Extensions
RFC2833 and SIP Info DTMFs support
SIP dialog-info notifications: they allow displaying notifications of incoming calls in the roster, and being informed of incoming calls reaching your contacts (if the server supports it, e.g. Kamailio and Asterisk do).
SIP RFCs in the OPAL stack (Ekiga do not use all of them, especially T.38 FAX features)


H.323 Version 4.0

Registrar Support: You can register to SIP compliant VoIP providers.
Gatekeeper (RAS) Support: You can register a VoIP service using H.323.
Gateway/Proxy Support
H.450.1 Call Hold
H.450.2 Call Transfer
H.450.3 Call Forwarding on No Answer, on Busy, Always
RFC2833, Q.931, and Inband DTMF support
H.235 Annex D. Support: Security of calls
H.239 Support for multiple video streams (partial)
H.245 Tunneling and Fast Start
H.245 Text Chat during calls (H323)
H.323 standards in the OPAL stack.



Windows Features Version 4.0

Support for DirectX 9 Video Capture/Output
Installer




Administrators Version 4.0

Possibility for Administrators to Block Some Settings




Developers Version 4.0

GUI and Engine separation to allow GUI customisation/port to other toolkits and integration in other projects
Use of Boost in a signal-based organization




Experimental features Version 4.0

Significant improvements in IPv6 support
GStreamer audio and video capture support



v4.0.1 changes:
What's changed ?
User-visible fixes

Fix crash when quitting ekiga while receiving presence information
Fix crash when quitting ekiga right after starting it (before STUN ending)
Fix crash when disabling an account while icons in roster are changing
Fix crash when receiving call a second time
Fix crash in XML parsing in case of malicious code
Fix increasing CPU usage afer hours of usage caused by endless OPTIONS
Several fixes for H.323:
fix H.323 parsing
add the username in authentication
fix unregistering the gatekeeper
fix registration
assign gk_name only if success
do not propose adding an H.323 account if the protocol is not built-in
Fix registration for registrars accepting the last Contact item offered
Allow to change the REGISTER compatibility mode of an existing registration
Fix impossibility to hangup active call after a missed call
Fix busy or call forwarding on busy occuring when connection is released
Fix subscribing/unsubscribing when enabling and disabling SIP accounts
Do not show is-typing messages sent by other programs during chatting
Stop ongoing registration when remove account
Use meaningful names for ALSA sub-devices
Allow to enter contact addresses without host part, and choose the host later
Increase number of characters shown in device names
Use a better icon for call history in addressbook
Show the address instead of "telephoneNumber" in addressbook
Deactivate NullAudio ptlib's device for audio input too
Do not send OPTIONS messages once the account is disabled
Hide the main window immediately on exit
Handle xa status as away
Fix debugging message when registering
Fix race condition leading to duplicate entry in call history
Fix incoming call if two INVITE's in a fork arrive very close together
Use correct username in OPTIONS messages
Allow to have message waiting indication even if asterisk's vmexten is off
Send OPTION only on the right interface
Fix buttons direction in dialpad for RTL languages
Fix aborting RTP receiver with Polycom HDX8000
Fix possible incorrect jitter calculation for RTCP
Only kill REGISTER/SUBSCRIBE forks if a "try again" response is received
Various other fixes

Distributor-visible changes
Windows port fixes

Fix freeze on quit
Allow to dynamically switch between main and extended streams in H.239
Enable iLBC audio codec, as it is free now
Disable obsolete VideoForWindows ptlib plugin
Add emoticons icons used for chat
Remove unuseful messages when starting ekiga the first time

Build fixes

Fix building opal when java SDK installed and swig is not
Some code cleanup

Translation updates

Update translations: fr, ml, pt_BR
Update help translations: pt_BR


This download is for the Windows version. If you need the Linux version, get the sources here.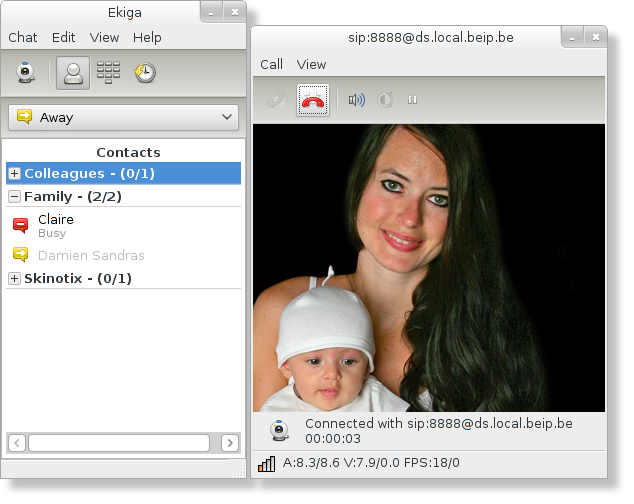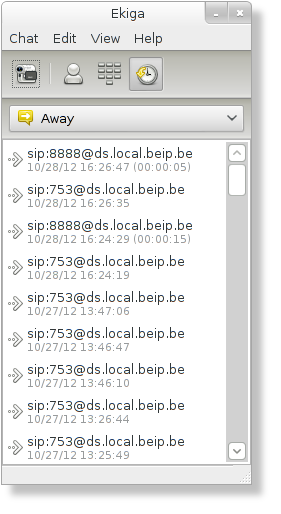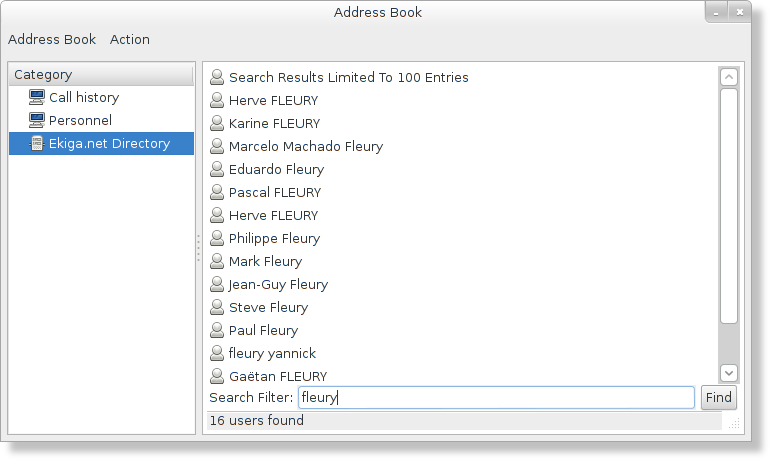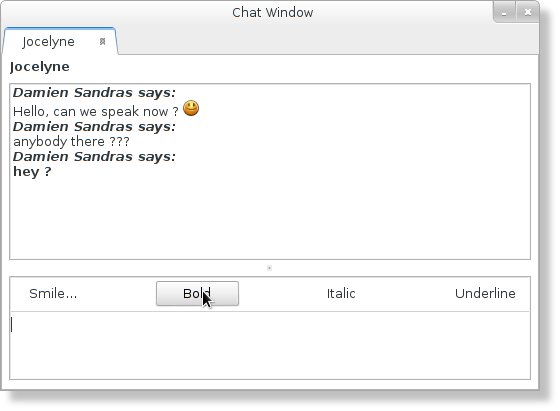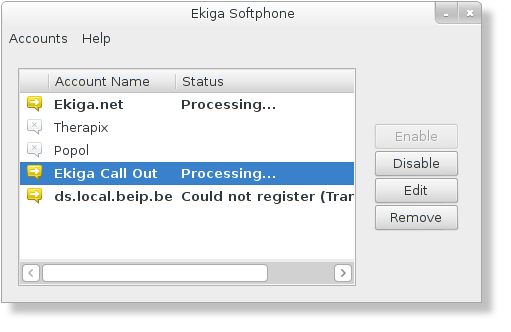 Click here to visit the author's website.
Continue below for the main download link.