Always scroll to the bottom of the page for the download link.
We don't believe in fake/misleading download buttons and tricks. The link is always in the same place.
---

PE Anatomist v0.1.17

PE Anatomist shows almost all known data structures inside a PE file and makes some analytics.

Headers and data structures parsing

IMAGE_DOS_HEADER, IMAGE_FILE_HEADER, IMAGE_OPTIONAL_HEADER, IMAGE_OPTIONAL_HEADER64 and the DataDirectories List with additional information about some fields
Table of COFF symbols
Sections table, supporting long section names (via symbols table) and entropy calculating
Import table (supports MS-styled names demangling)
Bound Import Table
Delayed Import Table
Export Table with additional info
Resource Table with additional info about different resource types and detailed view for all types
Base Relocation Table. Target address determining and interpretation available for all supporting architectures. It detects imports, delayed imports, exports, tables from loadconfig directory, ANSI and UNICODE strings.
Brief info about PE Authenticode Signature
LoadConfig Directory with SEH, GFID, decoded CFG bitmap, GIAT, Guard LongJumps, CHPE Metadata, Dynamic Value Reloc Table, Enclave Configuration, Volatile Metadata tables parsing and additional information about some fields
Debug Directory. It parses contents of CODEVIEW, POGO, VC FEATURE, REPRO, FPO, EXDLL CHARACTERISTICS, SPGO debug types
TLS config and callbacks table with additional information about some fields
Exceptions Data Table. x64 (including version 2 with EPILOG unwind codes), arm, arm64, ia64 architectures are support, as well as chain of unwind data for x64, language-specific handler data (C Scope, C++ FuncInfo, C++ EH4, C++ DWARF LSDA) and hexadecimal view of unwind data
Partial .NET directory pasring: IMAGE_COR20_HEADER, CORCOMPILE_HEADER, READYTORUN_HEADER with additional information about some fields
Decode Rich signature indicating the tool used, the action being taken, the full version of the tool, and the version of VisualStudio to which the tool belongs
IAT table contents
VB5 and VB6 typical structures: project info, DLLCall-imports, referenced modules, object table


In addition

FLC - file location calculator
Display settings and sorting by any column of the list
Localization of the program interface (while Russian and English options are available) via external DLL file
Explorer's context menu integration
Decoding strings of national Unicode symbols (cyrillic form CP1251 is available now)


More information here.


MD5: 59BA22954199533132A02B97C9A203B9
SHA1: 461C003EF04BE78AB1DFC55D62ECD4A3FD9970F3
SHA256: 1E72C9C27815ED0CACB7B61DFC1F4F4A07BAA1B73AD22CA6FD5E754DF4E60DAA


This tool was designed to be used with:

Windows XP SP3 (x86)
Windows 7, Windows 8, Windows 8.1, Windows 10 (both x86 and x64)
ReactOS 0.4



File Formats

PE32
PE32+

PE Image Architectures

Intel x86
AMD64
ARM7
ARM7 Thumb
ARM8-64
Intel IA64
CHPE (x86 on ARM8-64)


What's new?
Version 0.1.17.83 (2020-09-10)
PEAnatomist.exe SHA256: BEB515489A0C8DA42DC252F51C1DFCDF886E02A76FB688DFD3F41D3AECF8D9A8

Added recognition of the target from a MSI shortcut
Fixed a bug with displaying some dialogs from the resources
Updated set of CET policy flags and LOAD_CONFIG_DIRECTORY structure from SDK 20201
Added display of xFG-hash value in the GFID list
Added descriptions of several section groups on the "POGO" page in IMAGE_DEBUG_DIRECTORY
Accelerated display of found strings in PE files
Added an optional restriction to start the only instance of the program
Added a menu for launching a copy of the program with the currently open file
Added the ability to open a file from the clipboard
Fixed loss of a character in line recognition if a long line was split into several
Added string detection settings: recognition threshold and ignoring of strings without a trailing zero
Added a dialog for selecting a Section object and opening a mapped file
Introduced a limitation of one instance of the resource properties dialog per entry
Optimization and clean up of a part of the code for working with ListView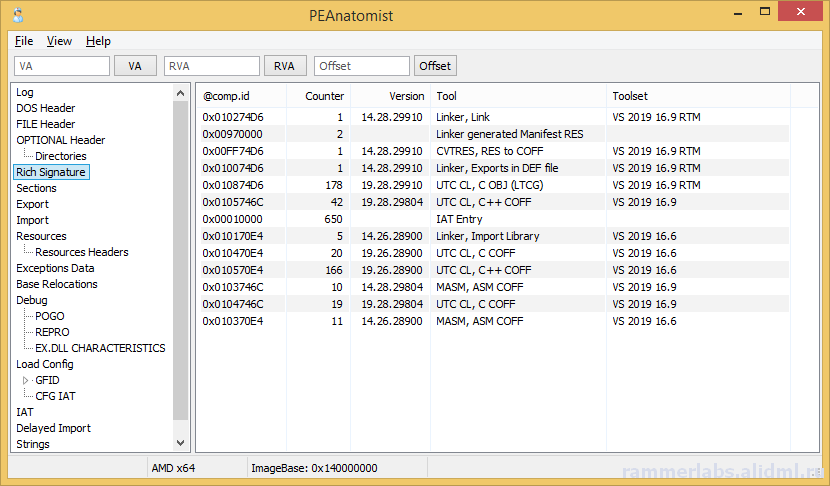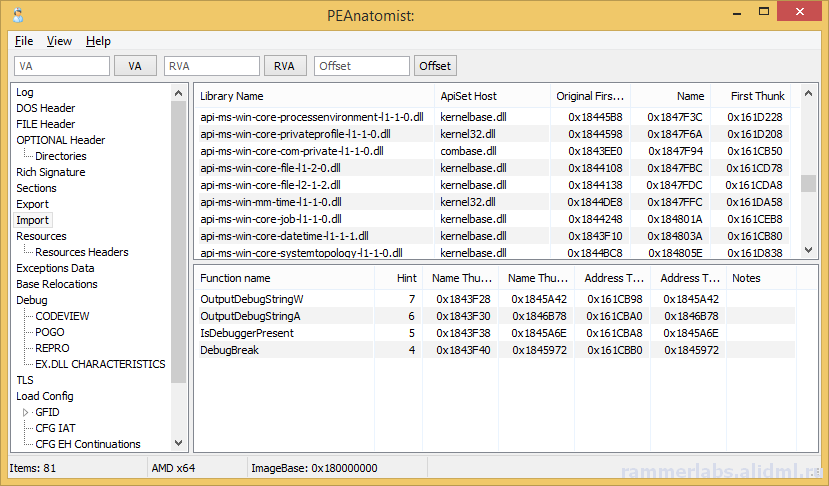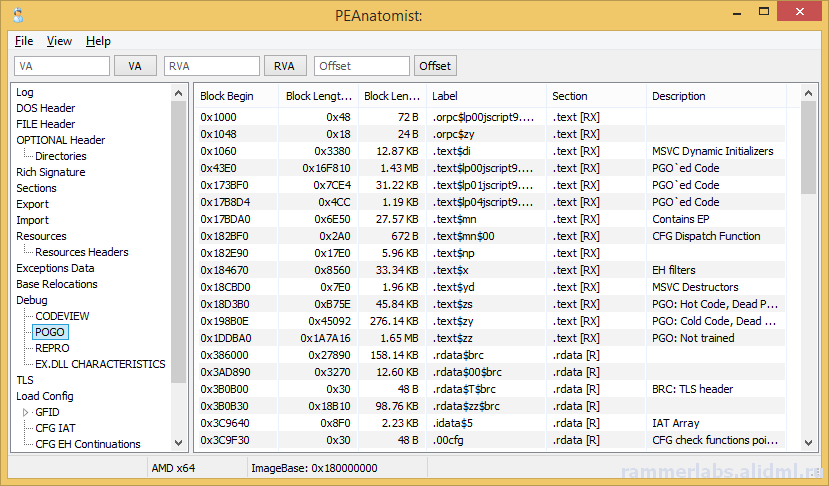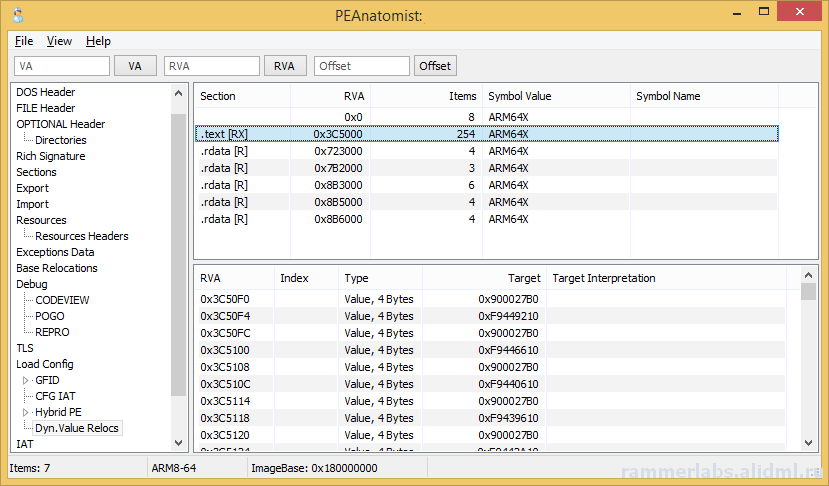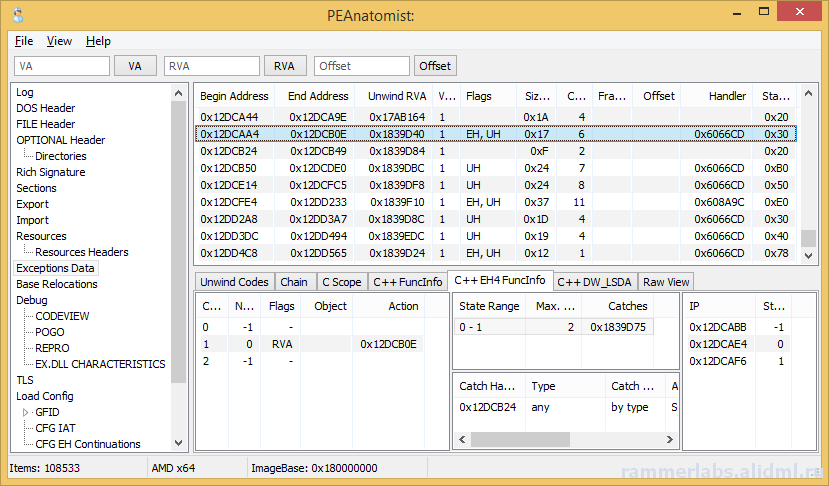 Click here to visit the author's website.
Continue below to download this file.