FYI, always scroll to the bottom of the page to download files on OlderGeeks.com.
We don't believe in fake/misleading download buttons and tricks. The link is always in the same place.
---

Stickies v10.0a

What is Stickies?

From the author:
Stickies is a PC utility I wrote to try to cut down on the number of yellow notes I was leaving stuck to my monitor. It is a computerized version of those notes.

The design goal behind Stickies is that the program is small and simple. Stickies will not mess with your system files, or write to the registry. Stickies stores information in a single SQLITE database file.

Stickies will never support animated dancing figures, or play "Greensleeves". They are instead yellow rectangular windows into which you can put some notes. Once created, they will stay on screen until you take them away. Just like a real sticky piece of paper.
Main features

Once on screen, notes will remain where placed until closed, even through reboots
Stickies appearance can be customised; fonts, colours and buttons may be changed, and styles saved. Notes can be resized.
Stickies can store text or images
Stickies can be hidden for a certain period, until a specified date and time, or to wake every day, week or month, to act as reminders.
Stickies can have alarms set to ensure you notice them at a point you choose
International language, Unicode and RTL text support
Stickies can snap to each other and to the sides of the screen to keep them neatly lined up
Stickies can be attached to an application, web site, document or folder so they only show when it's on screen
Stickies can be transferred from one machine to another either over a TCP/IP network connection, or by using an SMTP mail server or MAPI client:
Hierarchical friends list, which may be automatically transferred from other friends
Stickies works with Windows 7, Windows 8 and Windows 10
Stickies is small and simple, it writes to a database file, and does not alter the registry
AD network administrators can use Group Policy to control settings
API to allow integration with other applications
...and Stickies is completely free!

Changes:
v10.0a - 19th December 2019

New features

New data file format (using SQLITE)
New (real-time) Settings dialog, replacing Options
'Number in circle' drawing tool
'1, 2, or 3 days prior to' added to the Recurrence dialog
Recurring notes can be enabled/disabled
Can set the colour of Manage folder icons
Tab and shift-tab indent/outdent bullets
Option for whether to add an extra space with checkboxes
Option for whether to show content preview in Manage lists
Option to disable hyperlinks in text notes
Option for when 'Go Away' notes wake up tomorrow
Option for the default image save type
Option to set the size of new Stacks
Option for new notes to be rolled up
Option for single-clicking the tray icon to open the Manage dialog
Three options for the UI when grabbing the screen
Command line parameter -allowmultiple to permit two instances of app to run at once
Command line parameter -newstickyfromscreen to permit two instances of app to run at once
Command line parameter -showhideall to permit two instances of app to run at once
Command line parameter -showsettings to open Settings dialog
Secret 'text.fontlist.override' option created

Changes

Stickies is now statically compiled
Hotkeys can be individually enabled/disabled
Menu UI changes - icons now scale with DPI setting
Can now apply styles to text notes, and call up the note context menu in the Manage preview
Manage dialog animation smoothed
Stacks are now sorted
Stacks can be bulk moved (when collapsed)
DST warning added to Recurrence dialog (when setting every X days)
Added API command get stack <id> utitle
Added API command get desktop <id> stack
'Insert Link' dialog focuses Address entry when adding a link to existing text
App no longer has custom code to determine browser to use
Created, Modified and Stored dates are always distinct now
Encrypt/Decrypt menu items in Manage show when both text and images are selected
After dragging from a list in Manage, the next item is selected
Added 'Delete' icon to Closed right-click menu in Manage
Some additional items from the system tray menu added to the taskbar button menu
Manage list UI overhaul, app font changed to Calibri
Show/hide all a little faster in the Manage dialog
More and large pen widths in image notes
Pressing a number when painting text sets that style's font and colour
Locking a note position with content also prevents sizing
After searching in Manage, F3 repeats the search within the note
The RTL reading order is now read from Windows
More items added to the Snooze menu
Sticky and Stack window titles (not visible to the user) now include the title (for programmatic identification)
The Sleep dialog controls are always enabled, and the radio button switches automatically
The last used Alarm value is saved
Right-clicking a blank part of a Stored list in Manage shows the 'New note' menu
Activating the task bar button when all notes are hidden shows them all
The backup and restore commands have been moved into Settings from the tray menu
Less important notifications are now automatically removed after a few seconds
Added two more hilite colours
Database size shown in Manage Home screen
A bulk content save operation can be cancelled mid way through
Removed: Search engines
Removed: Custom category icons
Removed: Can no longer search by sticky ID in Manage
Removed: 'Large note' warning
Removed: Command line help (/?)
Removed: Stickies Scanner option support
Removed: Counting network sent/received
Removed: Move data directory

Fixes

Pressing control-break in a stack window no longer closes it
Pasting bitmaps from MS Paint works better
Colour picker works better on 200% DPI displays
Mouse over hints on URLs work better
Excessive HANDLE usage when taking automatic backups is fixed
Can no longer use alt-c in a locked note
Setting a title in the Manage Choose dialog now works
Having an empty Friends server set will no longer create empty notes at startup
WindowTitleMatches will now match * to be anything
Display problem with alarm indicator on stacks with a high DPI setting fixed
Loading app with some notes 'on top' flickers less
Incoming secret stickies no longer drop the title
'User 2' value from stored notes no longer incorrectly written to 'User 3'
The control double-tap menu opens correctly when used in a rolled up note
Dragging a note from Stored to a Stack, no longer leaves Stored visible
API command set desktop skinpath was working when it should have been GPO'd
Clearing an alarm causes a need to save data
Editing a note title when showing the Calendar category in Manage no longer changes the list to Sleeping
Icon flashing on secret sticky works correctly
Sometime intermittant on-top setting may a little more robust
Really small thumbtracks at the top of the scrollbar will now show
HYPERLINK "http://" text removed from Manage preview text

Some sample notes, showing different coloured notes, and font colours and styles, an image note, and a bullet list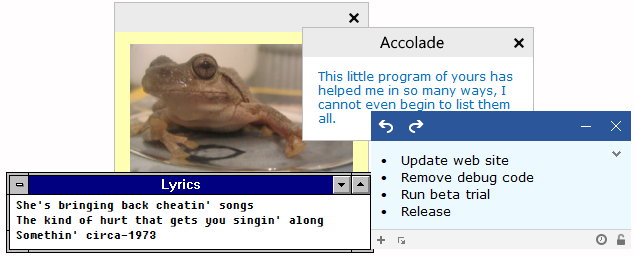 The Manage dialog, from where all notes can be viewed and searched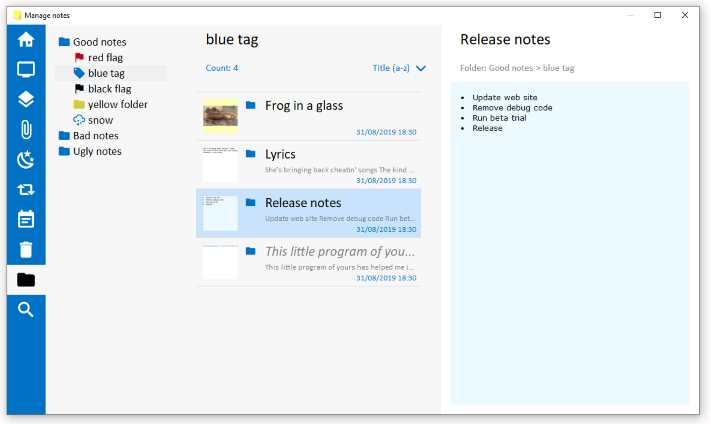 Right-clicking the task-tray icon (Stickies lives in the tray next to the clock) brings up this menu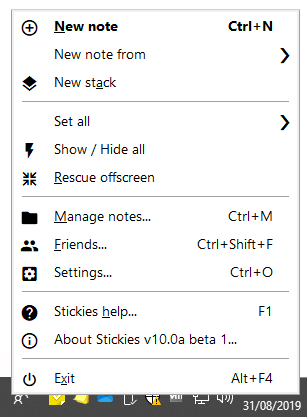 The settings dialog, showing the first of the tabs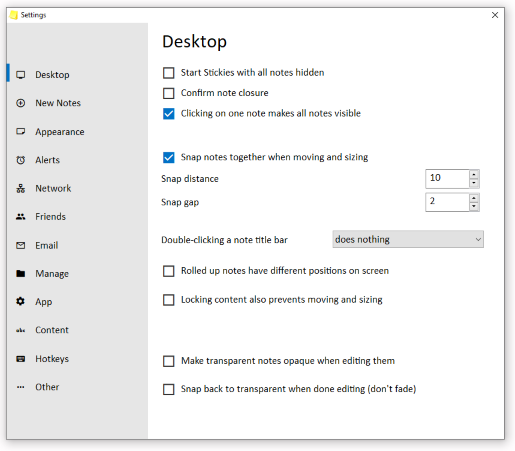 Sending a note to sleep







Attaching a note to the Calculator window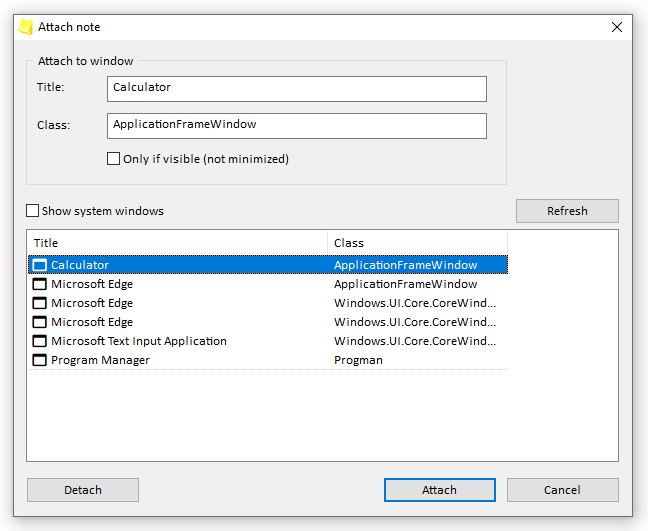 Some of the skins available to change the appearance of Stickies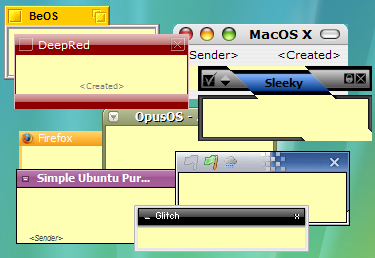 Click here to visit the author's website.
Continue below to download this file.