FYI, always scroll to the bottom of the page to download files on OlderGeeks.com.
We don't believe in fake/misleading download buttons and tricks. The link is always in the same place.
---

AskAdmin v1.6

AskAdmin is designed to restrict an Application a Folder or a File, ideal for those who have small children or for Computer used in business , In a few seconds and in a simple way you can block any program installed on your computer such as Microsoft Store , Microsoft EDGE , Google Chrome , Build-in Apps (UWP) , Skype or Files like bat,cmd,reg data…etc , The program have a password to prevent blocked programs are easily unlocked by any user . AskAdmin is a Portable Application.







What is New (Friday 8th February 2019)
1. [ ADDED ] – Blocking all application in a folder and it's subfolders feature
2. [ ADDED ] – Blocking Microsoft Store and Build-in (UWP) Application feature
3. [ ADDED ] – Blocking exe and folder via context menu feature
4. [ ADDED ] – Block windows components,settings pages,Remove security tab …
5. [ ADDED ] – Disallow Network Browsing feature
6. [ FIXED ] – Export-Import Minor BUGS
7. [ FIXED ] – An error while creating a new-Text Document (Critical)
8. [ FIXED ] – Password saving problem (Rare)

How to use it
There are two ways to create a block list:
1. The easiest way is to drag and drop Application/s, a Folder/s or a File/s you wish to block to the AskAdmin interface. If you wish, you can drag several applications on GUI at once.







2. Click the 'Add File' button (Plus icon) browse to the application you wish to block.

How to block an Application a Folder or a File
if an Application , Folder or File name is on the list , mean: it is Automotically blocked (Folder inhalt will be blocked not folder itself) , but on some cases you should use the "Restart" buton (Guarantee) , if you accidentally block any windows System file this can cause system crash therefore we have tried to prevent it,after that you can use the safe mode to unblock the file







How to unblock an application , a Folder or a File
You can unblock a single application/Folder/File, or you can simultaneously unblock all of them

a) Untick an Application , a Folder or a File name
b) Delete the Application , Folder or File name (Edit > Delete or Right click > Delete)







If the block does not seem to be work, you may need to restart Windows Explorer. To do so, click the Options menu, then select "Restart Windows Explorer" or use last icon for registered users. AskAdmin uses a hash security method, therefore it is useless to change the restricted application`s exe name and try to run it , you can not break the Restriction with gpedit.msc or anything else.

Block Build-in (UWP) Applications
Metro apps are touch-screen-friendly apps , users call them as Windows Apps , Universal Windows Platform (UWP) apps or Microsoft Store Apps , for example ; Microsoft EDGE , Calculator , Microsoft sticky notes … AskAdmin can block any of them.

1. Click , Extras – Block Build-in (UWP) Apps , you can Also block Microsoft store







2. Choose One / Some of the Windows Apps with help of the Ctrl Key and finally press the "Block Selected Items" Button (At the bottom)







Block Windows Components
You may want to block some of the Windows components like Task manager , Registry editor usw. To block them choose "Block Windows Components (Samples)" under the Extras Menu







You can add your own Windows components under this menu via editing "AskAdmin.ini" file , just Add them in proper format

You can save (export) the Block (Ban) list
If you are a system administrator and created a list that include dozen of Application or you just Blocked many Applications and want to save the list use "Export list" button (upward pointing arrow)







Your saved list name will include the current date automatically but of course you can give it another name

You can Load (import) the Ban list
You can use your saved list any time on any Windows Pc , just use "Import List" Button (Downward Pointing Arrow)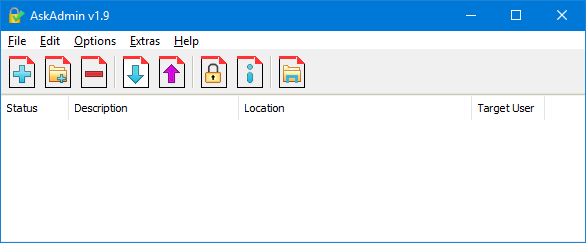 Note: This is the free version. You have to purchase the full version for the following features. We decided to add the program to the database because it is still very useful even without the "premium" version

1. Export - Import feature
2. Protect AskAdmin with Password
3. Adding more than 10 items to the block list
4. Restrictions can be applied for different users (non registered users block list affects all users)

Note: If you use AskAdmin's "Restart Windows Explorer" feature (under Options menu or last icon for registered users), Windows explorer will launch with administrative privileges (on NT6 systems and if UAC is enabled)

Supported Operating Systems: Windows 10 , Windows 8.1 , Windows 8 , Windows 7 , Windows Vista , Winsows Xp – (both x86 and x64)
Supported languages: English ,Turkish , German , Russian , French , Persian , Japanese , Polish , Chinese , Swedish , Vietnamese , Portuguese (Brazilian), Slovenian , Korean , Hebrew , Spanish , Arabic , Hindī , Greek

File: AskAdmin_x64.exe
MD5: e186106631bf03cca0500d15a15e1c9a
SHA1: cd25f8b78628c6da8f75b46f543ff6ea5289cf02

File: AskAdmin.exe
MD5: 1df11560077434a74fda962beefeaafe
SHA1: 5dc039db1e26b890ba72511063d0695e26a435bb





Click here to visit the author's website.
Continue below to download this file.