Always scroll to the bottom of the page for the main download link.
We don't believe in fake/misleading download buttons and tricks. The link is always in the same place.
---

ExperienceIndexOK v3.71

A small program and an effective solution to read and show your Windows Experience Index or to start a new calculation of the performance index.

The program is primarily written for Windows 8.1 and the Windows 10, because the performance index is calculated by the operating system, but the performance index is no longer displayed in the Windows System.

Key Features in ExperienceIndexOK

◆ Displays the performance index immediately
◆ Recalculate the windows experience index at any time!
◆ Is also suitable for Windows 7 and Vista

Other possibilities and specifications:
◆ Optional translation feature
◆ Small in size, great in experience
◆ Low CPU usage
◆ Portable windows program
◆ Multilingual

Supported Operating systems

Read Performance Index with Experience-Index-OK is supported on: Windows 10, Windows 10 Pro, Windows 10 Enterprise, Windows 10 Home, Windows 8.1, Windows 8.1 Enterprise and Pro, Windows 8, Windows 8 Enterprise and Pro, Windows 7, Windows 7 Enterprise, Windows 7 Home Basic, Windows 7 Home Premium + Professional, Windows 7 Starter + Ultimate, , X64, x86 and x32 all Windows, MS Windows Server 2019, 2016,2012, .

Why and about Windows performance index

The computer's performance index is usually calculated to find out what the actual workload and capacity of the Windows PC is. Higher performance index usually means the PC is faster, responds to requests and works better the program launches are also faster. In the meantime, the minimum index is calculated in the background on Windows 10. You can view it individually by recalculating with this tool, to see how to works. But there are some indicators, e.g. if the memory is up to 4 GB and the PC is equipped with a 64-bit processor, your ExperienceIndex is about 5.9. The performance index always fluctuates between the indicators from 1 to 7.9, and at Windows 10 / 8.1 to 9.9.

Easy to use

Start the program ExperienceIndexOK and the Windows Experience Index will be displayed immediately without any detours. In the additional features in the program, there are buttons to quickly jump to some useful system programs: Task Manager, System Properties, System Information, Disk Optimization, Computer Management, Disk Management. Generally nothing special, but for a general idea of the capabilities of your PC, this Windows program is very useful and informative.


Versions History

New in version 3.71 // 28 May 2021
• Test of Experience-Index-OK on new MS Windows 10 Build
• Update of the language files.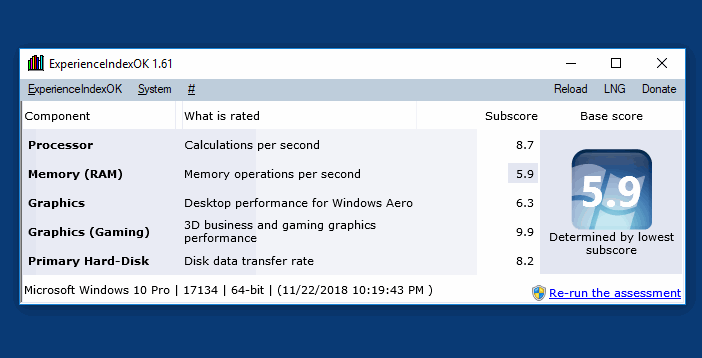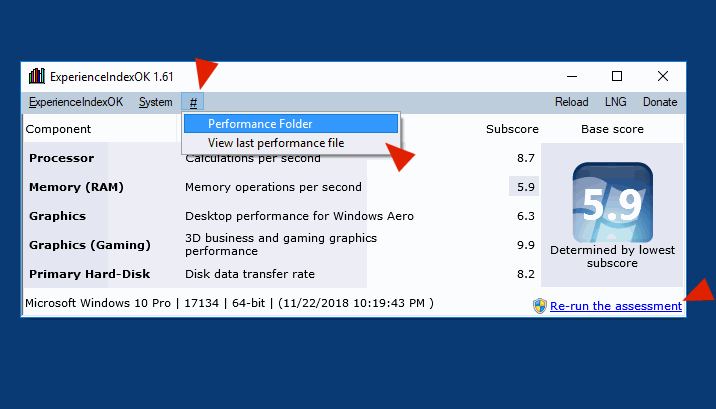 This download is for the 64bit version. If you need the 32bit version, download here.




Click here to visit the author's website.
Continue below for the main download link.