Always scroll to the bottom of the page for the main download link.
We don't believe in fake/misleading download buttons and tricks. The link is always in the same place.
---

NK2Edit v3.40 (for 64bit Office)

Every time that you type an email address or name in the message window of MS-Outlook, it automatically offer you a list of users and email address that you can choose. This feature is known as 'AutoComplete' and Outlook automatically build this emails list according to user activity and save it into a file with .NK2 extension.

In some circumstances, you may need to repair or modify the values appeared in the AutoComplete list, or you may want to remove unwanted email addresses and/or to add new email addresses. MS-Outlook doesn't provide any ability to edit this AutoComplete list, so this is where NK2Edit software can help you.

NK2Edit Features

Easily modify or fix all information stored in the NK2 file, including the display name, the email address, the exchange string, the Drop-Down display name, and the search string.
Easily remove unwanted single quote characters from the display name and from the Drop-Down list.
Delete unwanted emails, as well as add new emails, by typing them manually, or by choosing them from the address book of Outlook.
Copy NK2 records from one NK2 file to another - simply by copy and paste !
Build a completely new NK2 file and add the desired emails into it, by typing them manually, by adding them from your address book, or by copying records from another NK2 file.
Extract data from corrupted NK2 files that Outlook cannot read anymore (When Outlook AutoComplete stopped working) and even repair them so Outlook will be able to read them again.
Export all data stored in the NK2 file into a special Unicode text file in a structure similar to .ini file of Windows. You can open it any text editor you like, make the changes you need, and then convert it back into NK2 file that Outlook can use.
Export the emails information stored inside NK2 file into HTML/Text/csv/xml file.
Export the emails information stored inside NK2 file directly into the contacts of Outlook.
Copy the selected NK2 records in tab-delimited format and then paste the information into Excel.
Change the order of the records in the NK2 file, which also affects the order they appear in the drop-down. You can also sort the list in alphabetical order of the Drop-Down display names. (However, be aware that Outlook change the order again when the user send emails)
Command-Line Support: Write simple scripts that can add, remove, or modify records inside the NK2 file, without displaying any user interface.
NK2Edit is a portable application that can be used from any computer with Windows operating system (Starting from Windows 2000) without need of any installation process, and without making changes in the Registry.
NK2 Control Center - Allows you to watch to location and the status of all NK2 files in your organization.

System Requirements

NK2Edit works on any version of Windows, starting from Windows 2000 and up to Windows 10. NK2Edit is a Unicode based application, and thus it cannot work under Windows 95/98/ME.
NK2Edit can read, write, and create NK2 files for Outlook 2003, Outlook 2007, Outlook 2010, Outlook 2013, and Outlook 2016.
Outlook installation is not required on the computer that you run NK2Edit, except of "Add Records From Address Book" feature, which cannot work without Outlook. NK2Edit can also be used to open, edit, and save NK2 files on remote computers in your network, as long as you have read/write permission to the remote NK2 file.

Disclaimer
The software is provided "AS IS" without any warranty, either expressed or implied, including, but not limited to, the implied warranties of merchantability and fitness for a particular purpose. The author will not be liable for any special, incidental, consequential or indirect damages due to loss of data or any other reason.

NK2Edit vs NK2View
NK2View was originally released as a small free tool for viewing the content of NK2 files. After many requests from users, I added some limited editing features that allowed the users to remove and add records into the NK2 file. However, NK2View was not designed to be a real NK2 editor, and for some NK2 files, it failed to add/remove records properly.

As opposed to NK2View, NK2Edit was designed as a real NK2 editor that can make any change you need and then save it back into a valid NK2 file.

Using NK2Edit Without Installation
NK2Edit can be used without any installation process. Simply download the zip file of NK2Edit, extract the files into any folder you like, and run the executable file (NK2Edit.exe) . You can also put the files of NK2Edit in a shared network drive, and run it from any workstation in your company.
Whenever you want to remove NK2Edit from your system, simply delete the files of NK2Edit (NK2Edit.exe, NK2Edit.cfg, and NK2Edit.chm). NK2Edit doesn't write anything to the Registry or other places, so deleting the files is enough for removing NK2Edit completely from your system.

Using NK2Edit With Install/Uninstall Support
If you want, you can also download NK2Edit with installer (NK2Edit_setup.exe), and install NK2Edit like any other software. The installer of NK2Edit automatically add a new group to the start menu of Windows and it also add a new entry to the uninstall list of Windows, so you'll be able to easily uninstall NK2Edit if it's needed.

x64 Version of NK2Edit
NK2Edit has 2 features that extract address book/mailbox information directly from Microsoft Outlook: "Add New Records From Address Book" and "Add Records From Mailbox Recipients".

If you use the 64-bit version of Microsoft Outlook 2010 or Microsoft Outlook 2013 or Microsoft Outlook 2016, you must download and use the x64 of NK2Edit in order to use the above 2 features. In all other cases, you should use the 32-bit version of NK2Edit. Be aware that if you have 64-bit Windows installation, but the installation of MS-Outlook is 32-bit, you must use the 32-bit version of NK2Edit in order to use the above 2 features.

Before You Start

When you edit your NK2 file, remember to verify that the executable of Outlook (Outlook.exe) is not running. If you edit the NK2 file when Outlook is opened, Outlook may save the NK2 file and overwrite your changes.
Backups of NK2 file: When you make changes in your NK2 files, it's always important to keep a backup of the original NK2 file, so if something goes wrong and the modified NK2 doesn't work properly, you'll be able to restore the original one.
When you save your NK2 changes in the first time, NK2Edit automatically creates a backup of the original NK2 file with NK2Edit.First.bak extension. To restore the original NK2 file, simply use the 'Restore Backup From First Save' option. You can disable the automatic backup by unchecking the 'Automatically Backup On First Save' in the Options, although it's recommended to keep this options enabled.
In addition to the automatic backup of the first save, NK2Edit also allows you to create a backup when you think it's important. Simply use the 'Backup Current NK2 File' option, and NK2Edit will create a backup file with .NK2Edit.bak extension.
Know the limitation for number of records in NK2 files: Outlook 2003/2010/2013 limits the maximum number of records in NK2 files to 1000, while Outlook 2007 limits the maximum number of records to 2000. When you edit your NK2 files, you should keep the number of records below these limits, or alternatively, change the maximum records limit in the Registry. See Also: Size limit of Outlook AutoComplete (.NK2) file.
In Outlook 2010 and Outlook 2013 and Outlook 2016, the AutoComplete file is saved with .dat extension and its header data is a little different from the previous versions of Outlook. In order to save the AutoComplete file for Outlook 2010/2013/2016 properly, you have to save the file with .dat extension, so NK2Edit will save it with the new file header of Outlook 2010.
If you're going to use NK2Edit with Outlook 2010/2013/2016, you should read the following information page about the AutoComplete changes made in Outlook 2010:
AutoComplete feature changes on Outlook 2010 and later versions

Versions History

Version 3.40

Fixed issue: In previous versions, the 'Replace' command of NK2Edit scripts replaced only the 'Email' and 'Display Name' fields instead of replacing all major fields. Starting from this version, it replaces the specified string in all fields. If from some reason you want to keep this command in the previous mode, change the value of ReplaceCommandMode from 1 to 0 in nk2edit.cfg

Getting Started With NK2Edit
When you run NK2Edit, it automatically detect the .NK2 file of your default Outlook profile, and open it. If you want to open any other NK2 file, simply go to File->Open .NK2 File (Or press Ctrl+O) and choose the desired NK2 to open.

NK2Edit can work in 2 edit modes:

Table Edit Mode: This is the default edit mode, and you should use this mode most of the time. The NK2 records are displayed in simple table. You can double-click a single record to edit the record data. You can also select one or more records, and then delete them, move their location up or download, or copy them and then paste them into another NK2 file.
In this mode, you can also add new NK2 records by using 'Add New Record' or 'Add New Records From Address Book'.
Raw Text Edit Mode: This mode should only be used by advanced users. In this mode, you get a text editor like Notepad, and the NK2 records are provided in structure similar to ini files of Windows. You can also copy the entire text into another text editor that you like, make your changes, and then paste the text back to NK2Edit editor.

The changes you make in both edit modes won't affect the actual NK2 file until you use the 'Save Current NK2 File' option (Ctrl+S). Only when you use the save option, all your changes will be saved into the NK2 file. You can also use the 'Save As' option if you want to save your changes into a new NK2 instead of overwriting the existing one.
As already mentioned, when you overwrite your NK2 file in the first time, NK2Edit automatically creates a backup copy of the original NK2 file with .NK2Edit.First.bak extension.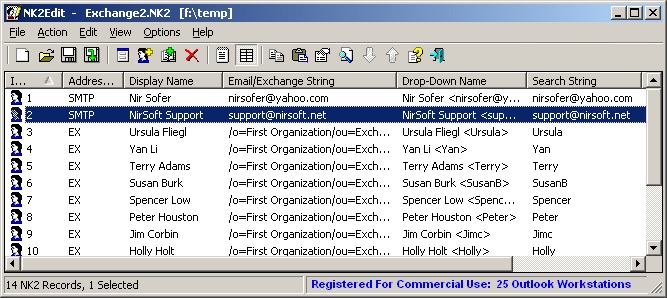 Click here to visit the author's website.
Continue below for the main download link.