Always scroll to the bottom of the page for the main download link.
We don't believe in fake/misleading download buttons and tricks. The link is always in the same place.
---

Just Color Picker v5.9

Free portable offline color picker and color editor for web designers and digital artists

Graphic designers, digital artists and webmasters can get artistic ideas and inspiration at any moment. They often notice colors and color combinations for their projects while doing something else. This is why a quick and convenient way of capturing those colors is essential. With Just Color Picker, identifying the colors, saving, editing and combining them into beautiful color combinations is super easy. Unlike many other apps, Just Color Picker was created by a person who actually uses it on an everyday basis. It is software for designers and digital artists created by a designer and a digital artist.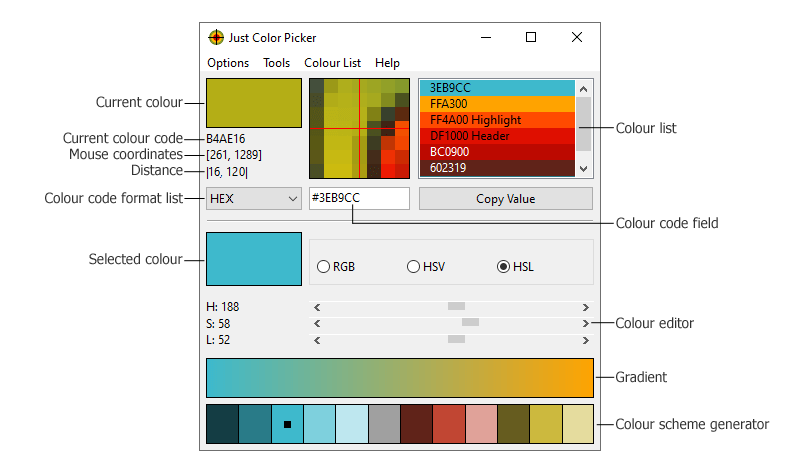 Features:
• Extensive range of color code formats: HEX, RGB, HSB/HSV, HSL, HWB, CMY and CMYK.
• Averaged color sampling for easy color noise handling.
• 3x, 9x and 15x magnifier and keyboard control of the mouse cursor movements for greater precision.
• Screen freeze feature for sampling the color of the elements that change on mouse-hover.
• Point lock feature for monitoring the color in the set screen location independent of the mouse cursor position.
• Calculation of pixel distance between points.
• Color list for saving, cataloguing and re-using the picked colors.
• Ability to open, edit and save Adobe Photoshop .aco color swatches (Adobe color files) and GIMP .gpl palette files.
• Interaction with the standard Windows and macOS color dialogs.
• User comments and notes for picked colors.
• Conversion of Hexadecimal and RGB color codes into the corresponding colors.
• Red-Green-Blue (RGB), Cyan-Magenta-Yellow (CMY) and Red-Yellow-Blue (RYB) colour wheels with marked triads and complementary colors.
• Harmonious color scheme generator.
• RGB, HSV and HSL color editors for adjusting and editing colors.
• Gradient transition between any two colors for creating a wide range of in-between hues.
• Text tool for evaluating the readability of the selected font and background color combinations.
• CSS-ready color codes for HTML, PHP and other web-pages.
• Optional stay-on-top behavior.
• User-defined hotkeys.
• Copying the color code to the clipboard with one mouse click or automatically.
• High-DPI awareness.
• Multi-display support.
• Light and dark modes, adjusting automatically to the system settings.
• No installation required. Just Color Picker is a portable application and can be run directly from a USB stick.
• Multilingual interface: English, Chinese Simplified, Chinese Traditional, Czech, Danish, Dutch, Finnish, French, German, Greek, Hungarian, Italian, Japanese, Korean, Norwegian, Polish, Portuguese, Russian, Spanish, Swedish.

Supported platforms
Windows 32 and 64 bit 7, 8, 10 and 11. Portable application, no installation required.
macOS 64 bit 10.8 or later.

Changes:
5.9, released 10 July 2023.
What's new: Added the Separator menu option that affects all colour formats consisting of multiple parts; bug fixes and improvements.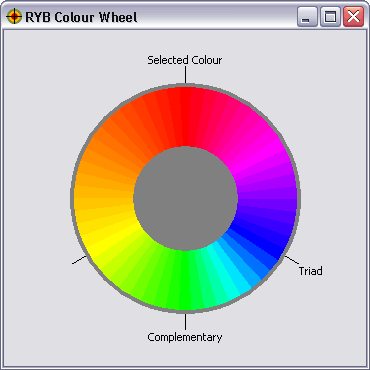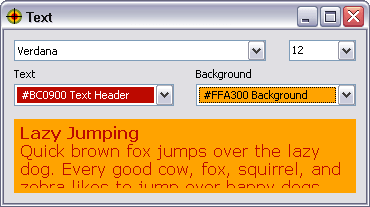 This download is for the Windows 64bit portable version.
If you need the Windows 32bit portable version, download here.
If you need the macOS version, download here.

Attention! On Windows, do not put jcpicker.exe in Program Files or other protected folders, as the system may not permit Just Color Picker to create new files. On macOS, don't forget to allow Just Color Picker the access to the screen in System Preferences Privacy settings.




Click here to visit the author's website.
Continue below for the main download link.