Always scroll to the bottom of the page for the main download link.
We don't believe in fake/misleading download buttons and tricks. The link is always in the same place.
---

YUMI v1.0.2.1

Multiboot USB Creator

YUMI (Your USB Multiboot Installer) is a Multiboot USB boot creator or media creation tool that can be used to make a Multisystem flash drive. This tool can quickly create a Multi bootable USB flash drive containing several different ISO files. Use it to boot from USB your favorite Live Linux portable Operating Systems, Linux and Windows Installers, antivirus utilities, disc cloning, backup, penetration testing, diagnostic tools, and much more. Making it easy for anyone to create their own customized multi purpose Bootable USB.

What is YUMI?
YUMI Multiboot USB creator has been considered by many to be the Best Bootable USB Creator. It replaces our old Multiboot ISOS tool and is also the successor to the Universal USB Installer (UUI). These tools were among the first ever made for the purpose of creating a bootable flash drive. In general and for the most part, bootable ISO files are stored within the YUMI Multiboot folder. This makes for a nicely organized portable Multiboot USB drive that can still be used for traditional storage purposes.

Though originally intended to be used to boot from USB "LIVE Linux" Operating Systems and tools, using it to install Linux from a flash drive to a hard drive should also work fine with most distributions. If you do happen to find a distro where the installer does not work, please let me know. You can also use the software to create Bootable Windows Installers, enabling you to easily Install Windows 10 from USB.

YUMI Multiboot Bootable USB Flash Drive Creation
This tool works much like the classical Universal USB Installer or Rufus, except instead of imaging a single ISO to USB, it can be used to store and run more than one distribution from your thumb drive. Enabling you to Boot Multiple ISO files from the same device. Distributions can also easily be uninstalled or removed with the tool!

Q: You might be asking, How can I boot from USB with exFAT?
A: The YUMI exFAT media creation tool can be used to automatically create an exFAT bootable USB. The following explains key differences between it and all of the older archived, no longer updated YUMI variants:

YUMI exFAT supports exFAT format & 4GB+ files. BIOS and UEFI USB boot.
YUMI Legacy (archived) supports NTFS or Fat32 format. BIOS USB boot only.
YUMI UEFI (archived) Fat32 only. BIOS and UEFI USB booting (distro dependent).

YUMI exFAT (BIOS and UEFI USB Boot)
This is the the latest and suggested variant to use going forward. It allows you to keep using an exFAT format on your USB drive and store files larger than 4GB. Both modern UEFI and Legacy BIOS boot modes are supported. You can also drag and drop bootable ISO files into folders onto your flash drive to be automatically detected and added to the boot menu at startup.

YUMI exFAT utilizes a bootloader based on Ventoy2Disk along with a custom YUMI theme and configuration enabling you to use advanced Ventoy boot methods with YUMI's helpful front end. Making it easy to find new distributions to download and try.

Create and manage for example; Arch, Debian, Fedora, and Ubuntu based distributions with persistent images, or make multiple Windows Media Installers.
You can even use the software for installing Windows onto USB in which case each distribution is stored and booted from separate VHDx images.

Note that this variant is backwards compatible with Ventoy. In fact, if you'd like, instead of using YUMI2USB you can copy YUMI-exFAT-1.0.2.1.exe to the same location as your Ventoy2Disk.exe and the multiboot USB boot tool will autodetect and use it instead for performing installation/updates.

How the YUMI App works
After your select drive has been setup by using "Prepare this Drive" option, you can proceed use the front end Installer to learn more about and download distributions and tools to put on the selected drive. The front end will create an organized folder structure and then copy each ISO file to the drive for you. This media creation tool will also keep track of your installations, which can come in handy for removal.

It can also create persistent storage files for you along with any related .json entries. Note that each Arch, Fedora, Debian or Ubuntu based distribution can have its own persistent storage.

YUMI Features:
• Official Website links are provided to help you learn more about each USB bootable distribution.
• Download links make it easy to find new ISO files to try on your bootable USB.
• Up to 40GB persistence file creation for Arch, Fedora, Ubuntu and Debian based distributions such as KALI Linux.
• Easily add or remove installed ISO distributions and persistent block files.
• Automatic drive preparation using a Fat32 boot partition and exFAT partition for storage.
• Optional ability to "Drag and Drop ISO files" onto USB.
• 100% Free and Open Source (version specific source code is provided upon release).

Bootable exFAT Flash Drive Setup and USB Boot Screen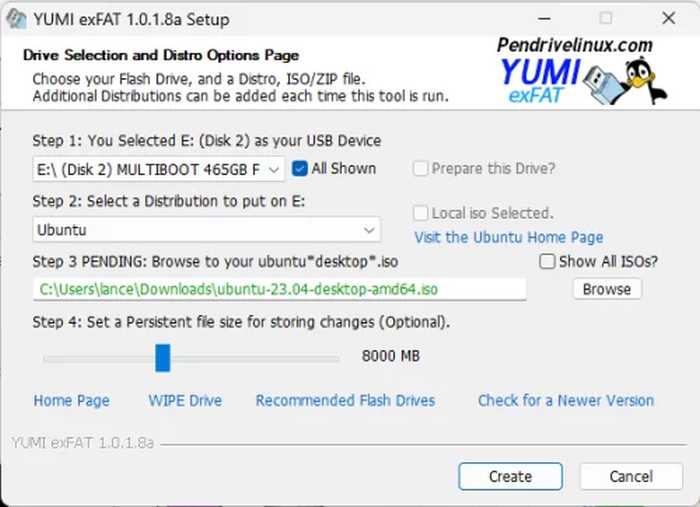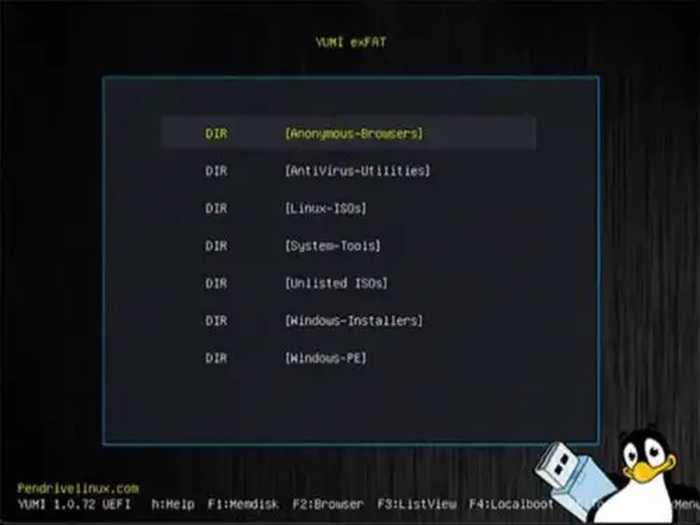 Drag and Drop ISO Support:
You can also create your own storage folders within the YUMI folder on the flash drive and then just drag and drop your ISO, IMG, WIM, VHD(x), VDI.vtoy, and EFI files into those folders on the USB flash drive. During startup, the system will add entries for discovered items. Stored files can be larger than 4GB.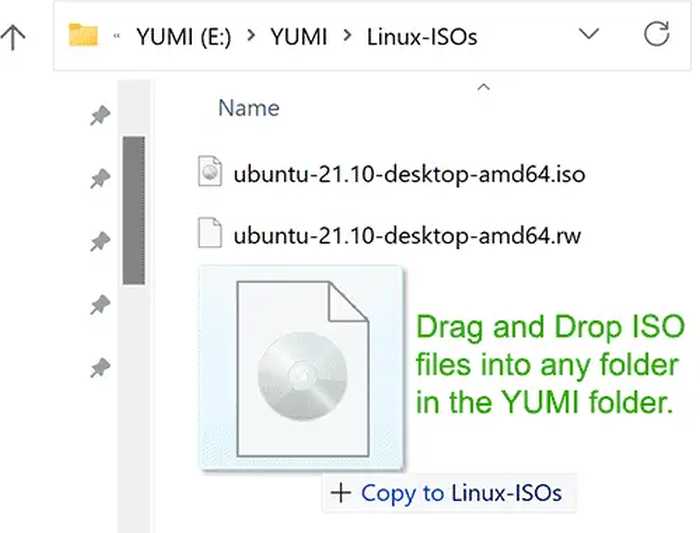 Is USB Secure Boot Supported?
Yes, this variant makes use of the upstream Ventoy Secure Boot. Simply select VTOYEFI and then set ENROLL_THIS_KEY_IN_MOKMANAGER.cer as the Select Key to be enrolled into the MOK database.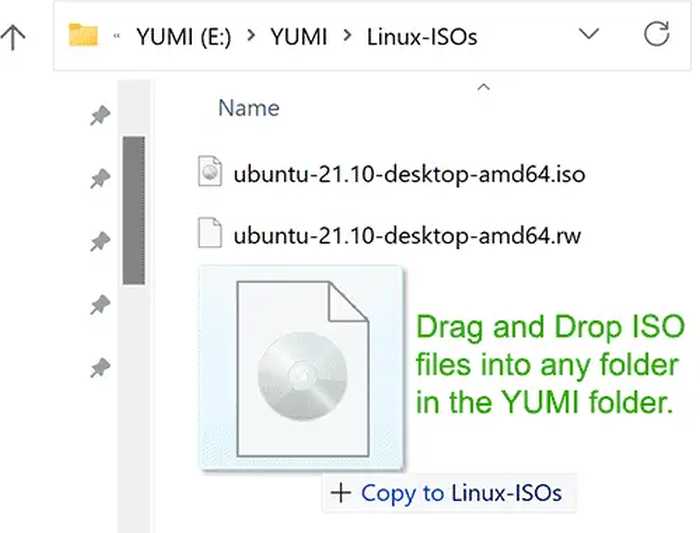 Changes:
9/7/23 1.0.2.1: 1.0.95 bootloader. Corrected ISO masking for Windows X-Lite. Addressed various bugs in the handing of message boxes and menu selections. Added a new feature that automatically checks for version update at runtime.

YUMI exFAT SHA-256: 3bc254e25175e49314a5246230e3a23af9be6a55c436e8b56d70a3583f120244






Click here to visit the author's website.
Continue below for the main download link.