Always scroll to the bottom of the page to download files on OlderGeeks.com.
We don't believe in fake/misleading download buttons and tricks.

Folder Painter v1.0
All of us want our computer to be well organized, as it would be easier to access your files and folders when you need it. Apart from organizing your files using separate folders for different kind of files, you can also customize the folder itself. One of the pertinent issues that most of us come across often is that we just can't instantly seem to locate the folder we need because all of them look the same. We then resort to searching for its name or taking a more closer look. This can be taken care of if we could add different colors to the folders in Windows Explorer . If you can assign a different color to different folders, then it would become easier to access them next time. After all, recognizing a folder with a color would be much easier than going through the names of the folder.

Windows 10 doesn't have any options for you to customize folder colors. FolderPainter is a freeware that lets you color your Windows explorer folder color and change it from the default yellow color. Using this application, you can assign any color to your frequently accessed folders for example your financial folder can be green (like money) and your tasks folder can be red (urgent maybe?). After that No longer will you have to run your eyes over many folders to access your favorite folder. Having a different color will make the folder stand out, so that you can open it quickly.

How to use :

Folder Painter is an easy to use Portable Freeware program, which allows you to change the color of the icon representing a chosen folder to any color you like.

1. After Download Unzip it and run the "FolderPainter.exe"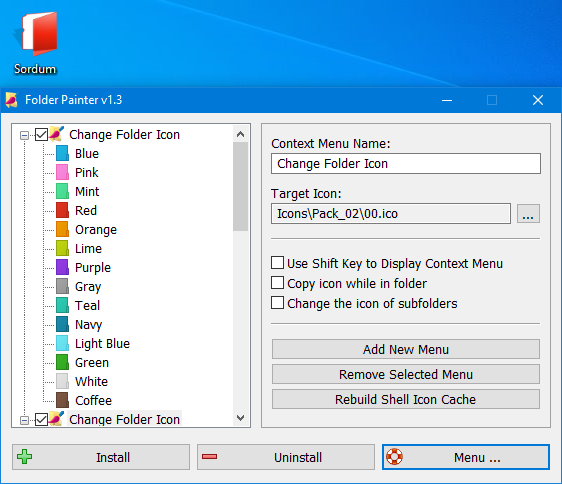 2. Choose One of the two options on the main GUI and use "Add to Menu" Button , it will add Folder Painter to your Context menu , Right-click the folder on the desktop to open its context menu that will now include a "Change Folder Icon" option as in the snapshot below. Select that option to expand its submenu.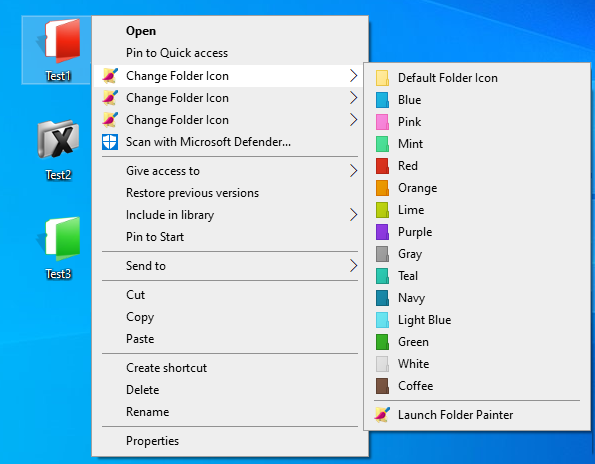 The submenu above includes a few colors for you to select. Choose a color from there to add it the folder . Press the "Default Folder Icon" option on the context menu to revert back to the default color.To uninstall Folder Painter from your right click menu just use Uninstall Button.

Make the color permanent for other Computers

Just tick the Copy icon while in folder. while Changing the folder color , folder icon will be copied into it and this will make the changes permanent.for example ; if you copy the folder into the USB drive folder color will remain the same in other computers.

Add your own Folder colors:

you can customize Icon folder by your custom color icons , to do this ;
1. Add your custom colored icon files into the Icon folder and rename them like Orginals (01,02…)
2. Change the color names in the FolderPainter.ini file

Folder Painter has CMD (command line) support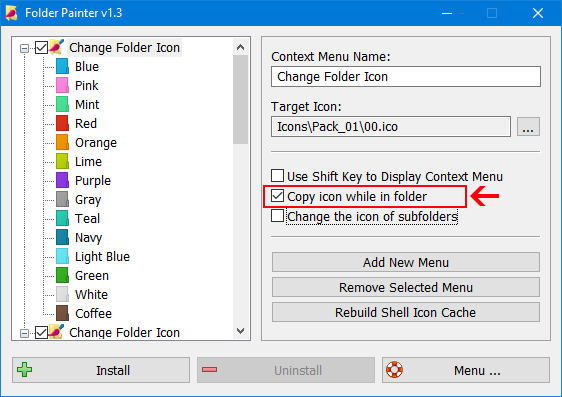 The application doesn't affect system performance in any way and the best of all is that it works smoothly on all Windows versions , No installation , No activation code , Portable , Freeware.

Supported operating systems: Windows 10 , Windows 8.1 , Windows 8 , Windows 7
Supported languages: English , Turkish , German , French , Hungarian , Korean , Greek , Slovenian , Polish , Russian , Spanish , Italian , Japanese , Indonesian , Thai , dutch , Portuguese

MD5 : ceac93537dbf3c1740f3b232c8291fff
SHA1: 0a4b18b6ecb64b6781b494e821af0425c7053a4b


Continue below to download this file.