Always scroll to the bottom of the page for the main download link.
We don't believe in fake/misleading download buttons and tricks. The link is always in the same place.
---

HostsCK v2.2.8.0

HostsCK is the free, easy, comprehensive way to maintain the Windows Hosts file.

By maintaining the Windows Hosts file you can block many annoying ads, banners and
cookies as well as complete websites, potentially speeding up your web-browsing and
keeping you safer online without the need to add yet more plugins to your web browser.
And unlike browser plugins a Hosts file can protect your computer even when you are not
browsing by blocking programs from connecting to their home site.

Main features

Easy to read the Hosts file.

HostsCKIt makes the Hosts file easier to read by using different
font colours for the comments in a Hosts file and the
addresses being blocked or allowed.
You can use any colour combination you want.
You can also easily remove any or all comments.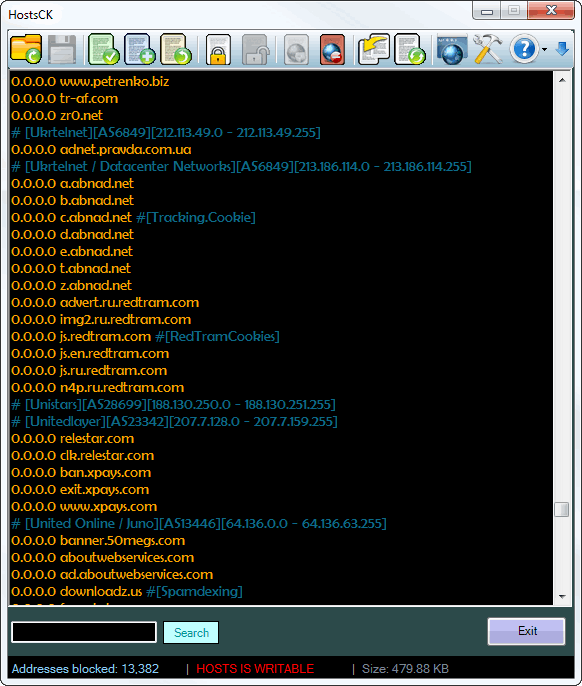 Easy to update the Hosts file.

HostsCK BrowserOne click on the toolbar opens the built in browser which
can take you to mvps.org or any other website that provides
a Hosts blocked list making it easy to download and update
the Hosts file. There are options to backup your Hosts before
saving, remove comments or change any prefix of 0.0.0.0 to
127.0.0.1 or vice versa.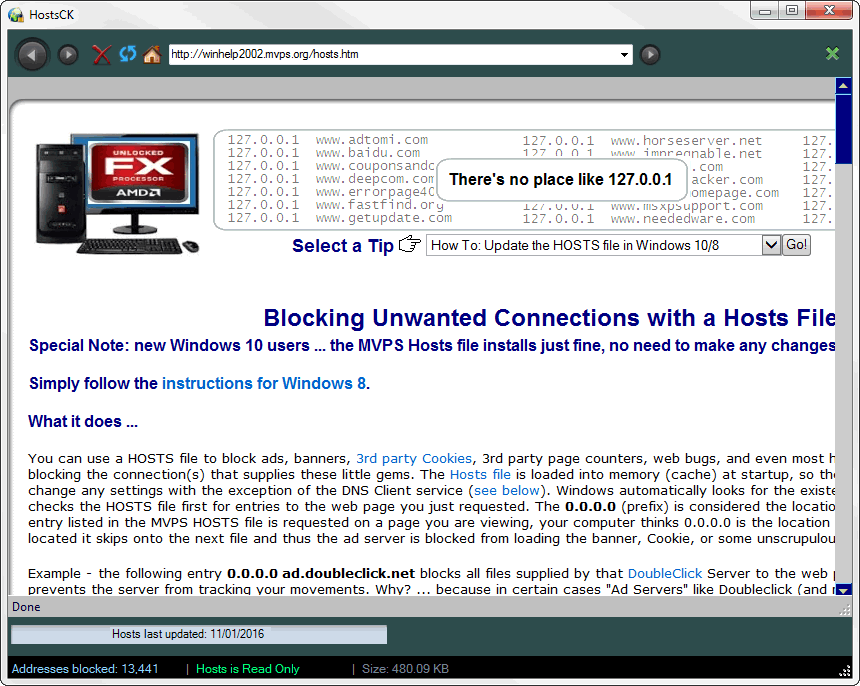 Save your own blocked or allowed sites.

Saved sites viewerSave your own sites which will be imported back
into the Hosts file when you have update it.

You can save addresses to a whitelist.
HostsCK will make sure those addresses are not
blocked when saving a Hosts.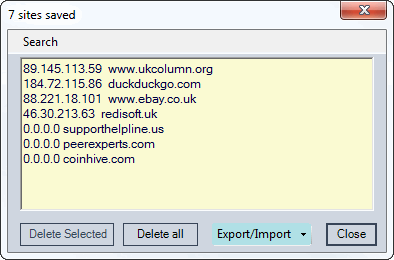 HostsCK also makes it simple to backup or disable the Hosts file, you can revert back
to the original Microsoft file if required. It can lock the Hosts file which will prevent
other programs deleting or modifying it and you can easily import your own lists.

Best of all, HostsCK is free. There are no limitations, no locked features
and no ads….EVER!

If you are using Windows 8 or 10 you may have to add a file exception
for the Hosts file in Windows Defender.

Step-by-step guides on how to do this are provided

here for Windows 8 and here for Windows 10

Overview









Toolbar buttons from the left: Open a Hosts file, Save the file, check the Hosts file for duplicate entries, backup the Hosts file,
restore the backup, make Hosts file read only, make Hosts file writable, enable Hosts file, disable Hosts file, revert to original
Microsoft Hosts file, open the built in browser to download a Hosts file, launch GetIP which gets a websites IP address, open
HostsCK's settings, about HostsCK, program help file and check for updates to HostsCK.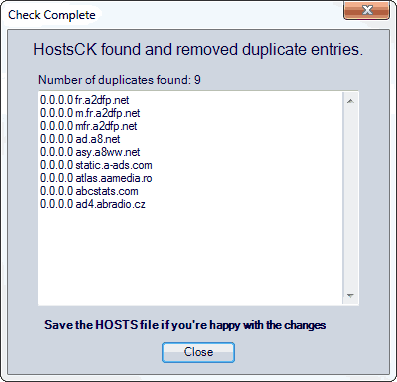 Clicking on the "Check Hosts" button on the toolbar will launch the check
for duplicates function. If duplicate Hosts entries are found they will be
removed. Saving the Hosts completes the change.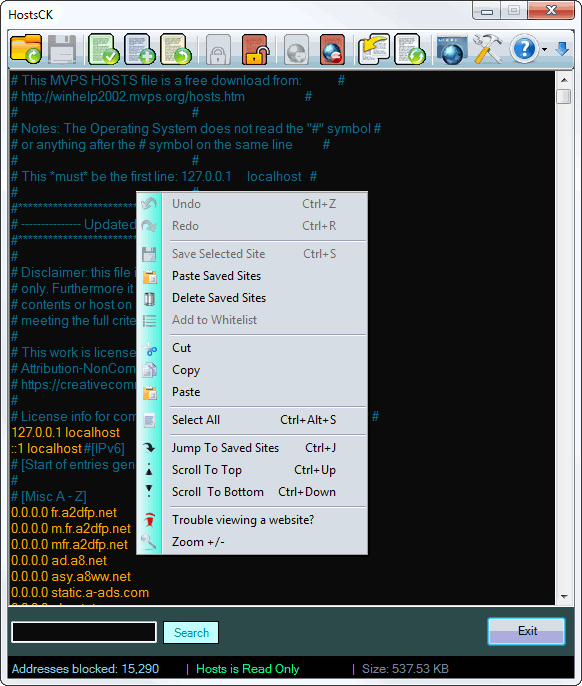 The textbox menu featuring the save your own textitems. You can easily save your own entries then
import them back into an updated Hosts file when you save one.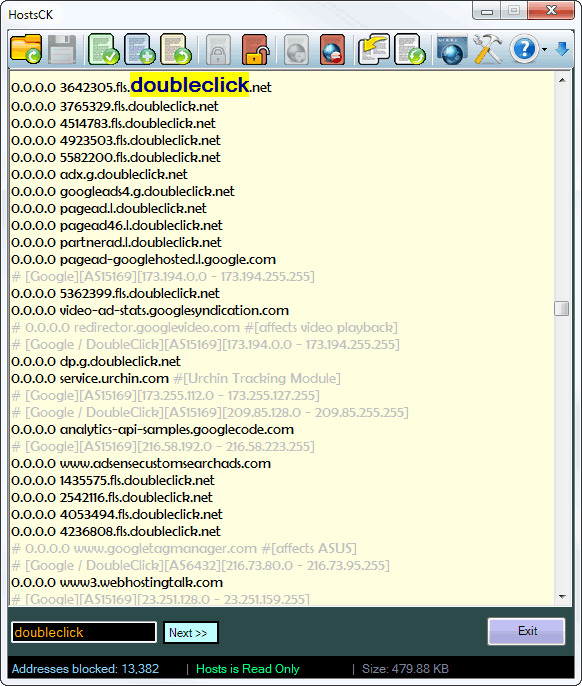 Search the Hosts file for hosts.
The search box also acts as a command box.
Typing ;; (2 semi-colons) into the search box gives a list of available commands such as turning
the DNS Cache service on and off. HostsCK will not check very large Hosts files for duplicate
entries but this can be overridden by typing ";;check hosts" into the search box.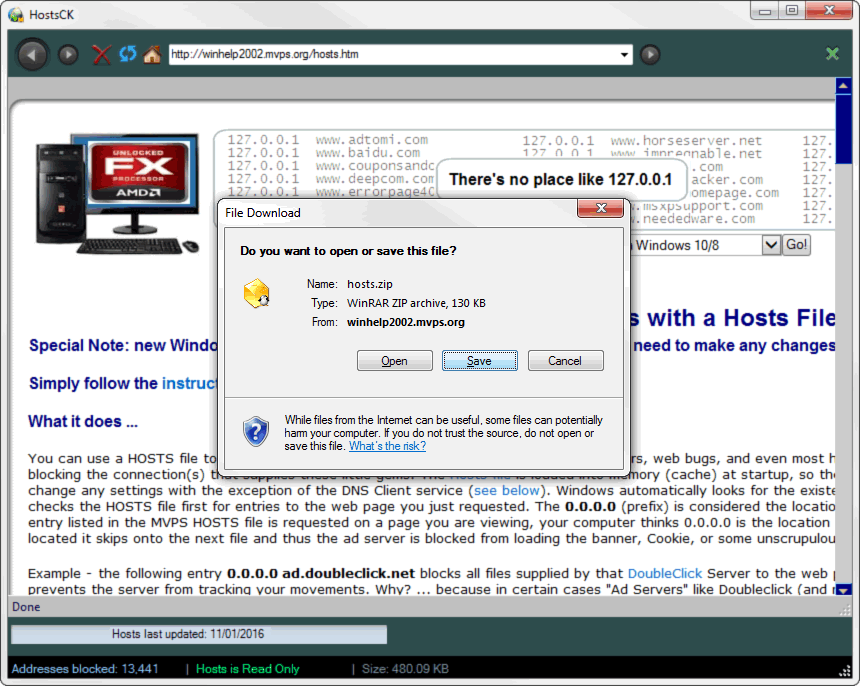 The Integrated browser makes it easy to download an updated Hosts file, no need to use 2
separate programs.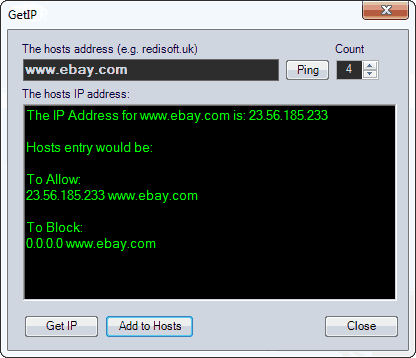 Getting a websites IP address couldn't be simpler. Use GetIP to get the IP address and allow or
block it in the Hosts file.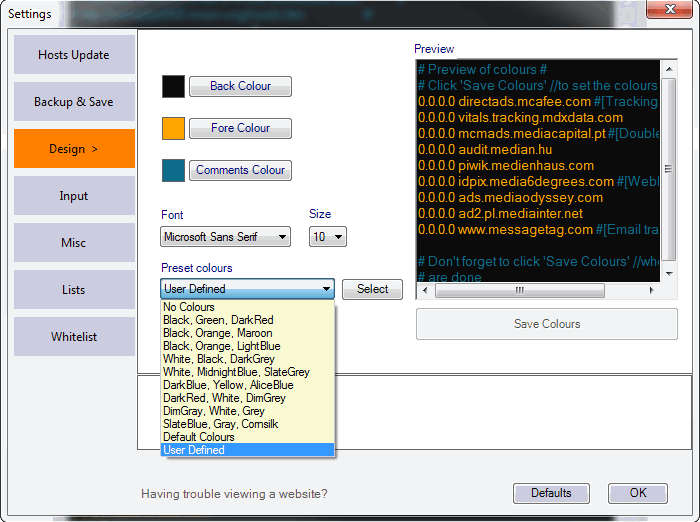 Customize fonts and colours

Use the built in colour schemes or choose your own colours for background, comments
font and blocked and allowed entries fonts. Of course using font colouring can slow down
HostsCK when dealing with massive Hosts files, 100,000 + entries so you can disable
colouring to have HostsCK read a Hosts file as fast as any text editor.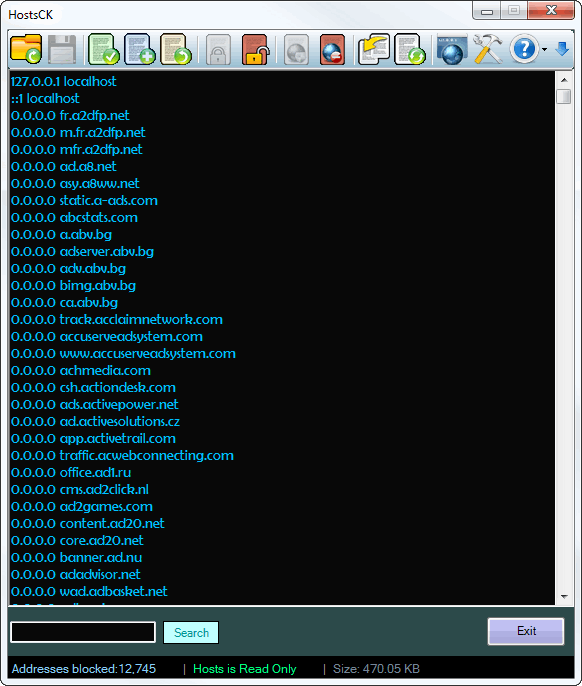 From the toolbar HostsCK can search the Hosts file for and remove duplicate entries.
Make the Hosts writable or not, disable the Hosts file if the blocks are making a website hard to read
(you may have to restart your browser after disabling or enabling the Hosts file). Backup your Hosts or
minimize HostsCK to the system tray so it can lock the Hosts file. The Hosts can still be read in this case
but it cannot be modified or deleted. You will probably want to add your own entries to the Hosts file
which would be lost when you update the file. With HostsCK you can remember your own entries which
will be copied back to the file when it's saved.

For the advanced user "ipconfig GUI" is included in the installation and can be launched from the
HostsCK Start Menu link.
ipconfig GUI gives the ability to run ipconfig commands from an easy to use interface and has the
advantage of colouring results and makes saving results easy.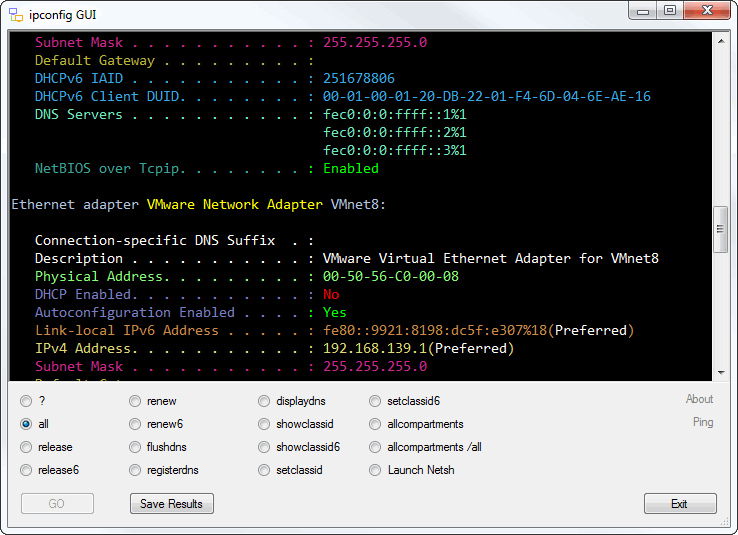 Version 2.2.8.0 Final – 20 May 2019

Fixed: Internet Explorer loading when HostsDE checked for a Hosts update while a VPN client was connecting or had disabled an internet connection.
Fixed: HostsCK crash when launching the Hosts update server in the default browser.
Added: Autosave setting. Open or drag and drop a Hosts file into HostsCK and it will be
automatically saved. HostsDE, if set to check for mvps Hosts updates, will download and save the Hosts
update when an update becomes available. Autosave is disabled by default. Go to " Settings > Backup & Saving "
to toggle autosave.
Added: Shortcut key for full view (F11).
Changed: Changed internet connection ping from 4.2.2.2 to 8.8.8.8 as several users reported
problems with HostsCK and HostsDE detecting an internet connection.
Improved: Colour schemes re-written. Each scheme is named and the scheme colours are extended
to other areas of HostsCK in some cases.
Improved: Graphical improvements to the built-in web browser.





Click here to visit the author's website.


Continue below for the main download link.