FYI, always scroll to the bottom of the page to download files on OlderGeeks.com.
We don't believe in fake/misleading download buttons and tricks. The link is always in the same place.
---

CarotDAV v1.15.7

CarotDAV is a Simple WebDAV / FTP / SFTP / Online Storages client for Windows OS, available free of charge. In addition, simplified WebDAV server for local use are embedded.

Environment

Windows 2000, XP, 2003, Vista, 2008, 7, 2012, 8, 10
.Net Framework 2.0/4.0
(tested on IIS6, IIS7, Apache2.2/2.1, and other servers)

Complied Standards, Features

HTTP/1.1 (RFC2616)
HTTPS (RFC2818)
DAV class 1(RFC2518), 3(RFC4918)
Authentication Methods: None, Basic(RFC2617), Digest(RFC2617), NTLM, Kerberos, SPNEGO(Negotiate)(Kerberos、NTLM), WSSE, Passport
HTTP Proxy
Client Certificate
Compression(gzip, deflate. up to 4GiB)
FTP (RFC959)
FTPS (FTP over TLS) (RFC4217, RFC2228, RFC2246) (Explicit only)
zlib compression(IETF Draft draft-preston-ftpext-deflate-03.txt)
SFTP (SFTPv3 over SSHv2)
OneDrive
Dropbox
GoogleDrive
Box
SugarSync
Copy
AmazonCloudDrive
HubiC
OpenStack Swift
Host-specific file names(RFC1738)
support long path > MAX_PATH(260)
IMAP4rev1(RFC3501) ReadOnly
Resume
Download / Upload
Auto Split
Encrypt / Verify
Filename (AES256 CTS)
File contents (AES256 CBC)
Key and IV creation PBKDF2 (RFC2898)
Verification based on Hash (SHA-256)
Various charactor encodings (UTF-7/8/16/32, Shift-JIS, ISO-2022-JP, EUC-JP, Big5, EUC-KR, EUC-TW, etc)
Unicode Normalization (Unicode Standard Annex #15)
Master Password
AES256 CBC
Key and IV creation PBKDF2 (RFC2898)
SSL3.0, TLS 1.0/1.1/1.2
simplified WebDAV server for local use
GUI and CUI version

License

This software is free of charge. You can use it personally or commercially. You are also allowed to distribute secondary, fix/alter, do reverse-engineering.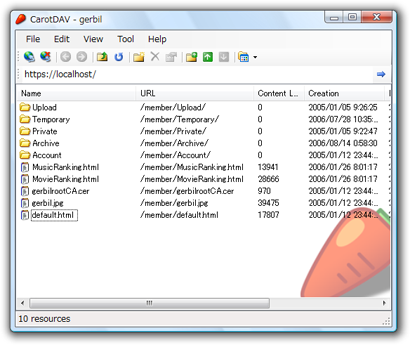 Continue below to download this file.