Always scroll to the bottom of the page to download files on OlderGeeks.com.
We don't believe in fake/misleading download buttons and tricks.

12-Ants 2.91 64bit
12-Ants or more for your desktop. Itching is not excluded. Watching the little rascals and have fun.

# Features!
# Very Small Software (Freeware-Tool)
# 5 movement Algorithms
# 3-50 Desktop-Ants
# Adjustable speed
# Adjustable Ants color (Red, Black, Green, ....)
# Optional alpha transparency for the Ants
# Optional translations feature
# Portable Tool
# Multilingual


# 5 movement Algorithms for the Desktop Ants!
1. Ants attack the cursor
2. Ants attack the cursor when moves
3. Ants fleeing from the cursor
4. Ants flee when the cursor moves
5. To stroll around (the Ants)

# Operating systems:
Windows 10, Windows 10 Pro, Windows 10 Enterprise, Windows 10 Home, Windows 8.1, Windows 8.1 Enterprise, Windows 8.1 Pro, Windows 8, Windows 8 Enterprise, Windows 8 Pro, Windows 7, Windows 7 Enterprise, Windows 7 Home Basic, Windows 7 Home Premium, Windows 7 Professional, Windows 7 Starter, Windows 7 Ultimate, Windows Vista Enterprise 64-bit edition, Windows Vista Ultimate 64-bit edition, Windows Vista Business, Windows Vista Business 64-bit edition, Windows Vista Enterprise, Windows Vista Ultimate, Windows XP Home and Pro, X64 and x32 all Windows, Windows Server 2000-2008,Windows Server 2012,Windows Server 2016.

# Installation!
12-Ants does not have to be installed and can be executed easily from the desktop, and can be carried on a small usb-stick or other memory device.

# Versions History
New in version 2.91 // 7 June 2018
Test on Windows 10 Update Build 1804 - 17134 (Redstone 4)
Code-signing certificate for 12-ants
New language in 12-ants: Traditional Chinese
....
Thanks to Danfong Hsieh for the Traditional Chinese language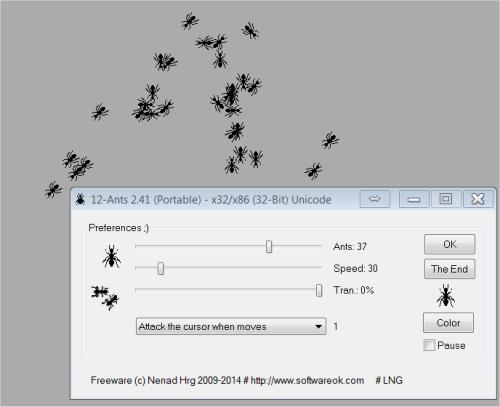 Continue below to download this file.