FYI, always scroll to the bottom of the page to download files on OlderGeeks.com.
We don't believe in fake/misleading download buttons and tricks. The link is always in the same place.
---

AutoHideMouseCursor v2.99 64bit

AutoHideMouseCursor is a small portable Windows application that allows you to hide the mouse cursor, if this does not move.

Automatically hide the mouse cursor with an adjustable timer, it is the right desktop tool when the cursor is too annoying to them, such as when working with word processing programs because often when you enter the text cursor is in the way and obscures the text.

Thus one has a clear view on the text, or other programs, you can try this freeware tool though, as no installation is required, you can also delete it if not satisfied very quickly, without leaving traces on the computer.

# Features:

- Very small program
- Mouse Hiding Classic and New Strategy
- Low CPU usage
- Adjustable timer
- Optional translation function
- Portable

# Employment:

The auto hide mouse cursor feature is suitable for: Windows 10, Windows 10 Pro, Windows 10 Enterprise, Windows 10 Home, Windows 8.1, Windows 8.1 Enterprise, Windows 8.1 Pro, Windows 8, Windows 8 Enterprise, Windows 8 Pro, Windows 7, Windows 7 Enterprise, Windows 7 Home Basic, Windows 7 Home Premium, Windows 7 Professional, Windows 7 Starter, Windows 7 Ultimate, Windows Vista Enterprise 64-bit edition, Windows Vista Ultimate 64-bit edition, Windows Vista Business, Windows Vista Business 64-bit edition, Windows Vista Enterprise, Windows Vista Ultimate, Windows XP Home and Pro, X64 and x32 all Windows, Windows Server 2000-2008,Windows Server 2012,Windows Server 2016.

New in version 2.99 // 19 August 2019
• Adjustments in the Mouse Hide Tool for the next Windows 10 build
• Important update of the language files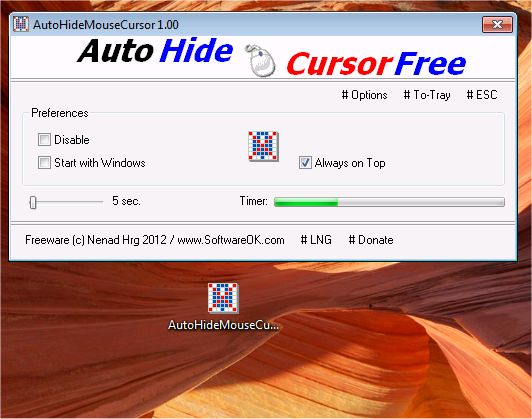 Click here to visit the author's website.
Continue below to download this file.