FYI, always scroll to the bottom of the page to download files on OlderGeeks.com.
We don't believe in fake/misleading download buttons and tricks. The link is always in the same place.
---

BleachBit v3.0

When your computer is getting full, BleachBit quickly frees disk space. When your information is only your business, BleachBit guards your privacy. With BleachBit you can free cache, delete cookies, clear Internet history, shred temporary files, delete logs, and discard junk you didn't know was there. Designed for Linux and Windows systems, it wipes clean thousands of applications including Firefox, Internet Explorer, Adobe Flash, Google Chrome, Opera, Safari,and more. Beyond simply deleting files, BleachBit includes advanced features such as shredding files to prevent recovery, wiping free disk space to hide traces of files deleted by other applications, and vacuuming Firefox to make it faster. Better than free, BleachBit is open source.

BleachBit has many useful features designed to help you easily clean your computer to free space and maintain privacy.

Delete your private files so completely that "even God can't read them" according to South Carolina Representative Trey Gowdy.
Simple operation: read the descriptions, check the boxes you want, click preview, and click delete.
Multi-platform: Linux and Windows
Free of charge and no money trail
Free to share, learn, and modify (open source)
No adware, spyware, malware, backdoors, browser toolbars, or "value-added software"
Translated to 64 languages besides American English
Shred files to hide their contents and prevent data recovery
Shred any file (such as a spreadsheet on your desktop)
Overwrite free disk space to hide previously deleted files
Portable app for Windows: run without installation
Command line interface for scripting and automation
CleanerML allows anyone to write a new cleaner using XML
Automatically import and update winapp2.ini cleaner files (a separate download) giving Windows users access to 2500+ additional cleaners
Frequent software updates with new features
Advanced wiping on Windows (requires BleachBit 2.0 with administrator access and local file system)

Uses

Use BleachBit to:

Free disk space
Reduce the size of backups and the time to create them by removing unnecessary files
Maintain privacy
Improve system performance (by vacuuming the Firefox database, for example)
Prepare whole disk images for compression (common for "ghost" backups and virtual machines) by wiping free disk space

Cleaners

BleachBit includes a growing list of cleaners. Typically each cleaner represents an application such as Firefox or Internet Explorer. Within each cleaner, BleachBit gives options covering components that can be cleaned such as cache, cookies, and log files. Each option is given a description to help you make good decisions.

The following are a list of cleaners available in BleachBit 2.2. Hover over the cleaner name for a list of options.

Adobe Reader
aMSN
aMule
APT
Audacious
Bash
Beagle
Chromium
Downloader for X
Deep scan
EasyTAG
ELinks
emesene
Epiphany
Evolution
Exaile
Filezilla
Firefox
Flash
gedit
gFTP
GIMP
GL-117
GNOME
Google Chrome
Google Earth
Google Toolbar
gPodder
Gwenview
HexChat
Hippo OpenSim Viewer
Java
journald
KDE
Konqueror
LibreOffice
Liferea
Links 2
Localizations
Midnight Commander
Miro
Nautilus
Nexuiz by Alientrap Games
Octave
Opera
Pidgin
RealPlayer
Recoll
Rhythmbox
Screenlets
SeaMonkey
Second Life Viewer
Skype
sqlite3
Thumbnails
Thunderbird
Transmission
Tremulous
VIM
VLC media player
Vuze / Azureus
Warzone2100
Waterfox
WINE
winetricks
X11
Xine
yum

Advanced cleaners

Going beyond standard deletion of files, BleachBit has several advanced cleaners:

Clear the memory and swap on Linux
Delete broken shortcuts on Linux
Delete the Firefox URL history without deleting the whole file—with optional shredding
Delete Linux localizations: delete languages you don't use. More powerful than localepurge and available on more Linux distributions.
Clean APT for Debian, Ubuntu, Kubuntu, Xubuntu, and Linux Mint
Find widely-scattered junk such as Thumbs.db and .DS_Store files.
Execute yum clean for CentOS, Fedora, and Red Hat to remove cached package data
Delete Windows registry keys—often where MRU (most recently used) lists are stored
Delete the OpenOffice.org recent documents list without deleting the whole Common.xcu file
Overwrite free disk space to hide previously files
Vacuum Firefox, Google Chrome, Liferea, Thunderbird, and Yum databases: shrink files without removing data to save space and improve speed
Surgically remove private information from .ini and JSON configuration files and SQLite3 databases without deleting the whole file
Overwrite data in SQLite3 before deleting it to prevent recovery (optional)



Changes

These are the changes since version 2.2:

Add ability to make chaff, an anti-forensics system. It generates novel documents inspired by 2600 Magazine or messages inspired by Hillary Clinton's publicly-released emails.
Add the command line option --wipe-free-space to wipe the free space in a path.
Add a new option to enable debug logging. Find it in the Preferences dialog or as the new command line option --debug.
Improve scanning speed. This could be most noticable in preview, deep scan, when deleting many small files, and during startup. In some cases, the improvement is greater than 10x. (Thanks to Paweł Polewicz.)
Avoid crash on startup when configuration is corrupt. (Reported by notdexterslab.)
Improve actual speed of application startup.
Improve cleaners: aMule, FileZilla, Midnight Commander, VLC, and Vuze. (Thanks to Tobias-B-Besemer.)
Overhaul cleaner for Thunderbird. (Bug reported by pitsi.)
Fix the error NameError: global name '_' is not defined.
Graphical user interface
Upgrade the graphical toolkit from GTK+ 2 to GTK 3. (Special thanks to Maël Lavault, Tristan Stenner, and Max Khon.)
Add dark mode.
Add a new stop button to the toolbar. (Suggested by shellaaaron.)
Remember the window size and position and whether it was full screen. (Suggested by BBUser.)
Make startup seem faster by showing the GUI while loading cleaners in background. (It's also actually faster.)
Make the error prettier when update check fails. (Suggested by Tobias-B-Besemer.)
Fix various file-encoding errors. (Thanks to Radoslav Stoyanov and others. Reported by jonfre, Tobias-B-Besemer, Mike, ediowar, and others.)
Reorder the delete/cancel buttons to a more logical order. (Suggested by hydrogenpi).
Specific to Linux
Add packages for Debian 10 and Ubuntu 19.04.
Improve detection that Google Chrome is running.
Delete VIM swap files. (Thanks to petrohs.)
Fix wiping FAT32 with more than 4GB free space. (Fixed by jamazi)
Whitelist the mount point for Flatpak. (Reported by Ub3rZ4cH.)
Whitelist the working directory for the Bluetooth daemon. (Reported by iromeister.)
Specific to Windows
Improve cleaners: Internet Explorer, Silverlight, TeamViewer, VLC, Windows Media Player, Windows Defender, WinRAR. (Thanks to Tobias-B-Besemer.)
Fix shredding a file marked read-only. (Reported by Tobias-B-Besemer.)
Update shipped dependencies: Python, gettext, SQLite, and GTK.
Drop support for Windows XP.
More
Do you use GPG? I have a new key for signing releases.
You can now donate using GitHub sponsors. In the first year, they match your donation and don't charge processing fees! (There are still other ways to donate including PayPal, credit card, and Bitcoin.)
Did you know, the first BleachBit release was December 2008, almost 11 years ago?
Developers
Packagers: please note multiple changes in dependencies and installed files.
Add search="walk.top" to delete the top directory and all its contents. It is equivalent to search="walk.all" to delete the contents (files and directories) followed by search="file" to delete the empty top directory.
Add the multi-value variable $$ProgramFiles$$, which expands to %ProgramFiles% and %ProgramW6432$%.

What's next after BleachBit 3.0? The top priority is to update Python 2.7 to Python 3. Once complete, Python 2.7 will no longer be supported, and the transition will also drop support for Windows Vista.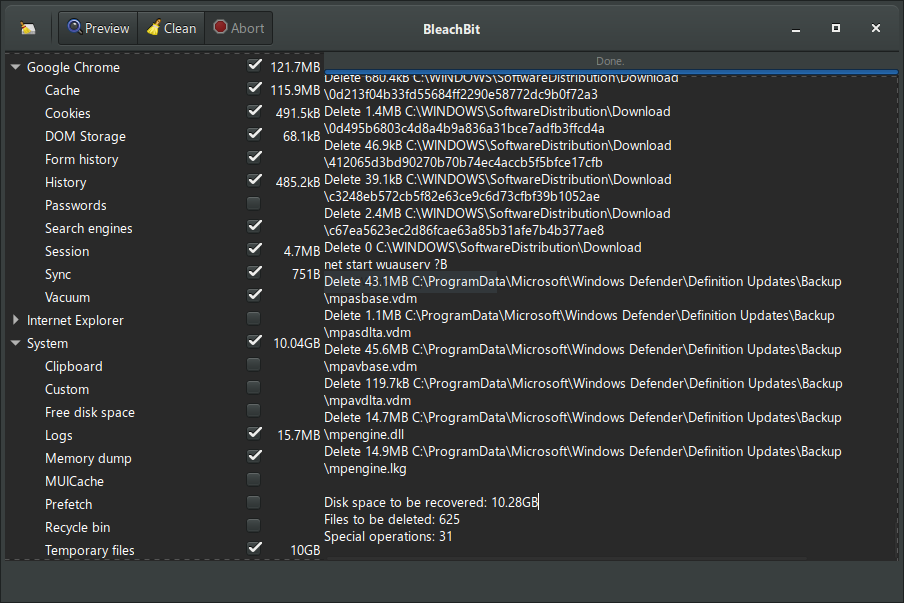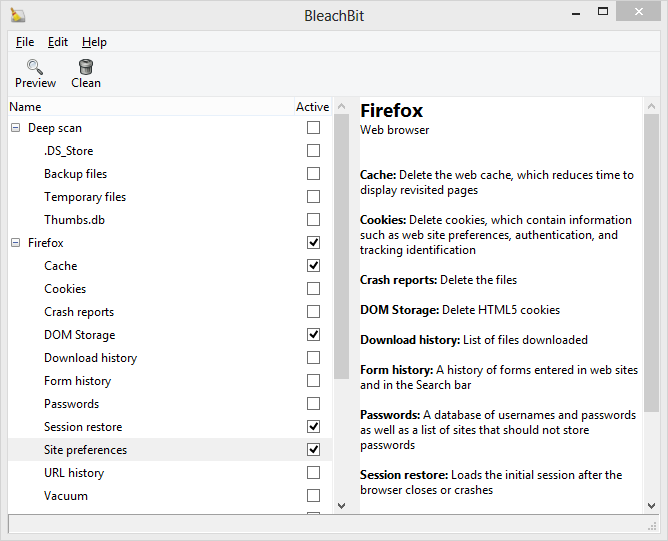 Continue below to download this file.