Always scroll to the bottom of the page for the main download link.
We don't believe in fake/misleading download buttons and tricks. The link is always in the same place.
---

BlueLife KeyFreeze v1.4

KeyFreeze is a FREE Windows application that blocks your keyboard and mouse without "locking" the screen. So your kids can safely watch a cartoon or have a videochat with their grandparents and bang the keyboard as much as they want. You can block keyboard and Mouse separately or together









How to use:
After downloading, extract the zip file to your desired location, then double click the Keyfreeze icon to run it. A countdown popup message will appear just above the taskbar.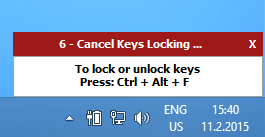 If you wish to stop the countdown, click the 'X' in the top right corner. If the countdown expires, your mouse and keyboard will be locked. To unlock them again, use the keyboard shortcut "Ctrl+Alt+F"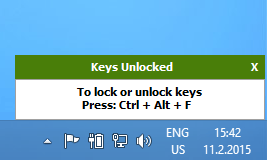 You can right click the Keyfreeze icon in the System Tray to see more options. For example, you can lock the mouse or keyboard with a single click.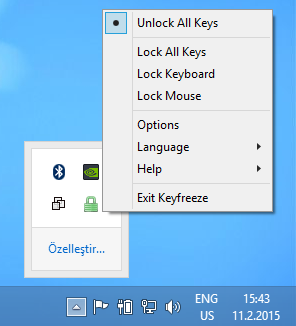 You can customize settings by selecting 'Options'. There you can change the lock/unlock keyboard shortcut, disable sounds and popup windows, allow mouse movement, and other settings.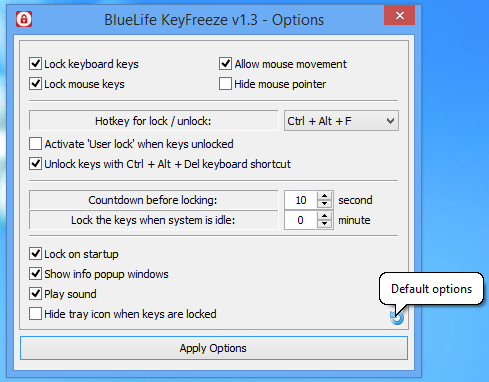 Supported Operating Systems: Windows 10 , Windows 8.1 , Windows 8 , Windows 7 , Windows Vista , Winsows xp – (both x86 and x64)
Supported Languages: English , Arabic , Czech , Chinese (Simplified) , Chinese (Traditional) , French , Finnish, German , Greek , Hungarian , Italian , Indonesian , Japanese , Korean , Polish , Portuguese , Russian , Spanish , Slovenian , Turkish , Ukrainian , Vietnamese , Dutch

BlueLife KeyFreeze v1.4
[Fixed] – When the position of the taskbar changes, info popup doesn't appear
[Fixed] – CPU usage reduced
[Fixed] – Some Minor Bugs




Click here to visit the author's website.
Continue below for the main download link.