Always scroll to the bottom of the page for the download link.
We don't believe in fake/misleading download buttons and tricks. The link is always in the same place.
---

Windows 7 Games For Windows 10/11 v3

Install all of the original Windows 7 games on Windows 8/8.1/10/11.


Starting in Windows 8, the OS comes without the classic Windows 7 games. They are no longer included with Windows 11, Windows 10 and Windows 8.1. Here is a Windows 7 Games package which solves this issue. This Windows 7 Games package is compatible with all builds of Windows 11, Windows 10, Windows 8.1 and Windows 8.

It includes the following software:

Solitaire
Spider Solitaire
Minesweeper
FreeCell
Hearts
Chess Titans
Mahjong Titans
Purble Place
Internet Spades
Internet Checkers
Internet Backgammon

Windows 11 Support

The package has been updated to version 3. It now supports Windows 11. The non-working Game Explorer will no longer be installed. The installer now supports HiDPI displays. Finally, the Internet Games set is now optional, since Microsoft has turned off the game servers, making it nearly impossible to play them.

The support for older Windows version, i.e. Windows 8.1/8 and Windows 10, remains intact. You can use this new version of the package on older Windows versions too.

The checksums are:

MD5: 708d12491aaa472f0bf498544c03e4b0
SHA256: 1a8199a2d52b54019b2353b838c6bede5234ebcf8e2615584ede11d71de1e1f0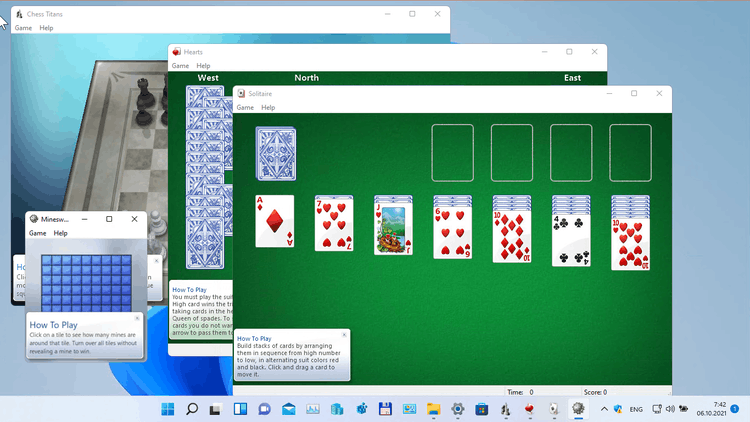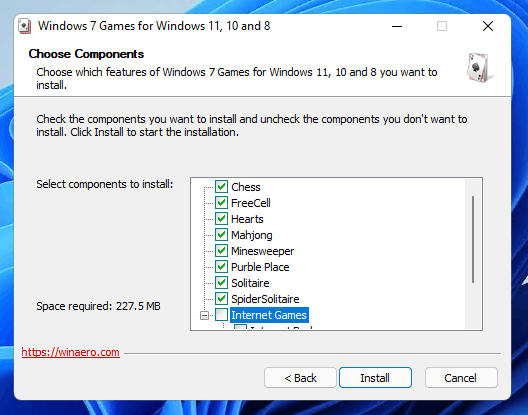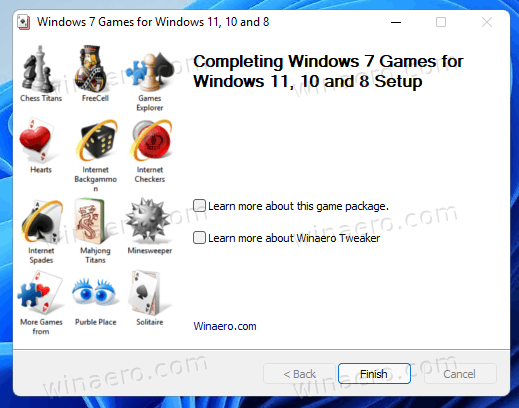 Supported languages and locales

The games included in this package come with a full set of language resources. The installer is able to determine which languages you have installed in your OS, and extract only the required resources to save your disk spaces and don't fill it with redundant files.

So, thanks to the above optimization, the games will always run in your native language, matching the current locale of your Windows version. The following languages are supported.

Arabic (Saudi Arabia), ar-SA
Bulgarian (Bulgaria), bg-BG
Czech (Czech Republic), cs-CZ
Danish (Denmark), da-DK
German (Germany), de-DE
Greek (Greece), el-GR
English (United States), en-US
Spanish (Spain, International Sort), es-ES
Estonian (Estonia), et-EE
Finnish (Finland), fi-FI
French (France), fr-FR
Hebrew (Israel), he-IL
Croatian (Croatia), hr-HR
Hungarian (Hungary), hu-HU
Italian (Italy), it-IT
Japanese (Japan), ja-JP
Korean (Korea), ko-KR
Lithuanian (Lithuania), lt-LT
Latvian (Latvia), lv-LV
Norwegian, Bokmål (Norway), nb-NO
Dutch (Netherlands), nl-NL
Polish (Poland), pl-PL
Portuguese (Brazil), pt-BR
Portuguese (Portugal), pt-PT
Romanian (Romania), ro-RO
Russian (Russia), ru-RU
Slovak (Slovakia), sk-SK
Slovenian (Slovenia), sl-SI
Serbian (Latin, Serbia and Montenegro (Former)), sr-Latn-CS
Swedish (Sweden), sv-SE
Thai (Thailand), th-TH
Turkish (Turkey), tr-TR
Ukrainian (Ukraine), uk-UA
Chinese (Simplified, China), zh-CN
Chinese (Traditional, Taiwan), zh-TW





Click here to visit the author's website.
Continue below to download this file.