Always scroll to the bottom of the page for the main download link.
We don't believe in fake/misleading download buttons and tricks. The link is always in the same place.
---

Who Stalks My Cam V2.0
It Is No Secret; You Are At The Mercy Of Hackers!

Who does not fear about the possibility of being spied upon your Webcam without your knowledge? Have you thought of this frightening threat to your online security? Well, it is no longer a fear but a reality. It is no longer an imagination, or something you can assume. It is happening, and the most worrying thing is that it is very prevalent. Nowadays, hackers have managed to achieve great success in spying on innocent internet users by use different kinds of Malware.One of such malware is the infamous DarkComet RAT.

DarkComet RAT is a Remote Access Trojan targeting Microsoft Windows Machines world wide. This dangerous malware opens huge remote possibilities to Hackers, such as Keystroke logging, Listening on your conversations on the Microphone, Recovering passwords, Watching your desktop using your webcam etc. A very huge amount of such Malware exists and represents millions of computers infected world wide. Other techniques exists to spy on you through the webcam, using malicious Website scripts, for example, using your Webcam device, tricking on you to allow Webcam to be broadcasted.

At Phrozen Software™, we are aware of your concern about this cyber threat. Definitely, no one wants to be spied upon; No one wants to feel insecure while doing their online activities, and you are no exception. As you may already be aware, at Phrozen Software™ we design different security programs to provide you with the ultimate solution to the problem. Our software are designed differently, not like the regular Antivirus programs. We do not claim to replace an existing antivirus program; All we do is enhance them using generic techniques to avoid yet to be known viruses from impacting on your security until your antivirus is able to get into their signature database. That is why we HAVE launched Who Stalks My Cam, a smart program designed to detect which applications are using your webcam in real time.

How Who Stalks My Cam Works and What It Can Do For You

Who Stalks My Cam gives an assurance of cyber security, making you confident in undertaking your internet activities without fear. The software is easy to apply and use, and it works in various ways to stop, block or disable the source of the cyber threat.

Detecting the Threat

Who Stalks My Cam first detects and alerts you about the threat to your activities and conversations. This it does when you run it in your system to perform the assignment. Not only does it detect the problem; It offers a solution and undertakes to fix the problem. For example, if a spy program is detected, there is a possibility of the programs webcam being closed, stopping it from spying on you altogether. Apart from disabling and blocking the webcam of the spy software, the program is also able to get in the way any spy processes of the program, disabling or diverting them so that your data, activities and conversations remain secure.








Testing of Its Functionality and Effectiveness

Who Stalks My Cam comes with an embedded webcam tester that can be used to test the program. Of course you want to be sure it works fine and is effective in providing the security it is supposed to provide. The testing is quite fast and easy to carry out.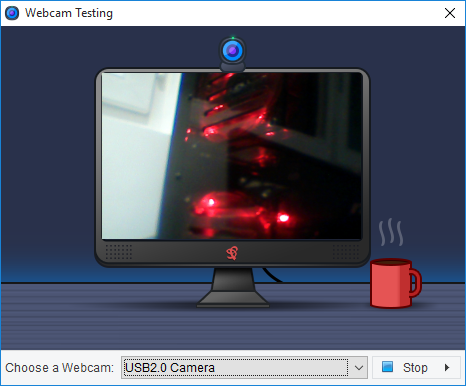 Toast Notification About Security Threat

The software has a vital feature that enables it to notify you of eminent threat. It makes a unique, definite sound to alert you about any cyber threat. That means every time you hear the sound, you should immediately stop your activities until you are sure that the threat has been dealt with.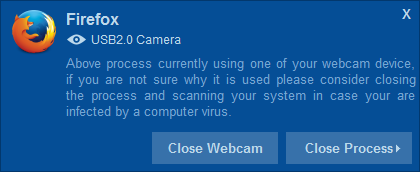 Ability To Automatically Swing Into Action As Soon As Threat Is Detected

With is software, it is possible to st up security policies that determine how it detects and responds to any imminent threat. Based on these policies, the program is to automatically swing into action and perform a series of actions in response to a threat, especially when it detects that your webcam has been used. For example, when the program detects that there is some activity on the webcam due to background processes, it undertakes these two processes: It can stop the background process altogether or disable the webcam. Any of these processes stops the cyber threat immediately. In fact, sometimes both actions are apply concurrently or simultaneously. Thus, just in case the first action fails to stop the threat, it can trigger the second action - disabling the webcam.

The program is also able to detect idleness in your computer and perform appropriate security actions to protect you from spies waiting to pounce on you at the slightest opportunity. The program is set such that it can detect any inactivity in your computer for a given number of seconds, minutes or hours, depending on how you set it. When the limit of idleness is reached, it automatically closes any ongoing processes and disables the webcam. This is a security measure that keeps off potential attackers.

Not only that, when a program initiating a given process in your computer is not in the white list, it is stopped forthwith, with the webcam being instantly disabled. Only processes initiated by programs on the white list are allowed to proceed. Any other programs are treated with suspicion and Who Stalks My Cam acts swiftly against them.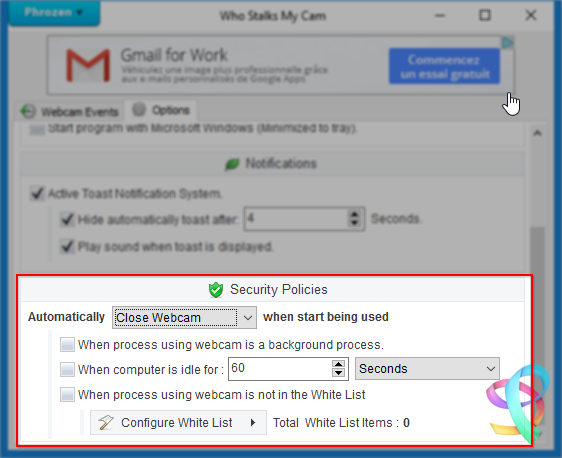 Adding and Removing Applications From The White List

Who Stalks My Cam's white list is a list of acceptable applications whose processes can not be stopped by the program. The beautiful thing is that you can add any of your favorite applications to the list, there by securing all processes initiated by them on your computer. These may include such applications as Facebook, Skype, Hangout, etc. If per adventure there is a program on the white list that has fallen in disfavor with you and you no longer need it, you can also remove it. The ability to add and remove applications from this list puts in control of how the program works for you.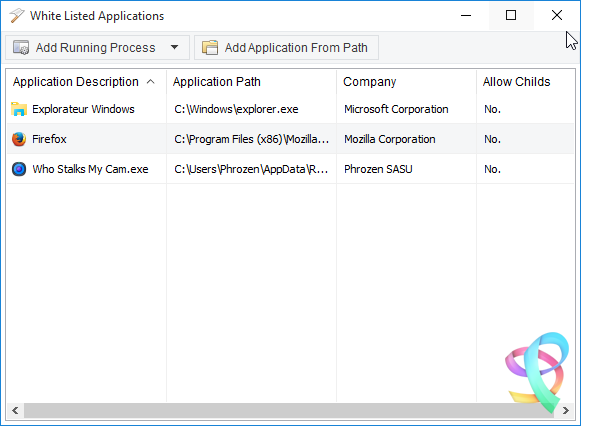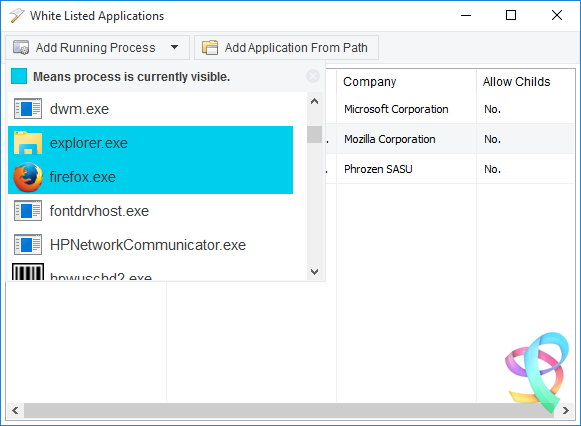 Control of Webcam Access

Now that you know how the program works and you have fallen in love with it, you may be raring to install and start using it immediately. But wait a minute. The features you have just read and the benefits you are already privy to are not all. The program has many more benefits and features, some of which you will be discovering as you use it. At this point, it is vital to mention that the program not only protects you from malware, it also monitors and reports all your webcam activities. Now that you are curious to know how it monitors the webcam and why this is important, read on for details.

Who Stalks My Cam monitors all webcam usage events on your computer and logs them in a database. The database shows all the details of every webcam event. Do you know what this means? You guessed right. It means you can access all details about every webcam event. These details include when and where a webcam was used, for how many times and for how long. Now, how vital is this information? This information tells you the source of every event. If you are responsible for it, that tells you somebody else is, and you know what that means: You have been spied upon! The sooner you learn about this, the better for you, because you will be able to initiate security measures to protect yourself. This also enables you to be alert on the look out for any future signs of cyber attack. So, keep checking the database to verify the webcam events.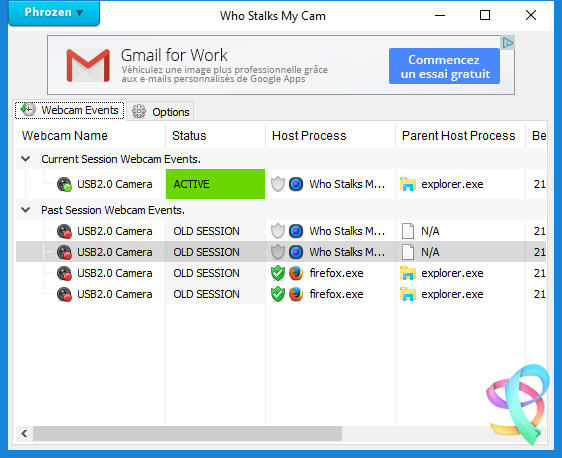 Conclusion: The Future of Who Stalks My Cam

What Who Stalks My Cam can do for you now is not the end. We understand that we are living in changing times and cyber threat is a continuous concern for all of us. At Phrozen Software™, we have our eyes on the future of cyber security to ensure that you are not protected for the short term, but for the long term. That is why we intent to upgrade Who Stalks My Cam so that can offer a wider scope cyber security. In the very near future, it will have features that enable it to support all other spying problems, including microphone and key logger spying, among others. Our promise is to be your partner of choice for your cyber security.
Updates
11 May 2016

Lowest CPU usage for Webcam detection (Huge difference)
Webcam detection recoded for a more smooth and clean detection system
Webcam detection speed increased up to 800%
Application was fully redesigned to fit our new design standard
No more SQLite database used to improve portability and speed
Few bugs fixed
Now Webcam Events list view is sorted more naturally (newest to latest)
Webcam testing was improved
Application now 100% portable, no files dropped

Continue below for the main download link.