Always scroll to the bottom of the page for the download link.
We don't believe in fake/misleading download buttons and tricks. The link is always in the same place.
---

vDos v2020.03.01

Your new Windows version doesn't support DOS applications anymore.

Previous Windows 32-bit versions included NTVDM, facilitating DOS programs to run. Windows 10 64-bit is now the norm: Starting a DOS program will only display a popup it can't run…







…Microsoft dropped 16-bit support (so also DOS) in 64-bit versions, not just recently in Windows 10!

"To find a version for your PC, check with the software publisher."

That probably doesn't help: The DOS application could be developed by yourself, a company not supporting it anymore, or even out of business. Despite Windows versions/alternatives, you may prefer using that DOS application for various reasons and time to come.

First option was to install a virtual Windows 32-bit system. The setup can be daunting, to 'only' run that DOS application, its use overkill and cumbersome.

vDos lets you conveniently run DOS applications by emulating an extended DOS PC in a window. vDos itself runs on Windows 7 or later, 32 and 64-bit. It will be the only adequate solution for using serious DOS programs.

If you don't still use (so rely on) a DOS application, want to play/experiment with DOS, its command prompt, programs or games: Forget about vDos, it is not meant for you!

vDos highlights.
•
DOS applications start instantaneously in a scalable window and crisp TTF font (in text mode). Actually delayed until the application is ready for input, so you don't get a black DOS screen echoing startup commands.
•
No-nonsense, focuses on serious end-user programs, setup yours easily. No tricky configuration to load drivers, set file handles, keyboard layout, language character set…
•
Run multiple DOS applications (simultaneously), if needed with their own specific configuration. No conflicts with eventual Windows NTVDM instances running alongside (like in a mixed network).
•
Also prints to Windows-only (GDI) printers, for instance a virtual printer to produce PDF's.
•
Its file system is (in sync with) that of Windows, no internal disk caching corrupting files.
•
Network support with file- and record locking, required by multi-user DOS applications to function reliable.
•
Copy/paste text from Windows to DOS and vice versa, with transparent conversion of Windows/DOS text.
•
Small footprint, little impact on Windows resources. Not advertising its presence, except if unregistered and networked.


Major/noticeable changes to version 2020.03.01.
•
Machine code routines converted to C/C++, vDos is potentially CPU type (not Windows) independent. Loss of performance of the emulated CPU is limited to a few percent by squeezing out the last possible optimizations.
•
There's now also a 64-bit edition (vDos64), however not publicly available/advertised. That would mostly just be confusing: "I need that version since I have Windows 64-bit". vDos64 has a larger footprint and is slightly slower than its 32-bit counterpart, that runs in both Windows 32- and 64-bit.
•
Unused FreeType options/extensions removed, some common code of the 3 CPU emulators merged, rarely used code compiled for size. vDos.exe lost weight, despite added functionality.
•
Added KEYCODE= option, setting the reported scan and ASCII code of a specific key.
Alt+Space opens the vDos system menu, Win+Dn minimizes, Win+Up restores the window.
Ctrl+Mousewheel changes the font/window size. As with Windows CMD, the top left corner is fixed.
•
The Windows command line processor (CMD) needs the current work directory set to a drive letter. With network/mapped Windows drive letters, this gave a problem since vDos always used the UNC paths.
Removed stripping double quotes from the command line to better support calling Windows CMD.
vDos will refuse to run if started elevated. There should be no need for that.
•
The eventual nag couldn't be clicked away if vDos was minimized.
As vDos went to 'Hibernate', it could become unresponsive.
•
FreeType library updated to version 2.10.1.
Internal TTF font character positions vertically raised so they center better within the cells. Some other refinements to individual characters.
Line drawing characters of the internal font set to single points (more discreet lines) at all resolutions.
Added EXTEND= option to mask/hide on-screen text, like a silly (or even annoying ticking) clock.
COLORS= dropped in favor of the more convenient THEME=<number> (0-9). System menu item added to cycle thru the themes (preview, if not explicitly set).
Default color of the DOS text cursor changed.
•
Internal printing is handled by a separate thread to facilitate some HP drivers and Microsoft virtual printing.
Added timeout options to optimize faster printer response. Added PRIVATE option to skip creating print files.
Some improvements to the PCL printer code parser.
•
'Turbo' text pasting reinstated. It was once disabled to overcome a Clipper bug. Now pasting in other programs should again be as fast as those can process input.
•
Added BTRIEVE= option to connect to a Windows Pervasive/BTR2SQL interface. Mind, this extension/functionality doubles the vDos license fee.
•
Fixed FPU rounding errors in specific situations. Added support of some obscure FPU instructions.
•
Some (built-in) ANSI.SYS refinements.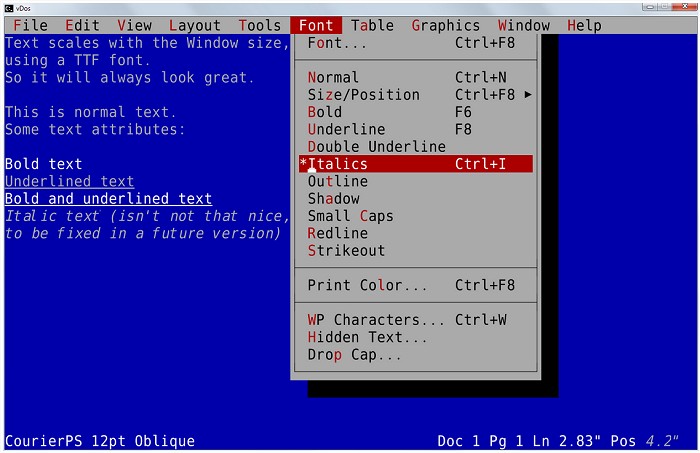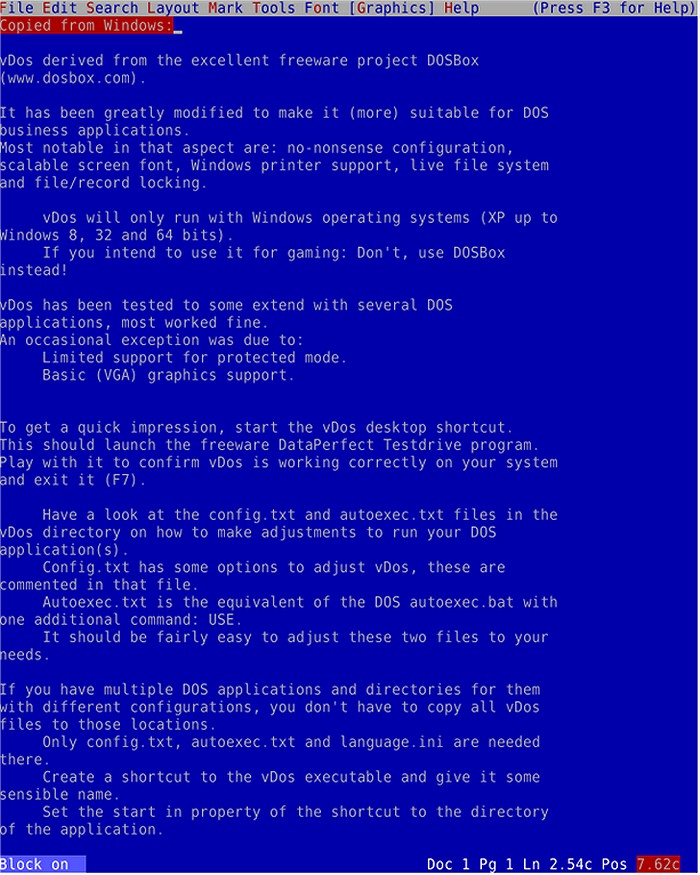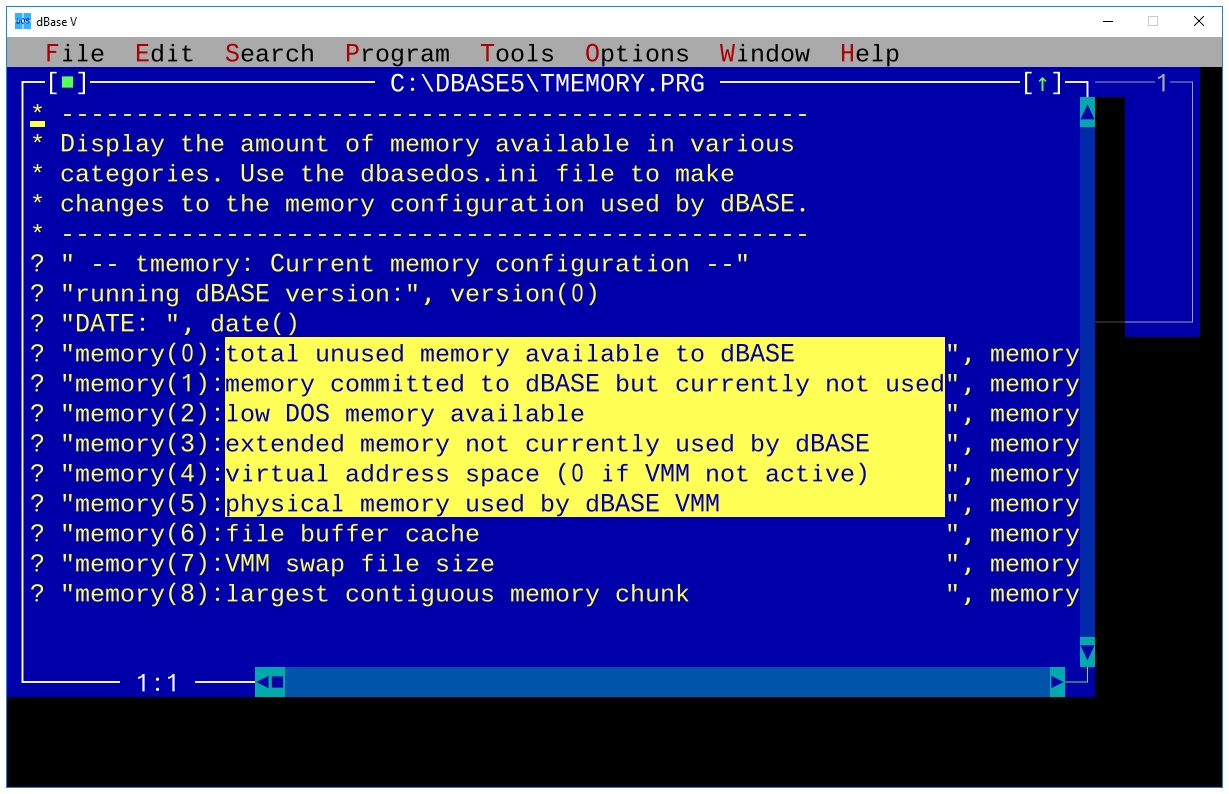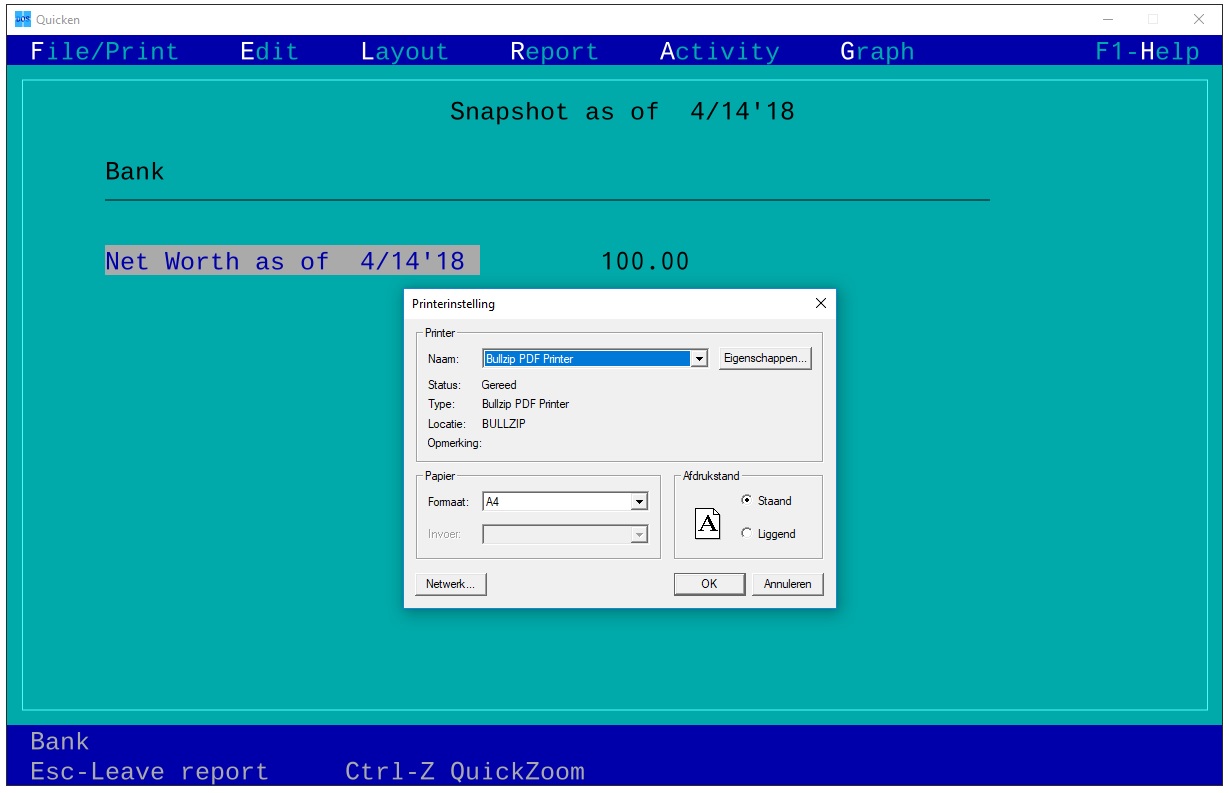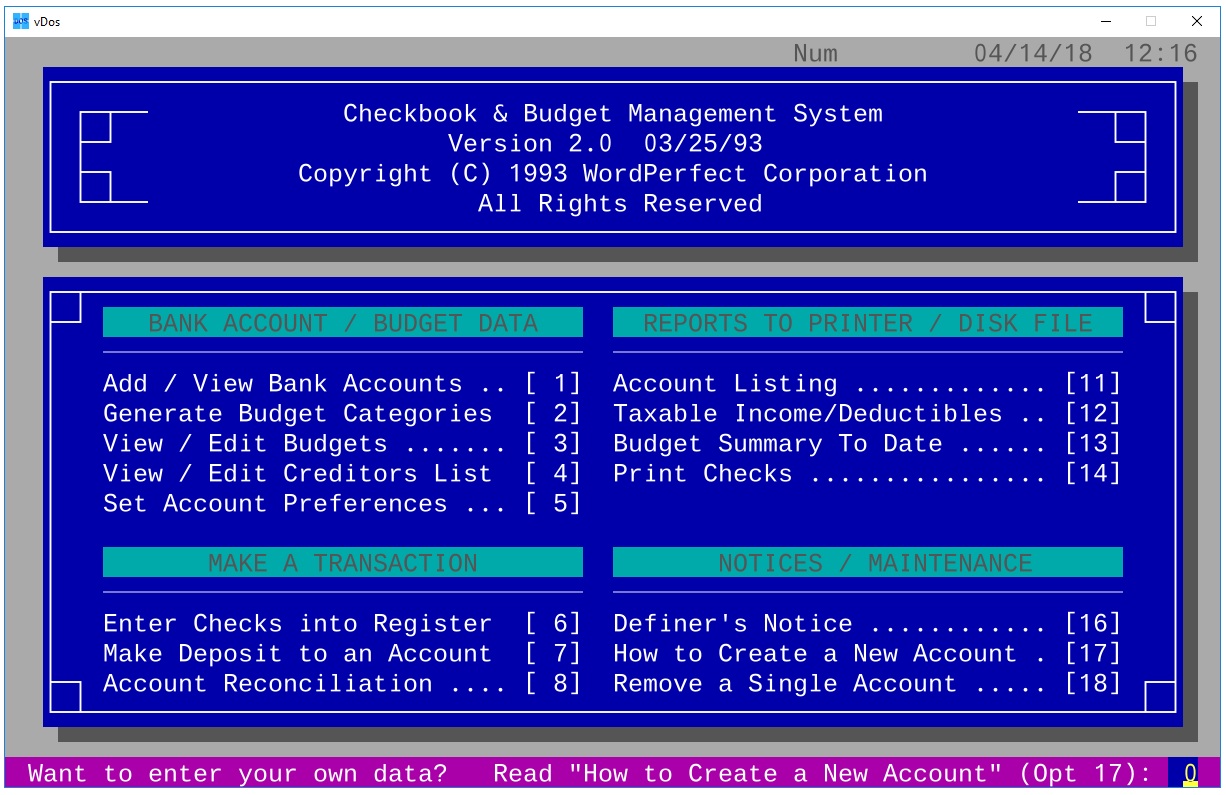 Click here to visit the author's website.
Continue below to download this file.