Always scroll to the bottom of the page for the download link.
We don't believe in fake/misleading download buttons and tricks. The link is always in the same place.
---

Notepad++ v8.4.9

A free source code editor which supports several programming languages running under the MS Windows environment.

This project, based on Scintilla edit component (a very powerful editor component) are written in C++ with pure win32 api and STL (that ensures the higher execution speed and smaller size of the program), is under the GPL Licence.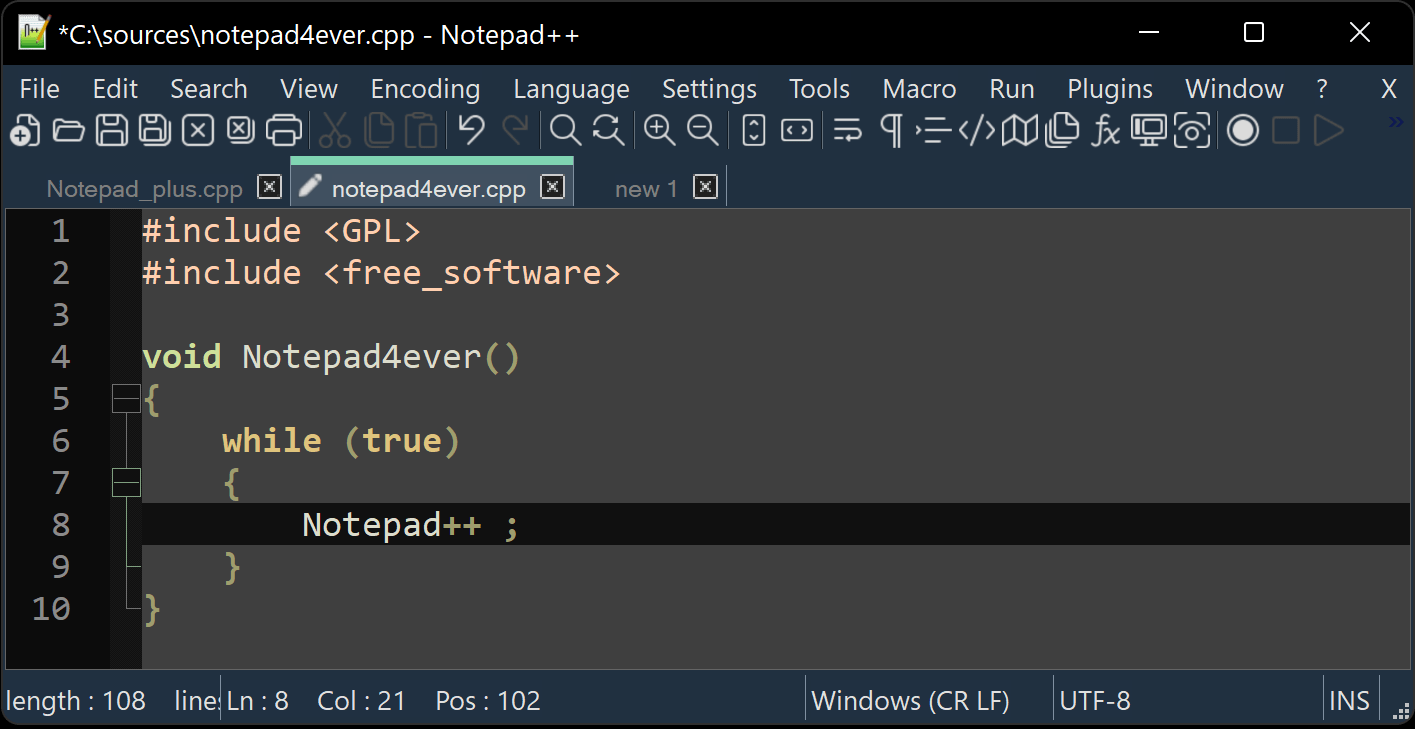 Features:

Syntax Highlighting and Syntax Folding: Supported languages : C, C++, Java, C#, XML, HTML, PHP, Javascript, RC resource file, makefile, ASCII art file extension .nfo , screenshot1, screenshot2), doxygen, ini file, batch file, ASP, VB/VBS source files, SQL, Objective-C, CSS, Pascal, Perl, Python, Lua, TCL, Assembler, Ruby, Lisp, Scheme, Properties, Diff, Smalltalk, Postscript and VHDL.

More Features:

WYSIWYG
User Defined Syntax Highlighting
Multi-Document Tabs
Regular Expression Search/Replace supported
Full Drag N' Drop supported
Dynamic position of Views
File Status Auto-detection
Zoom in and zoom out
Multi-Language environment supported
Bookmark
Brace and Indent guideline Highlighting
Macro recording and playback


Notepad++ v8.4.9 crash-fixes, bug-fixes & new features:
Fix saving 4GB+ files file size cutting off issue. (Fix #12526)
Fix v8.4.8 hanging while opening some Pascal files. (Fix #12822)
Add JSON5 support, only JSONC currently (with js comment supported). (Fix #11676, #11713)
Add configuration for panels to ignore '-nosession'. (Fix #9710)
Fix Notepad Replacement display 'Cannot open file " "' regression in v8.4.8. (Fix #12775)
Fix Notpad++ hangs while deleting search results results. (Fix #12555)
Fix XML tag-matching not be case-sensitive. (Fix #10011)
Add support selection for "EOL to Space" commands, "TAB and Space conversion" commands & trim operations.(Fix #12720, #12745, #12702, #12602, #12658)
Improve Pascal/Delphi function list performance. (Fix #12693, #12687, #12808)
Fix exclude functions in comment zones in C++, PHP, JavaScript and Pascal. (Fix #12759)
Use stable sort algorithm instead of standard sort one. (Fix #12678)
Fix doc switcher not using alternate icon sets. (Fix #12242)
Enhance dark mode. (Fix #12713, #12737)
Fix hand cursor on URL too small display under high DPI issue. (Fix #12772)
Fix docking GUI regression for plugin in light mode. (Fix #12007)
Fix cannot undo "Block Uncomment" & "Insert Date/Time" commands in one shot. (Fix #12830, #12831)
Fix sub-menu folder display mess in non-western languages under Macro/Run menu. (Fix #12670)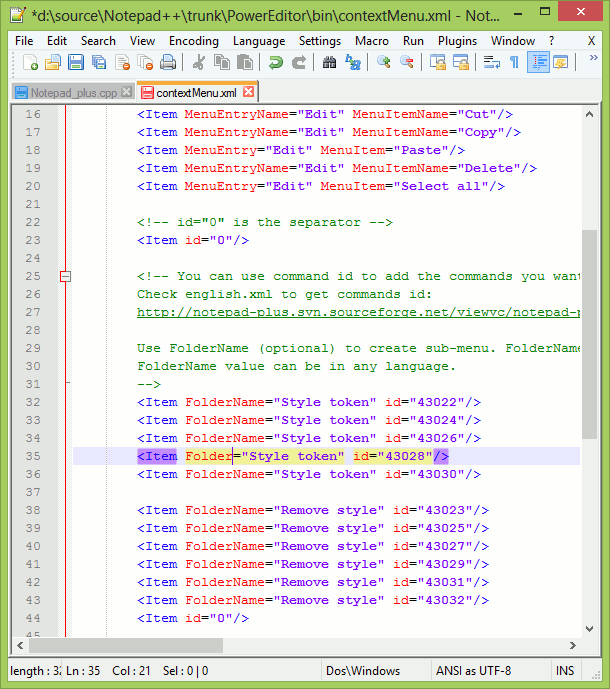 This download is for the Windows 64bit portable version. All other download assets are below:


Windows:
npp.8.4.9.portable.zip
npp.8.4.9.portable.arm64.zip
npp.8.4.9.Installer.x64.exe
npp.8.4.9.Installer.exe
npp.8.4.9.Installer.arm64.exe



Click here to visit the author's website.
Continue below to download this file.