Always scroll to the bottom of the page for the download link.
We don't believe in fake/misleading download buttons and tricks. The link is always in the same place.
---

Notepad++ v8.4

A free source code editor which supports several programming languages running under the MS Windows environment.

This project, based on Scintilla edit component (a very powerful editor component) are written in C++ with pure win32 api and STL (that ensures the higher execution speed and smaller size of the program), is under the GPL Licence.

Features:

Syntax Highlighting and Syntax Folding: Supported languages : C, C++, Java, C#, XML, HTML, PHP, Javascript, RC resource file, makefile, ASCII art file extension .nfo , screenshot1, screenshot2), doxygen, ini file, batch file, ASP, VB/VBS source files, SQL, Objective-C, CSS, Pascal, Perl, Python, Lua, TCL, Assembler, Ruby, Lisp, Scheme, Properties, Diff, Smalltalk, Postscript and VHDL.

More Features:

WYSIWYG
User Defined Syntax Highlighting
Multi-Document Tabs
Regular Expression Search/Replace supported
Full Drag N' Drop supported
Dynamic position of Views
File Status Auto-detection
Zoom in and zoom out
Multi-Language environment supported
Bookmark
Brace and Indent guideline Highlighting
Macro recording and playback


Notepad++ v8.4 regression-fixes, bug-fixes and enhancement:



Update Scintilla from v4.4.6 to v5.2.1 and add Lexilla v5.1.5. (Fix #10504)
Enhance dark mode support (Shortcut Mapper, autocompletion, calltip, Column Editor and Style configurator, Preferences dialog, etc…) (Fix #11530, #11522, #11407, #11514, #11506, #11497)
Fix lossing characters issue after case-conversion (UPPER/lower). (Fix #11463)
Fix "Sort Lines as Integer" not considering negative number issue. (Fix #11023, #2025)
Sort languages alphabetically automatically in Style Configurator. (Fix #11337)
Fix flashing box (autocompletion empty list) appears while typing issue. (Fix #9433)
Scrolling Document List automatically to make the selected tab item visible. (Fix #11204)
Make Find in Files search result line number aligned. (Fix #11119)
Add default A-Z sorting ability in Function list. (Fix #11446)
Add virtual space ability. (Fix #11443, #11444)
Fix document being wronly marked as saved bug after converting its encoding. (Fix #11436)
Fix Document list not sync with tab order after sorting. (Fix #11272)
Fix file saving critical bug under Symantec encryption desktop. (Fix #11339)
Fix cropped text in Shortcut mapper's status area issue. (Fix #10358)
Enhance installer: Remember the chosen language in the previous installation. (Implement #10582)
Improve Find/Replace Dialog layout. (Fix #11318)
Update NSIS & Inno Setup keyword lists.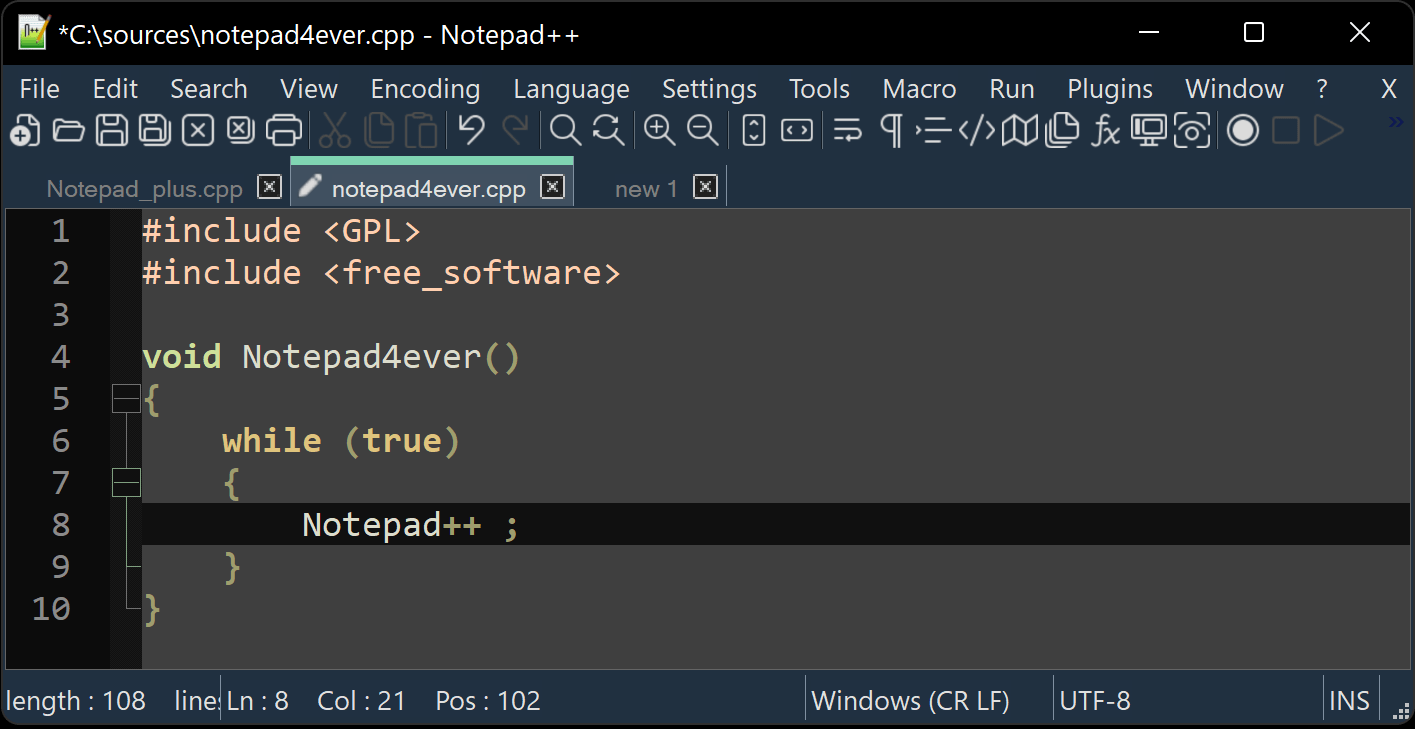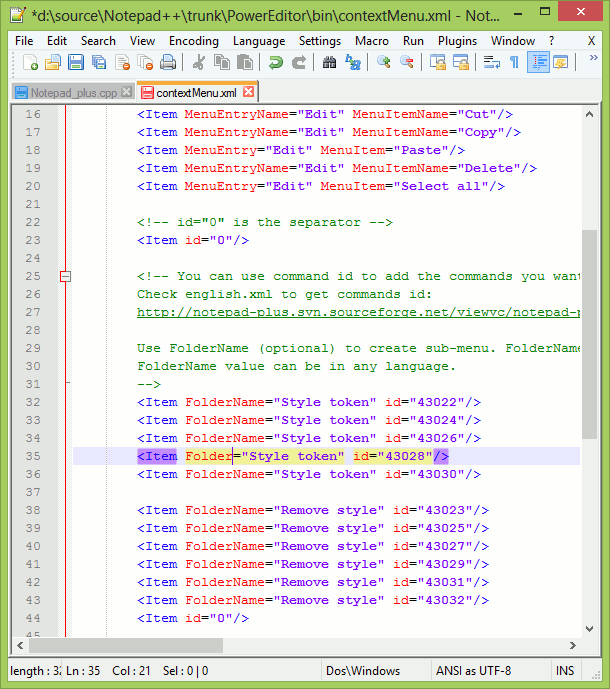 This download is for the Windows 64bit portable version. All other download assets are below:


Windows:
npp.8.4.portable.zip
npp.8.4.portable.arm64.zip
npp.8.4.Installer.x64.exe
npp.8.4.Installer.exe
npp.8.4.Installer.arm64.exe



Click here to visit the author's website.
Continue below to download this file.