ART v5.0
ART v5.0 ART is a reporting and business intelligence solution. SQL queries can be published in a few minutes. Supports tabular, crosstab, charts, scheduling, dashboards, export to spreadsheet and pdf. ART Features ART is a lightweight, multi-platform, web application that enables quick deployment of SQL query results. It has features that make it a simple yet effective reporting and business intelligence solution. Quick report creation Interactive reports - run and accessed via a browser Scheduled reports - delivered via email or accessible via a browser Reports generated in a number of formats e.g. xls, pdf Charts Dashboards - group and display charts or reports in a single web page Alerts - email sent when a given condition is satisfied Dynamic queries - execute different SQL statements depending on user input Parameterized reports - users can select or input parameters that are then passed to the SQL query Individualized reports - use rules to dynamically filter query results based on the user Output your data as a rss2.0 compliant feed Drill Down reports - drill down on charts or tabular reports Cached Results - reverse a query result to a table in another database Dynamic datasources - choose the report's target database at runtime Dynamic job recipients - email reports to a dynamic list of people Support for external authentication sources e.g. Active Directory Support for formatted reports Support for OLAP Create reports based on pre-formatted Excel worksheets Create reports based on MS ...

683
Nov 12, 2020
Timothy Anyona, Enrico/Gspeed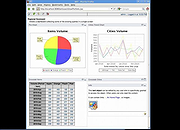 BlueSeer ERP v52
BlueSeer ERP v52 A free ERP and accounting software for the manufacturing Industry. BlueSeer is a freely available enterprise resource planning (ERP) desktop application for small to medium size businesses as well as personal finances. The ERP package supports a fully functional Double Entry General Ledger, Transactional Accounting, MRP, Job Scheduling, AR, AP, Inventory Control, Shipping, Order Entry, Purchasing, Receiving, BarCode Label and Document generation, and EDI to name a few. For personal finance, BlueSeer offers the 'Quick Cash' transactions bundle which allows you to perform Buy/Sell transactions and monitor Expense (misc and recurring) with relative ease. BlueSeer is completely free...no trials, no solicitations...a universal free ERP for Manufacturing. The install is very simple. Why BlueSeer? BlueSeer is a completely free ERP (Enterprise Resource Planning) package for small to medium size businesses. There are no keys, trial periods, or registration...its free. BlueSeer is unlike other 'free' ERPs that claim to be free. BlueSeer aims to be the first universally free ERP with the singular goal to provide businesses with a freeware alternative to high cost commercial ERPs. BlueSeer ERP was developed for manufacturing companies who wish to customize and maintain their own software without the need for high cost proprietary support or the hurdles of proprietary source code. BlueSeer's design, toolset, and open source availability favor the large community of java and database developers to support customization and maintenance, and therefore is a serious contender for companies that are looking for better less costly software solutions. BlueSeer ERP is a truly free open source ERP offering that is unlike other 'bait and click' ERP offerings. Functionality Accounting Accounting module provides a double-entry General Ledger along with Accounts Receivable and Accounts Payable standard modules MRP MRP functionality is tightly integrated with purchasing, production, and shipping to provide you a consistent picture of your inventory status and order ...

103
Aug 20, 2021
Terry Vaughn