Desktop Icon Spacing v1.0.0.0
Desktop Icon Spacing v1.0.0.0 It allows you to set the space between desktop icons. It treats vertical and horizontal spacing separately. You donít have to restart the PC to apply changes. Desktop Icon Spacing is part of the system font changer software family. Software startup and recovery options are the same as in other software in the family. Before adjusting the settings, you should close any other windows and save workflow data, as the software restarts the explorer process to apply the settings. It stores current settings. When you start your computer, the previously used settings are applied. You only need to run the software if you want to change current settings. After you run it, the arrangement of icons usually changes. If the explorer process doesnít restart on your PC, you can start it manually from the ďAdvancedĒ menu. If this also fails, use the Ctrl+Alt+Delete keyboard shortcut to restart your computer, or select one of the displayed options. Desktop Icon Spacing is free to use and doesnít require activation. MD5: 5a5f22d4ddd26807dc0cee4ee1d95487 Click here to visit the author's website.

1,885
Apr 24, 2021
Peter Panisz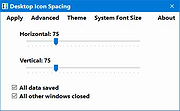 Windows 10 Settings Shortcut v1.2
Windows 10 Settings Shortcut v1.2 Creates a shortcut to open Windows 10 Settings. Easily place it on your desktop, flash drive or anywhere. If you haven't noticed, there is no real file for the settings application in Windows 10, and neither are you able to pin the application to your desktop. Not easily, anyways. This file Maverick Software has made allows you easily open the settings application, without having to start it from the start menu. However, the main purpose of it is it allows you to basically pin the settings application to your desktop, which you weren't previously able to do. To pin Settings.exe to your desktop, simply click once on the file, right click on the file, hover your mouse over 'Send to', and then click 'Desktop'. On your desktop, you may have to rename the shortcut to 'Settings' if it isn't already like that. IMPORTANT: If you have any antivirus installed, your AV might detect the Settings Shortcut.exe file as malware. (DISCLAIMER: Maverick Software solemnly swears that Settings Shortcut.exe is not malware.) If this happens, you'll need to restore the file (Only if AV quarantines the file.), then add an exclusion to the file. The way to do this depends on your AV; there are many tutorials online. Even though bugs/glitches are unlikely in this program since it so small, if you ever happen to find any, please report them mavericksoftware2018@gmail.com, and Maverick Software will get to work on fixing the bug/glitch right away. Changes: 1.2 We changed the icon of the program so that it is easier to see, especially for people with a dark background. Click here to visit the author's website.

3,598
Dec 24, 2020
Maverick Software