GetWindowText v3.81
GetWindowText v3.81 GetWindowText lets you copy text from static system messages using drag-and-drop. It works with most windows containing text such as Edit, Static, Groupbox - Controls etc. By clicking the left mouse button on the button with GetWindowText icon and by holding down the left mouse button (drag), the read can be started. Then simply hold your mouse over the window from which the text should be read. It can be read almost all the texts, e.g. from Edit, Static, Group-box - Controls, etc. This program supports also directory trees (SysTreeView32), combo-box, and list views (SysListView32) to read the entire contents. When you release the mouse button, the reading will be finished. * Support for x64 and x32 operating systems "GetWindowText" does not have to be installed and can be executed easily from the desktop. It's one small, portable utility for Windows PC-s and is also a small USB-stick friend :) # Employment! Operating systems: Windows 10, Windows 8.1, Windows 7, Windows Server 2000, 2008, 2016, Windows XP, Ultimate, Pro, Enterprise, Home, Business, Edition, 64-bit & 32-bit edition This download is for the 64bit version. If you need the 32bit version, download here. New in version 3.81 // 9 September 2020 • New language: Indonesian, Hindi and Hebrew • General improvements in the GetWindowText • Update of the language files • Thanks to Indonesian Super-Girl for the Indonesian language. • Thanks to The Hindi Man for the Hindi language. • Thanks to DJ Israel for the Hebrew language. Click here to visit the author's website.

2,352
Sep 10, 2020
Nenad Hrg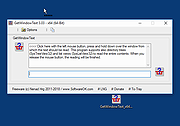 Textify v1.8.3
Textify v1.8.3 Have you ever wanted to copy some text from a dialog box which doesn't provide such functionality? Textify was created to solve this problem: you can point your mouse over the text, click on the mouse shortcut (Shift + Middle click by default), and get a selectable view of the text. Demonstration Textify and Google Chrome Here are the steps to make Google Chrome work with Textify: Open Google Chrome, and navigate to the following URL: chrome://accessibility/. Check the checkboxes under Global accessibility mode. To keep accessibility always enabled for Chrome, add the following command line parameter to your Chrome shortcut: --force-renderer-accessibility v1.8.3 (July 30, 2021) Added support for Edge as the default browser for web buttons. Changed default installation folder to %LocalAppData%\Programs. The Textify binaries are now digitally signed. Click here to visit the author's website.

3,389
Sep 08, 2021
RaMMicHaeL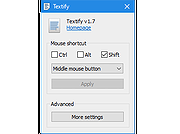 WindowTextExtractor v1.7.1
WindowTextExtractor v1.7.1 WindowTextExtractor allows you to get a text from any window of an operating system including microsoft office programs, console windows and any window with support of Microsoft UI Automation (UIA). It can recover password stored behind asterisks (*****) from most of the windows apps. Requirements OS Windows XP SP3 and later. Supports x86 and x64 systems. .NET Framework 4.0 How to Use Launch WindowTextExtractor on your system. Now simply drag the 'Find window' button to get a window text or password. Limitations This tool can't work properly with non-windows based applications such as GTK, Flash, QT or applications not using standard edit box for the password. It does not work with HTML pages in the browsers such as Firefox, Chrome, etc. Release v1.7.1 01/05/21 Added an image extracting. Click here to visit the author's website.

664
Jan 06, 2021
Alexander Illarionov