Agnitio v1.07
Agnitio v1.07 Agnitio is a speech recognition program designed to help you navigate throughout the Windows environment with ease. Using your voice to navigate is a convenient way to give yourself a rest while working - if you are on your machine for any length of time the ability to switch up how you navigate through some common actions can really save you from fatigue. Agnitio will allow you to open up and use system commands like Notepad, Command Prompt, Disk Cleanup, Event Viewer and even shutdown, restart, and log off. You can perform Google searches as well as open up a browser session (Chrome, Firefox, Opera, Microsoft Edge, and IE) all with your voice. You can also ask for a weather forecast. Agnitio will retrieve the weather from Google Weather and create the weather forecast and then read it out loud for you. Agnitio also provides with some built-in programs like: a Music Player, an Alarm Clock, Bing Maps, Hotel Finder and Speech to Text In Agnitio Beta 1.02, we introduced a new category called "Security". From there, you can tell Agnitio to block malicious websites and websites that are inappropriate for kids(similar to a parental control). Privacy note: Agnitio respects your privacy. We don't collect information from your computer or record stuff you say. We only contact Google Weather to get you the weather forecast and our update server to check for program updates. Supported Operating Systems Windows 7 (32 Bit) Windows 7 (64 Bit) Windows 8 (32 Bit) Windows 8 (64 Bit) Windows 10 (32 Bit) Windows 10 (64 Bit) Changelog: What's New: Added a file downloader Added news headlines (beta) Bug fixes Changed ...

2,446
Jul 02, 2020
Antony Koinousis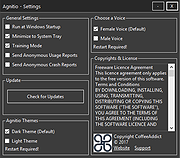 Camera Mouse 2018 v1.1
Camera Mouse 2018 v1.1 Camera Mouse is a free program that allows you to control the mouse pointer on a Windows computer just by moving your head. Clicking can be done by making the mouse pointer dwell over a spot on the screen (after first turning Clicking on in Settings). The program was developed at Boston College to help people with disabilities use the computer. The main audience for this program is people who do not have reliable control of a hand but who can move their head. People with Cerebral Palsy, Spinal Muscular Atrophy, ALS, Multiple Sclerosis, Traumatic Brain Injury, various neurological disorders use this program and its predecessors to run all types of computer software. Camera Mouse works as a mouse replacement system for Windows computers and tablets so it should work with just about any application program. For example people use Camera Mouse with entertainment programs, education programs, communication programs, web browsers, and so on. (See the Downloads page for some of the programs and websites that we have used with Camera Mouse.) Camera Mouse works best with application programs that require only a mouse and a left click and that do not have tiny targets. It's easier to use Camera Mouse with application programs that do not require extreme accuracy. What equipment is required? A Windows 10, 8.1, 8, 7, Vista, or XP computer or tablet and a built-in camera or standard USB webcam. We do our development work with a Microsoft LifeCam Studio and a Logitech HD Pro Webcam C920. However the much less expensive Microsoft LifeCam HD-3000 and Logitech HD C270 work well also. Camera Mouse should work with any built-in camera or USB webcam. This program is available for free download. Support for our work has come from the Philanthropy Committee of Mitsubishi Electronic Research Labs ...

2,357
Jul 02, 2020
Trustees of Boston College