Diary 5.10
Diary 5.10 This program evolved with my need for keeping a Diary, over the past twelve years. It is pretty stable, since its download statistics make me believe I have at least 300 users, but hardly anyone ever notifies me of a bug or a wish for more functionality. It comes with a complete manual, which is hardly ever needed because of it's intuitive user interface. What do you get when you download Diary right here from the links below? No fancy install procedure, but just a simple ZIP-file. Unpack it in a fresh diary, and have fun! It is completely freeware.

1,546
Oct 23, 2019
André Slabber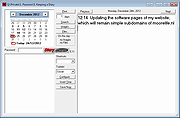 RedNotebook Portable v2.11.1
RedNotebook Portable v2.11.1 RedNotebook is a modern journal. It includes a calendar navigation, customizable templates, export functionality and word clouds. You can also format, tag and search your entries. Tagging Format your text bold, italic or underlined Insert Images, files and links to websites Links and mail addresses are recognized automatically Live-Search Automatic saving Backup to zip archive Word Clouds with most often used words and tags Templates Export the journal to PDF, HTML, Latex or plain text The data is stored in plain text files, no database is needed Translated into more than 20 languages System Requirements: Windows XP, Vista, 7, 8, 10 App License: Open Source (GPL) MD5 Hash: 7b0932b11d2836a45410ac1933266947 SHA256 Hash: a668893a7a397a3a516cd7ac30d86740dbb951f29e5864ccf1e6e86a3f82da5b Click here to visit the author's website.

168
Nov 04, 2019
Jendrik Seipp & PortableApps.com