Convert for Windows 4.10
Convert for Windows 4.10 Convert is a free and easy to use unit conversion program that will convert the most popular units of distance, temperature, volume, time, speed, mass, power, density, pressure, energy, and many others, including the ability to create custom conversions! Operating Systems Convert runs on the following operating systems: Windows 95 Windows NT 4 Windows 98 Windows 98SE Windows ME Windows 2000 Windows XP Windows 2003 Windows Vista (32-bit & 64-bit) Windows 7 (32-bit & 64-bit) Windows 8 (32-bit & 64-bit) Windows 10 (32-bit & 64-bit) Linux/UNIX/anything that runs Wine* *Convert runs quite well on Linux and UNIX using Wine. If you do this, you may need to change the tab layout to use a single row by going into Options > Preferences > Tabs, and clear the Multiple Lines option.

1,634
Oct 23, 2019
Joshua F. Madison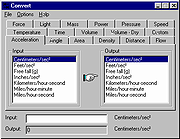 ESBUnitConv v7.4
ESBUnitConv v7.4 ESBUnitConv is a Free User-friendly Windows Utility to easily convert between units of measurement. Includes Units for Temperature, Distance, Mass, Area, Volume, Pressure, Velocity, Acceleration, Force, Energy, Power, Fuel Consumption, Flow, Torque, Angles, Luminous Intensity, Illumination, Time, Quantity & Radioactivity. Works on Windows 98, Windows Millennium, Windows NT4, Windows 2000, Windows XP, Windows 2003, Windows Vista, Windows 2008, Windows 7, Windows 8 and Windows 10. The visual appearance of ESBUnitConv has been optimised for 800x600 (or better) with 16-bit colour (or better). It looks really great under Windows XP/Vista/7 with its 32-bit colour. You will also get the "nicer" buttons on Windows XP and above. Also includes customising of the Colours & Fonts used, as well as customising how the Hints (ToolTips) appear. Click here to visit the author's website.

1,020
Jan 19, 2020
ESB Consultancy