Pinned: Download Hirenís BootCD 15.1
All in One Bootable CD which has all these utilities Antivirus Tools Avira AntiVir Personal (07-12-2011) Free anti-virus and anti-spyware on-demand scanner, detects and removes more than 50000 viruses and trojans. ClamWin Free Antivirus 0.97.3 (07-12-2011) A free antivirus, GNU GPL Open Source Virus Scanner. ComboFix (07-12-2011) Designed to cleanup malware infections and restore settings modified by malware. Dr.Web CureIt! Antivirus a free standalone anti-virus and anti-spyware on-demand scanner (downloadable). GMER 1.0.15 Hidden services, hidden registry, hidden file scanner, Rootkit Detector and Remover. Malwarebytes Anti-Malware 1.51.1 (07-12-2011) anti-malware application that can thoroughly remove even the most advanced malware. Remove Fake Antivirus 1.82 a tool to remove virus/malware which disguises itself to be an antivirus and produces fake alert/warnings and urge you to purchase a useless copy of the fake antivirus. RootkitRevealer 1.7.1 Rootkit Revealer is an advanced patent-pending root kit detection utility. Spybot - Search & Destroy 1.6.2 (07-12-2011) Application to scan for spyware, adware, hijackers and other malicious software. SuperAntispyware 5.0.1134 (07-12-2011) Remove Adware, Malware, Parasites, Rootkits, Spyware, Trojan, and Worms (a must have tool). TDSSKiller 2.6.21.0 To remove malware belonging to the family Rootkit.Win32.TDSS aka Tidserv, TDSServ and Alureon. Backup Tools CloneDisk 1.9.6 All in one tool for MBR, Partition, Disk, VMWare Disk images vmdk/vmx/vhd, and much more. COPYR.DMA Build013 A Tool for making copies of hard disks with bad sectors. CopyWipe 1.14 Copy old hard drive to a new hard drive by copying the entire contents of one drive to another, CopyWipe can also help prevent confidential or private data from being recovered, by securely wiping the contents of a drive. DiskImage 1.6 Creates and writes disk images files to hard and floppy disks. DriveImage XML 2.30 backup any drive/partition to an image file, even if the drive is currently in use, a very good freeware alternative to Ghost / Acronis Drive SnapShot 1.40 creates an exact Disk Image of your system into a file while ...
6,023
Mar 31, 2012
Hiren
Bootzilla v5.1
BootZilla is a toolkit designed with the intent of creating a simple toolkit that can help the computer user or technician in removing pesky virus and malware infections. It can also help in the diagnosis of severe hardware failure, such as memory or hard drive failures. The entire toolkit offers a BootCD functionality, built up off of the Ultimate Boot CD. Included applications: 7-zip 4.57,AIM Ad Hack v5.52,Belarc Advisor,CCleaner,Erunt/NTregopt,Firefox,Java,KLCodecPack,Microsoft Installer Cleanup,Prime95,PCI FileRecovery,DVDDecrypter,ImgBurn,Unlocker,Victoria4Windows,AIMFix,Combofix,NOD32 Antivirus trial,HijackThis,RogueRemover,Spybot Search&Destroy,Vundofix,ATF-Cleaner,FAB\\\'sAutobackup,CCleaner SFX,CPU-Z,Dial-A-Fix,DriveDismounter script,ERUNT,EZPCFix,FSOptimizer SFX,HostsXpert SFX,JkDefragGui SFX,Keyfinder,LSPFix,MCPR,Norton Removal Tool,PC-Decrapifier,RegScanner,Silent Runners,SIV,SIW,StartUpLite,Sysinternals Suite,Undead Pixel,UnknownDevices,Unstoppable copier,ViewpointKiller,WinsockFix,ZonedOut.

6,209
Mar 31, 2012
BHTproject.org
Microsoft Windows and Office ISO Download Tool 4.21
Microsoft Windows and Office ISO Download Tool 4.21 Microsoft Windows Defender will detect this as a virus. It is not a virus. Microsoft just doesn't like what it does. This new tool allows an easy and comfortable way to download genuine Windows 7, 8.1 and 10, as well as Office 2007 and 2010 disk images (ISO) directly from Microsoft's servers. Ever since Microsoft pulled the Windows disk images from Digital River, hunting for untouched ISO files has been a pain. Our new tool will make your life easier, and provides and interface to Microsoft TechBench to download original Windows images directly from Microsoft's server. As of version 2.00, the tool can also download Microsoft Office. Requirements: .NET Framework 4.6.1, Internet Explorer 11 Changelog: Version 4.21 (18 March 2017): Added Windows 10 builds 15048, 15051 and 15052.
794
Mar 20, 2017
Jan Krohn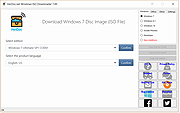 Ultimate Boot CD v5.3.6 ISO
==Official Mirror== Ultimate Boot CD v5.3.6 ISO You need the Ultimate Boot CD if you want to: Run floppy-based diagnostic tools from CDROM drives. More and more PCs are shipped without floppy drives these days, and it is such a royal pain when you need to run diagnostic tools on them. Free yourself from the slow loading speed of the floppy drive. Even if you do have a floppy drive, it is still much much faster to run your diagnostic tools from the CDROM drive, rather than wait for the tool to load from the floppy drive. Consolidate as many diagnostic tools as possible into one bootable CD. Wouldn't you like to avoid digging into the dusty box to look for the right floppy disk, but simply run them all from a single CD? Then the Ultimate Boot CD is for you! Run Ultimate Boot CD from your USB memory stick. A script on the CD prepares your USB memory stick so that it can be used on newer machines that supports booting from USB devices. You can access the same tools as you would from the CD version. New features in UBCD V5.x include: New! The Linux-based distro Parted Magic is now included with UBCD V5.0. This should be the method of choice when you need to resize/rescue partitions, access NTFS filesystems or work with USB storage devices. New! UBCD V5.x now supports both syslinux/isolinux and grub4dos. This helps improve the chances that UBCD will boot on any particular machine. When you boot up from the CD, a text-based menu will be displayed, and you will be able to select the tool you want to run. The selected tool actually boots off a virtual ...

171,451
Sep 23, 2016
Victor Chew