All in One – System Rescue Toolkit Lite 2018-01-02
==Official Mirror== All in One – System Rescue Toolkit Lite 2018-01-02 The All in One – System Rescue Toolkit Lite is designed to be a first response computer repair tool for everyone, not just technicians. It automatically runs several repair steps that should be able to fix many problems commonly found within Windows. While I cannot guarantee it will fix your particular problem, it can be a first step before having to call a technician. Easy to use! Download, run, wait 1-2 hours, done! Changes: Posted on January 2, 2018 by Paul Vreeland 2018 Toolkit Version Released! Happy New Year! I am excited to announce the release of the 2018 version of my All in One – System Rescue Toolkit. Both the Technician and Lite versions are available now for download! This is one of the most ambitious releases to date. I have added multi-lingual support, the ability to customize, and other stuff! I know the toolkit is already pretty popular worldwide and while I don't expect any massive surge of downloads, I really want to prepare. Just in case it explodes due to language support. Most Notable Changes Multiple language support, with autodetection, for the following languages: [ar] Arabic, [cs] Czech, [da] Danish, [de] German, [en] English, [es] Spanish, [fr] French, [he] Hebrew, [hi] Hindi, [hu] Hungarian, [it] Italian, [ja] Japanese, [ko] Korean, [nl] Dutch, [pt] Portuguese, [ru] Russian, [sv] Swedish, [th] Thai, [tr] Turkish, [vi] Vietnamese, [zh] Chinese (Simplified). Please forgive any bad translations, we had a few volunteers but the rest was copy and paste from Google Translate. There is a button inside the toolkit to suggest translation fixes. Customization of the toolkit on USBs. Add your own apps, set the startup language MD5 file integrity checks when ...
1,771
Jan 03, 2018
Paul Bryan Vreeland
All in One – System Rescue Toolkit LiveCD 2018-01-02
==Official Mirror== All in One – System Rescue Toolkit LiveCD 2018-01-02 This utility disc is designed to quickly and efficiently aid a technician with troubleshooting and repairing Windows based PCs. The All in One – System Rescue Toolkit is designed to work with Windows XP / Vista / 7 / 8 / 8.1 / 10. It has also been used with Windows Server 2003 / 2008 / 2008 R2 / 2012 / 2016. The live CD bootable environment works with GNU/Linux and newer Macs as well. 2018-01-02 Changelog LiveCD updated to latest 16.04.3 Lubuntu LTS added exfat support added sensors and acpi support for conky desktop info added temperature sensors to CPU stress test added nwipe secure disk eraser confirmed proper EFI support. Nothing changed, received rare reports of EFI boot issues
647
Jan 03, 2018
Paul Vreeland
Close All Windows 2.1
Close All Windows 2.1 Close All Windows with Just a Single Click: Select Apps You Want to Close and click OK CloseAll lets you close all running applications with just a single click. It doesn't use any system resources at all and unloads right after completing its task. CloseAll simply flashes a 'close' signal to all open applications on the desktop and then ceases. What can be easier than a task list with check boxes and OK button? Just select apps you want to close and click OK. It's CloseAll v2.1: From the main menu, you can enable "Small Icon" view: Enable/disable sorting and grouping of tasks: You can pin CloseAll shortcut to the Windows 7 Taskbar for quick access: CloseAll is indeed very handy if you are running multiple applications at the same time and want all of them to quit instantly. Try it to see if it can save your time. It's FREE! System Requirements CloseAll runs on Windows 10, 8, 7, Vista and XP (32-bit and 64-bit). In order to display information about UAC elevated processes, it requires to be installed in the system %ProgramFiles% directory.
66
Jan 15, 2018
NTWind Software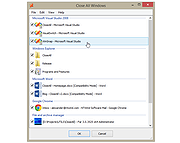 NetAdapter Repair All In One 1.2
NetAdapter Repair All In One 1.2 NetAdapter Repair is an All In One program that allows a user to effectively troubleshoot and repair common problems with windows networking adapters. Repair Buttons and Additional Tools: Advanced Repair (WinSock/TCP IP Repair, Clear all Proxy/VPN Settings, Windows Firewall Repair) Release and Renew DHCP Address Clear Host File Clear Static IP Settings (enable DHCP) Change to Google DNS Flush DNS Cache Clear ARP/Route Table NetBIOS Reload and Release Internet Options - Clear SSL State Enable LAN Adapters Enable Wireless Adapters Reset Internet Options Security/Privacy Set Network Windows Services Default
No Votes
2,783
Jul 18, 2014
Conner Bernhard