EASEUS Todo Backup Free Edition 8.5
EASEUS Todo Backup Free Edition 8.5 Most popular free backup software with over 6,000,000 home users. Free and reliable - backup & disaster recovery software for home users Easy to install and use - intuitive interface guiding you step-by-step One scalable solution - backup, disk clone, SSD migration & restore Microsoft-compatible - support Windows 10/8.1/8/7/Vista/XP op Benefits Easy to Install and Simple to Use - Intuitive interface combined with wizard guiding you to perform backup & recovery step-by-step. Reliable and Secure - Back up any crucial data where you want and protect them in a safe way. Windows 10 Compatible - EaseUS Todo Backup is always Microsoft-ready, supports Windows 10/8/7/Vista/XP. Multiple Languages Supported -English, Deutsch, Español, Français, Italiano, Português, Polski, 日本語, 中文 (繁體), 中文 (简体). Backup System backup - Full system protection allows you to easily back up and recover your entire operating system when disaster happens. Disk imaging - Block-level disk imaging quickly and efficiently backs up the entire disk or volumes. It can speed up the backup process of large files as it only backs up the modified blocks of data instead of the entire file. File backup - File-level backup allows you to selectively back up specific files, folders or file types, including network shared files. Hot backup - Integrate with Microsoft Volume Shadow (VSS) to back up files that are in use, back up specific files and volumes without interrupting any current operations, especially for open files backup. Sector-by-sector backup - Store an exact copy of your disk or volume, including unused space, sector-by-sector backup assures you a 100% ...
4,264
Jun 30, 2015
CHENGDU YIWO Tech Development Co. Ltd.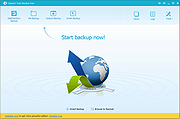 Simple Data Backup 8.5
Simple Data Backup 8.5 Simple Data Backup is free, easy and efficient backup software that creates non-proprietary backups. It can back up folders/files from one drive to another anytime you want on-demand (including with an optional direct shortcut on your desktop to run the backup), on a schedule, or at logon. Back up to another hard drive, network drive, flash drive, the 'cloud' (Internet server) via FTP, SSH, or WebDav, DVD (if packet-writing software is installed) and more. It can create identical folder/file structures on the backup drive, or can compress the data as .ZIP or LZMA-compressed .7z files. It can back up "in use" files (including Outlook data), monitor and alert you to any errors including potentially by email/SMS or reporting status to the web, and it automatically handles the whole full/incremental backup thing that other programs make you deal with. Simple Data Backup is powerful, stable, and secure, but also simple - just pick the folders you want to be backed up and a few settings and you're done! With over a decade of development behind it, Simple Data Backup is trusted and stable. Contains NO spyware, adware, viruses, or malware of any kind. Supports: Windows 10, 8.1, 8, 7, Vista (SP1+), XP (SP3), Server OS's The Free edition is perfectly functional, contains no ads, and will not nag you. However, some advanced functionality is disabled.
368
Feb 17, 2018
Chris Long