Pinned: Hiren's BootCD PE x64 v1.0.1
Hiren's BootCD PE x64 v1.0.1 This download may trigger a virus warning. This is a false warning. This happens because of some of the advanced tools in this disk image. Statement from Hirensbootcd.org: The old versions you download from our website are NOT edited, they are the original files. Both old and new versions are clean. The most common files we are getting reports are "HBCDMenu.exe, HBCDCustomizer.exe, R-Kill.com, konboot.gz". Please note, they do NOT contain a virus. If you are getting a virus warning, that is a false positive. Please report the file as a false positive via your antivirus software. During that time, you should disable your antivirus or add the related file to your antivirus software's exceptions list for a problem free use. Hiren's BootCD PE (Preinstallation Environment) is an emergency boot disk based on Windows 10 PE x64. It is being developed for the new age computers, it supports UEFI booting and requires minimum 2 GB RAM. It does not contain any pirated software, it is %100 free and legal. After boot, it finds and installs many common drivers like graphics, sound, wireless and ethernet card for your hardware. So that you can connect to a WIFI or Ethernet network. With the useful tools inside of the CD, you can solve many problems related with your computer. BCD-MBR Tools BootIce v1.3.3 EasyBCD v2.3 Hard Disk Tools – Data Recovery CheckDisk GUI v1.2.0 Lazesoft Data Recovery v4.0.0.1 Puran Data Recovery v1.2.0 Puran File Recovery v1.2.0 Recuva v1.53.0.1087 Runtime GetDataBack for FAT v4.3.3 Runtime GetDataBack for NTFS v4.3.3 Runtime GetDataBack Simple v5.0.0 Runtime NAS Data Recovery v4.0.0 Runtime RAID ...

1,232
Jun 21, 2018
hirensbootcd.org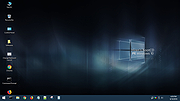 Far Manager v3.0 build 5119 x64
Far Manager v3.0 build 5119 x64 Far Manager is a program for managing files and archives in Windows operating systems. Far Manager works in text mode and provides a simple and intuitive interface for performing most of the necessary actions: viewing files and directories; editing, copying and renaming files; and many other actions. Customize it Far Manager has a multi-language, easily configurable interface. File system navigation is made easier through the use of color highlighting and sort groups. Your task — your way The functionality of Far Manager is greatly extended by external DLL modules — plugins (made possible by a special set of interfaces — the Plugins API). For example: archive support, FTP client, temporary panel and network browser are all implemented as plugins included in the standard distribution of Far. Changelog: drkns 21.12.2017 21:50:42 +0000 - build 5114 1. After 4563 the recursive tree walk would not enter DFS catalogs. Conceptually, while walking the tree we are only interested in junction and symlink, but FILE_ATTRIBUTE_REPARSE_POINT can formally mean anything, therefore checking only this attribute is not enough. Now protection from recursive links and other useful and useless intellect in this and other places is applied only to IO_REPARSE_TAG_MOUNT_POINT and IO_REPARSE_TAG_SYMLINK.

1,819
Jan 05, 2018
Far Group