Mozilla Firefox Portable v90.0.2
Mozilla Firefox Portable v90.0.2 Portable Firefox is a fully functional package of Firefox optimized for use on a USB key drive. It has some specially-selected optimizations to make it perform faster and extend the life of your USB key as well as a specialized launcher that will allow most of your favorite extensions to work as you switch computers. It will also work from a CDRW drive (in packet mode), ZIP drives, external hard drives, some MP3 players, flash RAM cards and more. To install, just download the ZIP and unzip it to the root directory of your USB drive. It will create a "firefox" directory and all the requisite directories underneath. To use Firefox on your drive, launch it with the PortableFirefox.exe file in the firefox directory. DO NOT launch the firefox.exe file directly, as this will create a profile on your hard drive or use an existing one. Additionally, be sure you've closed any local copies of Firefox and that they've finished shutting down. Otherwise, a new window of your local install will be launched. This is a feature of Firefox itself to prevent multiple copies running at the same time. Mozilla Firefox - Your web, the way you like it: high performance, easy customization and advanced security. Features: Anti-Malware Firefox protects you from viruses, worms, trojan horses and spyware delivered over the Web. If you accidentally access an attack site, it will warn you away from the site and tell you why it isnít safe to use. Anti-Phishing Shop and do business safely on the Internet. Firefox gets a fresh update of web forgery sites 48 times in a day, so if you try to visit a fraudulent site thatís pretending to be a site you trust (like your bank), a browser messageóbig as lifeówill stop you. Instant Web Site ID Want to be extra ...

6,881
Jul 23, 2021
Mozilla & John T. Haller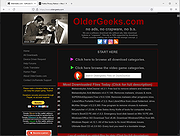 Mozilla Firefox v90.0.2
Mozilla Firefox v90.0.2 Get the latest Firefox browser. And start getting the respect you deserve with our family of privacy-first products. Join Firefox Connect to a whole family of respectful products, plus all the knowledge you need to protect yourself online. Passwords made portable Firefox Lockwise makes the passwords you save in Firefox available on all your devices. Protect your privacy Private Browsing clears your history to keep it secret from anyone who uses your computer. 90.0.2 Firefox Release July 22, 2021 Version 90.0.2, first offered to Release channel users on July 22, 2021 Fixed Fixed truncated output when printing (bug 1720621) Fixed menu styling on some Gtk themes (bug 1720441, bug 1720874) Changed Updates to support DoH Canada rollout Click here to visit the author's website.

6,842
Jul 23, 2021
Mozilla