Mozilla Thunderbird Portable v78.9.0
Mozilla Thunderbird Portable v78.9.0 Mozilla Thunderbird®, Portable Edition is the popular Mozilla Thunderbird email client bundled with a PortableApps.com launcher as a portable app, so you can take your email, address book and account settings with you. You can also add in GPG and Enigmail to encrypt and sign your email. Mozilla Thunderbird is the safe, fast email client that's easy to use. It has lots of great features including quick message search, customizable views, support for IMAP/POP, RSS support and more. Plus, the portable version leaves no personal information behind on the machine you run it on, so you can take your email and adress book with you wherever you go. Click here to visit the author's website.

6,848
Mar 26, 2021
John T. Haller & Mozilla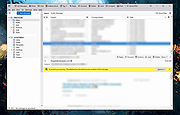 Mozilla Thunderbird v78.9.0
Mozilla Thunderbird v78.9.0 Mozilla Thunderbird makes e-mailing safer, faster, and easier with features such as intelligent spam filters, a built-in RSS reader, and quick search. Thunderbird was designed to prevent viruses and to stop junk mail. Thunderbird includes tabbed e-mail, new search tools and indexing, smart folders, support for Firefox's, a simplified setup wizard and robust junk protections that include phishing and spam filters. Key Features Include: Tabbed email An Archive feature similar to the one found in GMail. Lightning fast search. Smart folders. Thunderbird has junk mail tools that have been updated to stay ahead of spam and features anti-phishing protection. Changes: 78.9.0 Fixes fixed New mail notification displayed old messages that were unread fixed Spaces following soft line breaks in messages using quoted-printable and format=flowed were incorrectly encoded; existing messages which were previously incorrectly encoded may now display with some words not separated by a space fixed Some fields were unreadable in the Dark theme in the General preferences panel fixed Sending a message containing an anchor tag with an invalid data URI failed fixed When switching tabs, input focus was not moved to the new tab fixed Address Book: Syncing a read-only Google address book via CardDAV failed fixed Address Book: Importing VCards with non-ascii characters would fail fixed Address Book: Some values may not have been parsed when syncing from Google address books. fixed Add-ons Manager did not show if an addon used experiment APIs fixed Calendar: Removing a recurring task was not possible fixed Various security fixes Known Issues unresolved The fix for bug 210148 included in Thunderbird 78.8.1 was removed. New mail notifications not showing if there were unread messages from previous notifications. Click here to visit the author's website.

4,502
Mar 26, 2021
The Mozilla Organization