FastStone Image Viewer v7.5
FastStone Image Viewer v7.5 FastStone Image Viewer is a fast, stable, user-friendly image browser, converter and editor. It has a nice array of features that include image viewing, management, comparison, red-eye removal, emailing, resizing, cropping, retouching and color adjustments. Its innovative but intuitive full-screen mode provides quick access to EXIF information, thumbnail browser and major functionalities via hidden toolbars that pop up when your mouse touches one of the four edges of the screen. Other features include a high quality magnifier and a musical slideshow with 150+ transitional effects, as well as lossless JPEG transitions, drop shadow effects, image annotation, scanner support, histogram and much more. It supports all major graphic formats (BMP, JPEG, JPEG 2000, animated GIF, PNG, PCX, PSD, EPS, TIFF, WMF, ICO and TGA) and popular digital camera RAW formats (CRW, CR2, NEF, PEF, RAF, MRW, ORF, SRF, ARW, SR2, RW2 and DNG). Image browser and viewer with a familiar Windows Explorer-like user interface Support of many popular image formats: True Full Screen viewer with image zoom support and unique fly-out menu panels Crystal-clear and customizable one-click image magnifier Powerful image editing tools: Resize/resample, rotate/flip, crop, sharpen/blur, adjust lighting/colors/curves/levels etc. Eleven re-sampling algorithms to choose from when resizing images Image color effects: gray scale, sepia, negative, Red/Green/Blue adjustment Image special effects: annotation, drop shadow, framing, bump map, sketch, oil painting, lens Draw texts, lines, highlights, rectangles, ovals and callout objects on images Clone Stamp and Healing Brush Superior Red-Eye effect removal/reduction with completely natural looking end result Multi-level Undo/Redo capability One-touch best fit/actual size image display support Image management, including tagging capability, ...

6,490
Oct 11, 2020
FastStone Soft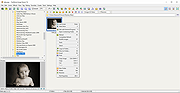 VirusTotal Scanner v7.5
VirusTotal Scanner v7.5 VirusTotal Scanner is the desktop tool to quickly perform Anti-virus scan using VirusTotal.com VirusTotal.com is a free online scan service that analyzes suspicious files using 40+ Anti-virus applications. It facilitates the quick detection of viruses, worms, trojans, all kinds of malware and provides reliable results preventing any False Positive cases. 'VirusTotal Scanner' is the desktop tool which helps you to quickly scan your file using VirusTotal without actually uploading the file. It performs direct Hash based scan on VirusTotal thus reducing the time taken to upload the file. It comes with attractive & user friendly interface making the VirusTotal scanning process simpler and quicker. You can simply right click on your file and start the scan. VirusTotal Scanner is fully portable tool but also comes with Installer for local installation & un-installation. It works on wide range of platforms starting from Windows XP to new Windows 10 version. Features Easily & Quickly perform VirusTotal scan of your file. Performs Hash based scan without uploading the file. Right click context menu to launch it directly by simply right clicking on the file. 'Drag & Drop' feature to quickly choose the file Displays detailed VirusTotal Scan report Very easy to use with attractive interface Completely Portable Tool and can be run directly Includes optional Installer for local Installation & Uninstallation. Installation & Uninstallation Though VirusTotalScanner is a Portable tool, it comes with Installer so that you can install it locally on your system for regular usage. It has intuitive setup wizard which guides you through series of steps in completion of installation. At any point of time, you can uninstall the product using the Uninstaller located at following location (by default) [Windows 32 bit] C:\Program ...

2,804
Nov 13, 2019
SecurityXploded