Calibre v7.0.0
Calibre v7.0.0 A free and open source e-book library management application developed by users of e-books for users of e-books. It has a cornucopia of features divided into the following main categories: Library Management E-book conversion Syncing to e-book reader devices Downloading news from the web and converting it into e-book form Comprehensive e-book viewer Content server for online access to your book collection E-book editor for the major e-book formats From the author: Calibre started life on 31 October, 2006, soon after the release of the SONY PRS-500, the first e-ink based reader to be sold commercially in the US. At the time, I was a graduate student, with a lot of time on my hands. The PRS-500 did not work at all with Linux, my operating system of choice, so I decided to reverse engineer the USB protocol that it used, to get it working on Linux. This was accomplished with the help of the fine folks over at mobileread.com and calibre was born, albeit named libprs500. At the time there were no satisfactory tools to convert content into the LRF format, used by the SONY reader, so I decided to implement a converter to convert the most popular e-book formats to LRF. This converter proved to be wildly popular and far better than the (mostly non-existent) offerings from SONY. It was picked up and used by various publishing houses and content digitizers to produce the first generation of books in the LRF format. As my e-book collection grew, I realized that managing it was quickly becoming unwieldy, so I decided to write a graphical interface to libprs500 to make it easier. This became calibre, in its present form, as ...

9,468
Nov 17, 2023
Kovid Goyal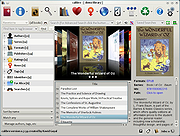 digiKam v7.0.0
digiKam v7.0.0 Professional Photo Management with the Power of Open Source digiKam is an advanced open-source digital photo management application that runs on Linux, Windows, and MacOS. The application provides a comprehensive set of tools for importing, managing, editing, and sharing photos and raw files. Highlights You can use digiKamís import capabilities to easily transfer photos, raw files, and videos directly from your camera and external storage devices (SD cards, USB disks, etc.). The application allows you to configure import settings and rules that process and organize imported items on-the-fly. digiKam organizes photos, raw files, and videos into albums. But the application also features powerful tagging tools that allow you to assign tags, ratings, and labels to photos and raw files. You can then use filtering functionality to quickly find items that match specific criteria. In addition to filtering functionality, digiKam features powerful searching capabilities that let you search the photo library by a wide range of criteria. You can search photos by tags, labels, rating, data, location, and even specific EXIF, IPTC, or XMP metadata. You can also combine several criteria for more advanced searches. digiKam rely on Exiv2 library to handle metadata tag contents from files to populate the photo library. digiKam can handle raw files, and the application uses the excellent LibRaw library for decoding raw files. The library is actively maintained and regularly updated to include support for the latest camera models. digiKam can also manage video files for cataloging purpose, and the application uses the couple FFmpeg and QtAv libraries to extract metadata and play media. The application provides a comprehensive set of editing tools. This includes basic tools for adjusting colors, cropping, and sharpening as well as advanced tools for, curves adjustment, panorama stitching, and much more. A special tool based on Lensfun library permit to apply lens corrections automatically on images. Extended ...

2,596
Aug 01, 2020
digiKam Team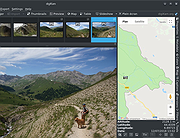 KiCad EDA v7.0.0
KiCad EDA v7.0.0 A Cross Platform and Open Source Electronics Design Automation Suite Schematic Capture KiCad's Schematic Editor supports everything from the most basic schematic to a complex hierarchical design with hundreds of sheets. Create your own custom symbols or use some of the thousands found in the official KiCad library. Verify your design with integrated SPICE simulator and electrical rules checker. PCB Layout KiCad's PCB Editor is approachable enough to make your first PCB design easy, and powerful enough for complex modern designs. A powerful interactive router and improved visualization and selection tools make layout tasks easier than ever. 3D Viewer KiCad's 3D Viewer allows easy inspection of your PCB to check mechanical fit and to preview your finished product. A built-in raytracer with customizable lighting can create realistic images to show off your work. About KiCad KiCad is an open source software suite for Electronic Design Automation (EDA). The programs handle Schematic Capture, and PCB Layout with Gerber output. The suite runs on Windows, Linux and macOS and is licensed under GNU GPL v3. Mission Statement The goal of the KiCad project is to provide the best possible cross platform electronics design application for professional electronics designers. Every effort is made to hide the complexity of advanced design features so that KiCad remains approachable by new and inexperienced users, but when determining the direction of the project and the priority of new features, the needs of professional users take precedence. Project Governance The KiCad project is governed by a technical committee made up of the members of the lead development team. Most decisions are made by a consensus of the technical committee. When a consensus cannot be reached the final decision is made by the project leader. History KiCad was first released in 1992 by its original author, Jean-Pierre Charras. It has been in continual ...

711
Feb 28, 2023
kicad.org