Aomei Backupper Standard v6.5.1
Aomei Backupper Standard v6.5.1 To rescue system failure or data loss, backup is important and necessary. AOMEI free backup software provides basic and advanced features to ensure the safety of your system and data. System Backup One-click system drive backup of all contents, including Windows operating system, installed applications and custom settings without interrupting your work. File Backup Securely back up individual files and folders, such as email, photos, videos, documents, games and programs. Also support backing up files from one network/NAS to another. Disk Backup Backup your hard disk drives, including basic disk, dynamic disk, MBR disk, GPT disk, external disk, USB flash drive and other storage devices that can be recognized by Windows. Partition Backup If you just want to backup one or more specified partitions or dynamic volumes, not entire disk. This free backup software allows you to back up partitions or dynamic volumes to a compressed image file. File Sync Synchronize files and folders automatically with a schedule to local disks, external hard drives, removable USB flash drives, NAS or network shared folders. Changelog: Version 6.5.1 (Released May 17, 2021) Enhanced "Create Bootable Media": the created bootable media supports both UEFI and Legacy BIOS boot modes. Enhanced "Create Bootable Media": The language of the created bootable media is same as the language used in AOMEI Backupper. Fixed issue: Computer is prevented from going to sleep/hibernation after a backup was completed in some systems. Fixed issue: The program startup slow because of the connection to the network node. Fixed issue: The program cannot load disk information after "Memory Integrity" is turned on in Windows10. Fixed issue: After installing Standard Edition, the startup program appears as a Server Trial Version. Fixed issue: The program auto-update failed because of ...

4,531
May 18, 2021
Aomei Technology Co., Ltd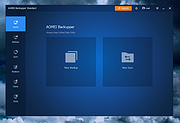 Stella v6.5.1
Stella v6.5.1 The Atari 2600 Video Computer System (VCS), introduced in 1977, was the most popular home video game system of the early 1980's. Now you can enjoy all of your favorite Atari 2600 games on your PC thanks to Stella! Stella is a multi-platform Atari 2600 VCS emulator released under the GNU General Public License (GPL). Stella was originally developed for Linux by Bradford W. Mott, and is currently maintained by Stephen Anthony. Since its original release several people have joined the development team to port Stella to other operating systems such as AcornOS, AmigaOS, DOS, FreeBSD, IRIX, Linux, OS/2, MacOS, Unix, and Windows. The development team is working hard to perfect the emulator and we hope you enjoy our effort. NOTE for Windows: Visual C++ Redistributable for Visual Studio 2017 is required. This download is for the Windows 32bit and 64bit version. If you need the MacOS (64-bit, Intel CPU/10.7+ only) version, download here. If you need the 64-bit DEB for Ubuntu 20.04 version, download here. If you need the 64-bit DEB for Ubuntu 18.04 version, download here. If you need the 64-bit RPM for Linux version, download here. If you need the DEB for Raspberry Pi OS 3/4 version, download here. If you need the Source code tarball for all systems, download here. Miscellaneous / Extras Snapshot files for use in ROM launcher/ROM Info Viewer. Download here. Application for calibrating Linux 'evdev' joysticks (useful to eliminate deadzone on Stelladaptor/2600-daptor devices). Download here. Click here to visit the author's website.

4,896
Jan 25, 2021
The Stella Team