Atomic Tanks Portable v6.5
Atomic Tanks Portable v6.5 Annihilate the other tanks to earn money, then spend it on bigger and better shields and weapons to wipe out the opposition. Features a wide array of weapons, AI players, destructible landscape, weather, parachutes, teleports and a wide range of other features. Click here to visit the author's website.

1,014
Aug 26, 2020
Atomic Tanks Team & PortableApps.com (Simeon)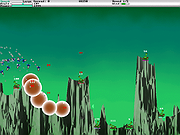 GifCam v6.5
GifCam v6.5 GifCam is easy and fun animated gif making app. Compatible With Windows 8,7,Vista,XP. GifCam has a nice idea where the app works like a camera that stays on top of all windows so you can move it and resize it to record your desired area. When you're ready, click "Rec" to start recording or click "Frame" to record a single frame. GifCam is practical While recording whenever GifCam finds the previous frame is same as the new recorded one it automatically adds delays (milliseconds the frame stays on screen) instead of adding a new frame and increasing gif size. Add to this GifCam doesn't draw the whole frame it draws greenscreen (transparent pixels) by comparing the alternately frames and just draw the different pixels, that saves a lot of kilobytes. Editing GifCam comes with simple and powerful frames editing, To delete frames/add or remove delays, click on "Edit" button then right click on the frame you want to edit : Saving When you done recording and editing, you can save your gif in 5 color reduction formats. *Windows XP doesn't support "split button" natively so right click on the save button to get the save menu. GifCam can be used in many creative ways like: creating an animated painting using MS Paint (264 frames just 17.4 KB !!) or delivering an animated message in notepad (123 frames just 13.4 KB !!) or creating a retro gif (monochrome color redaction) from YouTube video (41 frames 219 KB) History of changes from oldest to newest: Version 2.0 updated 3/June/2013 Add text : with Add text you can write some text in one line or more, set the frames range, position the text , align it left/center/right , add shadow and change the font with the native Windows font dialog. Two more Frame rate options for more smooth gif: ...

1,413
Dec 14, 2020
BahraniApps Blog