Macrorit Partition Expert Free Edition v5.3.9
Macrorit Partition Expert Free Edition v5.3.9 A free Partition Magic alternative, Macrorit Disk Partition Expert Home Edition is powerful free partition software allows you to extend partition (especially for system partition), settle low disk space problem, manage disk space easily on MBR and GUID partition table (GPT) disk. Besides the basic disk partitioning ability, it is also the only one free disk partition management software possesses advanced technology of power-off protection and data disaster recovery, this means you never worry about data loss any longer while executing the partition operations, you should just let your hair down and relax. Features: For free, forever: It could assist you to solve common disk partition problems WITHOUT ANY CHARGE. Extremely easy-to-use: All tasks could be easily operated, undo/redo/commit operations with several mouse click. Feature-rich: HASSLE-FREE partition software fixes for your computer common disk partition problems. Macrorit New Technology: Although it is freeware, it possesses all the unique technology of power-off protection and data disaster recovery. Enjoy continual practical features, for free: There will be more practical features added based on users' needs. Wide compatibility: *Support > 2T hard drive , 1024 sector size and MBR/GPT partition. *Support Windows native environment, any partition can be locked. *Support Multi- operating system environment. Fast working speed: The speed to resize/move, copy, wipe, surface test can reach the limit of IO devices. Free Edition offers Basic Partitioning: Create Partition, Format Partition and more. Advanced Partitioning: Resize/Move Partition, Explore Partition, Wipe Partition Click here to visit the author's website.

6,139
Aug 25, 2019
Macrorit Tech Development Co., Ltd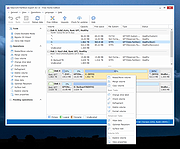 Ultimate Boot CD v5.3.9 ISO
==Official Mirror== Ultimate Boot CD v5.3.9 ISO You need the Ultimate Boot CD if you want to: Run floppy-based diagnostic tools from CDROM drives. More and more PCs are shipped without floppy drives these days, and it is such a royal pain when you need to run diagnostic tools on them. Free yourself from the slow loading speed of the floppy drive. Even if you do have a floppy drive, it is still much much faster to run your diagnostic tools from the CDROM drive, rather than wait for the tool to load from the floppy drive. Consolidate as many diagnostic tools as possible into one bootable CD. Wouldn't you like to avoid digging into the dusty box to look for the right floppy disk, but simply run them all from a single CD? Then the Ultimate Boot CD is for you! Run Ultimate Boot CD from your USB memory stick. A script on the CD prepares your USB memory stick so that it can be used on newer machines that supports booting from USB devices. You can access the same tools as you would from the CD version. New features in UBCD V5.x include: New! The Linux-based distro Parted Magic is now included with UBCD V5.0. This should be the method of choice when you need to resize/rescue partitions, access NTFS filesystems or work with USB storage devices. New! UBCD V5.x now supports both syslinux/isolinux and grub4dos. This helps improve the chances that UBCD will boot on any particular machine. When you boot up from the CD, a text-based menu will be displayed, and you will be able to select the tool you want to run. The selected tool actually boots off a virtual ...

232,121
Aug 18, 2020
Victor Chew