GnuCash Portable v4.6
GnuCash Portable v4.6 GnuCash Portable is a free and open source financial management software with many of the same great features as most commercial money management programs including: Double-Entry Accounting Bank/Liability/Expense Accounts Stock/Bond/Mutual Fund Accounts Small-Business Accounting (Customers, Vendors, Jobs, Invoices, Accounts Payable/Receivable) QIF/OFX/HBCI Import, Transaction Matching Reports, Graphs Scheduled Transactions Financial Calculations Online banking with specific institutions (requires running as admin) System Requirements: Windows 7, 8, 10 MD5 Hash: d688c6fd66322347c58687acb42ae242 SHA256 Hash: a82d89e427cd2aa861fb6d49ecfafcc58856ecc21260bc5c67159d8306167934 Main features Double Entry Every transaction must debit one account and credit others by an equal amount. This ensures the books balance: the difference between income and expenses exactly equals the sum of assets and liabilities. Checkbook-Style Register The GnuCash checkbook-style register provides a custom, convenient and familiar interface to entering financial transactions. The register supports common checking and credit-card transactions, as well as income, stock and currency transactions. The following features are also provided: The ability to enter split transactions The ability to mark a transaction as cleared or reconciled Autofill of entered transactions The ability to display multiple accounts in a single register window A summary bar that displays all of the relevant account's balance information Many options to customize the appearance and the display style Scheduled Transactions You can create recurring transactions with a high level of customization of amounts and timeline. You can also set an automatic reminder when a transaction is due. An assistant that runs when GnuCash is started allows scheduled transactions to be postponed without canceling or entering them before the due date. Reports, Graphs GnuCash has an integrated module to display graphs of your financial data ...

2,993
Jul 01, 2021
GnuCash Team & PortableApps.com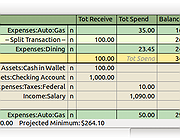 TLPD v4.6
TLPD v4.6 TLPD is designed to tackle the 'path name too long' issue. It scans the directory tree, searching for files and folders with full path name that may be too long for Windows to handle. TLPD is portable, has silent mode. It's also unlimited by file system types, administrative privileges, or pre-installed software components (like .NET, Java etc.) Click here to visit the author's website.

3,004
Mar 28, 2019
Or Ben Shabat