GnuCash Portable v4.4
GnuCash Portable v4.4 GnuCash Portable is a free and open source financial management software with many of the same great features as most commercial money management programs including: Double-Entry Accounting Bank/Liability/Expense Accounts Stock/Bond/Mutual Fund Accounts Small-Business Accounting (Customers, Vendors, Jobs, Invoices, Accounts Payable/Receivable) QIF/OFX/HBCI Import, Transaction Matching Reports, Graphs Scheduled Transactions Financial Calculations Online banking with specific institutions (requires running as admin) System Requirements: Windows 7, 8, 10 MD5 Hash: ed4182317791db526431e229ca261aed SHA256 Hash: 65835fc72e4674061f6d9e681410749cd49387c177bdac50211c841a9a8cbfee Main features Double Entry Every transaction must debit one account and credit others by an equal amount. This ensures the books balance: the difference between income and expenses exactly equals the sum of assets and liabilities. Checkbook-Style Register The GnuCash checkbook-style register provides a custom, convenient and familiar interface to entering financial transactions. The register supports common checking and credit-card transactions, as well as income, stock and currency transactions. The following features are also provided: The ability to enter split transactions The ability to mark a transaction as cleared or reconciled Autofill of entered transactions The ability to display multiple accounts in a single register window A summary bar that displays all of the relevant account's balance information Many options to customize the appearance and the display style Scheduled Transactions You can create recurring transactions with a high level of customization of amounts and timeline. You can also set an automatic reminder when a transaction is due. An assistant that runs when GnuCash is started allows scheduled transactions to be postponed without canceling or entering them before the due date. Reports, Graphs GnuCash has an integrated module to display graphs of your financial data in ...

2,289
Jan 04, 2021
GnuCash Team & PortableApps.com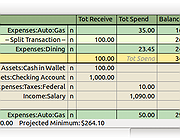 IZArc2Go v4.4
IZArc2Go v4.4 IZArc2Go is the easiest way to Zip, Unzip and Encrypt files for free (IZArc is the portable version of IZArc2Go) Zip and Unzip files Password protect archives with strong AES encryption Support 7-ZIP, RAR, TAR and many other archives IZArc is the best free file compression utility supporting many archive formats like: 7-ZIP, A, ARC, ARJ, B64, BH, BIN, BZ2, BZA, C2D, CAB, CDI, CPIO, DEB, ENC, GCA, GZ, GZA, HA, IMG, ISO, JAR, LHA, LIB, LZH, MDF, MBF, MIM, NRG, PAK, PDI, PK3, RAR, RPM, TAR, TAZ, TBZ, TGZ, TZ, UUE, WAR, XPI, XXE, YZ1, Z, ZIP, ZOO. With a modern easy-to-use interface, IZArc provides support for most compressed and encoded files, as well as access to many powerful features and tools. It allows you to drag and drop files from and to Windows Explorer, create and extract archives directly in Windows Explorer, create multiple archives spanning disks, creating self-extracting archives, repair damaged zip archives, converting from one archive type to another, view and write comments and many more. IZArc has also build-in multilanguage support. With IZArc you can open CD image files like ISO, BIN, CDI and NRG. It is also possible to convert such files from one type to another (BIN to ISO, NRG to ISO). If you need to send large files to your colleagues, friends or customers who may not have archiving tool you can easily create self-extracting archive that can be extracted by simple double click. IZArc can be configured to run your preferred Anti-Virus scanner when you open any archives. IZArc supports 256-bit AES encryption to secure your data. IZArc is integrated in Windows so you can perform all archiving operations by using right-click menus in Windows Explorer. If you have broken archives IZArc can help ...

1,475
Mar 22, 2019
Ivan Zahariev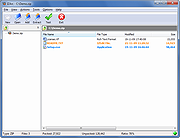 VirtuaWin v4.4
VirtuaWin v4.4 VirtuaWin is a virtual desktop manager for the Windows operating system (Win9x/ME/NT/Win2K/XP/Win2003/Vista/Win7/Win10). A virtual desktop manager lets you organize applications over several virtual desktops (also called 'workspaces'). Virtual desktops are very common in Unix/Linux, and once you get accustomed to using them, they become an essential part of a productive workflow. VirtuaWin is designed to be simple and elegant to use yet still be highly configurable and extensible. VirtuaWin is a freely distributed program and is licensed under the GNU General Public License. Features Multiple virtual desktops for windows Supports dual monitor, unicode & 64 bit on Win9x/NT/2000/XP/Vista/7 Portable app version - no installation required Navigate using mouse, hotkeys, menus or visual pagers Customizable system tray icons & several visual pagers Module interface for limitless extensibility Very active support forum Over a million downloads Change Log – Ver 4.4 2012/10/09 3178720 Added dynamic taskbar support for Win7 3082777 Implemented boss & unboss key 3205756 Fixed activation of minimized window when not hiding them. 3213525 Fixed title bar redraw issue caused by toggling TOOLWIN flag 3310612 Implemented own FindWindow and improved module start-up reliability 3242208 Changed action of Module Enable/Disable button to start module 3060975 Improved code getting a window icon, getting icon from app first 3364055 Updated hotkey list when setup is applied as changes may effect it 3376539 Handled explorer exiting so middle mouse button still works 3575279 Added message VW_INVERTY to return invert Up/Down setting 3481678 Added Reapply window rules hotkey and module ...

715
Jul 02, 2020
Johan Piculell