Macrorit Disk Scanner v4.3.7
Macrorit Disk Scanner v4.3.7 Free Disk Scanner to Check Hard Drive Errors and Issues Hard disk bad sector is the most common problem and the disk is not safe to store data any longer. Bad sector will cause the important data loss and blue screen error sometimes, and even slow disk space. Macrorit Disk Scanner is a third party disk surface test portable tool for disk bad sectors which provides you better options and performance than Windows native disk scanner. With the fastest algorithm, this disk scanner free software usually could reach to the maximum speed that supported by the device. It is compatible with all recent versions of Microsoft Windows - both client and server, and supports major storage device types such as IDE and SATA HDD and SSD, SCSI, FireWire, hardware RAID, flash cards and more. WHAT'S NEW v4.3.7 Fix some minor errors Click here to visit the author's website.

2,783
Apr 04, 2021
Macrorit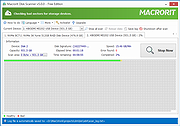 Memtest86 Free v4.3.7 Floppy Disk image
Memtest86 Free v4.3.7 Floppy Disk image7 MemTest86 is a free, thorough, stand alone memory test for x86 architecture computers. There are many good approaches for testing memory. However, many tests simply throw some patterns at memory without much thought or knowledge of memory architecture or how errors can best be detected. This works fine for hard memory failures but does little to find intermittent errors. BIOS based memory tests are useless for finding intermittent memory errors. RAM chips consist of a large array of tightly packed memory cells, one for each bit of data. The vast majority of the intermittent failures are a result of interaction between these memory cells. Often writing a memory cell can cause one of the adjacent cells to be written with the same data. An effective memory test attempts to test for this condition. Therefore, an ideal strategy for testing memory would be the following: Write a cell with a zero. Write all of the adjacent cells with a one, one or more times. Check that the first cell still has a zero. It should be obvious that this strategy requires an exact knowledge of how the memory cells are laid out on the chip. In addition there are a never ending number of possible chip layouts for different chip types and manufacturers making this strategy impractical. However, there are testing algorithms that can approximate this ideal and MemTest86 does just this. For the floppy download you will need a blank floppy disk. Click here to visit the author's website.

5,448
May 31, 2019
Passmark Software