Find.Same.Images.OK v3.77
Find.Same.Images.OK v3.77 Find.Same.Images.OK is a software to find the same or similar images and to search for rotated (mirrored) or negative images. You can use Find.Same.Images.OK for free to quickly find the same or similar images, whether those photos are rotated, mirrored, zoomed out . Key Features in Find Same Images OK! ◆ Folder vs. Folders and Compare All ◆ Find Similarity Images ◆ Quality and performance related ◆ Compare pictures in multiple folders ◆ Compare Camera Raw files ◆ Supports multiple image formats (JPEG, PNG, WMF, RAW, ...) Other features and specifications: ◆ Does not burden the CPU ◆ Tiny in size but very fast ◆ Portable use possible ◆ Optional installation ◆ Easy to use ◆ Multilingual How does the program work? Please, the program should not be confused with a simple duplicate finder program, the program generates graphic signatures and compares them on pixel basis, but not only that, you can also find rotated, mirrored and negative images even if eg the image is in size (Dimension) changed. (Which one does not rarely do, if the picture comes from the Smartphone or iPhone). And the good thing is that it's much faster than duplicate files finding program. With good computer systems, over 100,000 comparisons per second . Although currently only single thread (Core). The program is now in the first version and in further will be optimized and customized ;-). Please do not forget that the human eye can not be replaced, the program has an image preview and helps to quickly find similar or identical photos / pictures! For what to search and find the similar and same pictures? I think that the users, who have a lot of photos, pictures and wallpapers, have been repeatedly confronted with the fact that the hard disk contains dozens of identical files (and there are hundreds of similar files). And these can take up decent amount of ...

1,920
Nov 13, 2020
Nenad Hrg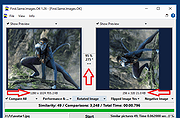 ThisIsMyFile v3.77
ThisIsMyFile v3.77 A small and effective program for unlocking and/or deleting locked or protected files. Problem: "Xxxx.xxx Can not delete the file: The file is used by another person or program." OR: The action can't be completed because the file is open in XXXXXX.exe 1.42 Close the file and try again. Installation is not required, simply place the ThisIsMyFile on the desktop and drop files on the ThisIsMyFile program icon. Have fun with deleting and unlocking! Features: # Create a copy of locked File and delete # Unlock only # Reboot & Delete # Reboot & Delete without request # Process killer # More ThisIsMyFile # Select files # Program Parameters # Multilanguage Create a copy If you want to copy the file before delete it. .. only info Shows who program that taken the file. Unlock only Only unlock the file not deleted Reboot & Delete For very stubborn candidates, activate this option. The system will be shut down and the file and folders will be deleted at system startup. Reboot & Delete without request ► ... There is no query, whether the file / directory is locked. Process killer Can be found under "More ThisIsMyFile". This can be used to terminate or kill specific processes. *Info 1.In some cases it is enough, to kill or to terminate the program that has several files and folders in use. More ThisIsMyFile Here you can see more details about the locked files. The process killer can be used here, Selects the process or program and terminate it. *Info 1. Automatically starts when deleting or unlock directories. 2. Use this in any case when it comes to the delete or unlocking of loaded modules (DLL-s). Select files Simply drag and drop the locked file to ThisIsMyFile and perform the desired action! Program Parameters For example: ThisIsMyFile.exe c:\file1.txt c:\file2.txt "c:\file with spaces.txt" The Files with blank e.g. spaces, please always start with and end '"'. Have fun with ThisIsMyFile! # Operating systems: Unlock and, or deleting locked or protected files is supported on: Windows 10, ...

3,231
Oct 17, 2021
Nenad Hrg