PhotoFilmStrip v3.7.0
PhotoFilmStrip v3.7.0 PhotoFilmStrip creates movies out of your pictures in just 3 steps. First select your photos, customize the motion path and render the video. There are several output possibilities for VCD, SVCD, DVD up to FULL-HD. The effect of the slideshow is known as "Ken Burns". Comments of the pictures are generated into a subtitle file. Furthermore an audio file can be specified to setup the background musice for the slide show. In contrary to other projects, PhotoFilmStrip has the opportunity to render slide show in Full-HD (1920x1080) resolution. Features Simple user interface The user interface is kept simple, to let the user do the important things - customizing the slideshow. On the left hand side the user can set the motion start point. The motion end point can set up on the right hand side. In the center you can see tool buttons that gives acces to convenience functions to customize the motion path. In the lower area are listed all used pictures in a real filmstrip. This list supports images to be inserted, removed and moved. Above the filmstrip are the settings for the currently selected picture. Slideshow settings The project properties dialog allows to set up the aspect ratio and an audio file for the background music. There is an option to specify the total duration of the slideshow. Either by a custom value or by the length of the choosen audio file. Overview Picture comments are generate into subtitle file Video output: AVI (XVid, MJPEG), FLV special feature is Full-HD resolution and MPEG4 output background music for the slideshow automatic detection of picture rotation (extracted from EXIF) Picture effects like "black and white" and sepia Quality settings for each output renderer command line ...

2,495
Aug 07, 2020
Jens Göpfert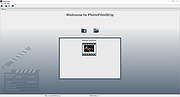 QuickLook v3.7.0
QuickLook v3.7.0 Bring macOS "Quick Look" feature to Windows. QuickLook allows the user to peek into a file content in lightning speed by just pressing the Space key. Windows, on the other hand, does not has this handy feature … until now. Highlights Tons of supported file types Fluent design (new in version 0.3) Touchscreen friendly HiDPI support Preview from Open and Save File Dialog Preview from 3rd-party file managers Easy extended by plugins Strict GPL license to keep it free forever Hotkeys and buttons Spacebar: Show/Hide the preview window Esc: Hide the preview window Enter: Open/Execute the current file Mouse️, ↑, ↓, ←, →: Preview another file Ctrl-Wheel: Zoom in/out images Wheel: Increase/decrease volume Supported File Types Almost all image formats: .png, .apng, .jpg, .bmp, .gif, .psd, Camera RAW, ... Compressed archives: .zip, .rar, .tar.gz, .7z, etc. .pdf and .ai file Almost all audio and video formats: .mp4, .mkv, .m2ts, .ogg, .mp3, .m4a, etc. Comma-separated values file (.csv) Email and Outlook Email files (.eml and .msg) HTML files (.htm, .html) Markdown file (.md, .markdown) All kinds of text files (determined by file content) ...and even more with the help of installable plugins Changes: 3.7.0 Changes macOS-like hold-to-preview: hold the Spacebar for a longer time to peek into file contents. #955: fixed delay when dragging the preview window on Windows 11. #948: slowness when previewing ...

1,616
Sep 22, 2021
Moe Poi