Kega Fusion v3.64
Kega Fusion v3.64 Fusion is a Sega SG1000, SC3000, SF7000, Master System, Game Gear, Genesis/Megadrive, SVP, Pico, SegaCD/MegaCD and 32X emulator for Win9x/ME/2000/XP/Vista/Win7/Win8/Win10 This emulator has very low system requirements, allowing you to run games smoothly even on an old PC.

2,970
Jun 28, 2019
Steve Snake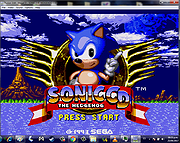 Unofficial Windows 98 Second Edition Service Pack v3.64
Unofficial Windows 98 Second Edition Service Pack v3.64 Microsoft has never released a service pack for Windows98 SE but this contains all Windows98 SE updates from Windows Update site and more. Instructions: Prerequisites: Minimum 64 MB of RAM for Main Updates. 160 MB free hard disk space for (ALL) options. Installation Guide: [1] Install Windows 98 Second Edition (with or without 98lite).* [2] Install all drivers for your hardware. [3] Install Internet Explorer (any version).* [4] Install latest DirectX 9c.* [5] Install latest Service Pack 3.x (Main Updates).* [6] Install optional components of Service Pack 3.x.* [7] Install MS Office.* [8] Install KernelEx, 98SE2ME, Revolution Pack.* [* = Optional] Before installing U98SESP3.EXE make sure that: 1/ You have the original w98SE installation disc. It will change core system files. It means that if something goes wrong you must be prepared to reinstall windows from the beginning. Sometimes installing U98SESP3.EXE after a fresh install is working normaly while it failed on an old install. 2/ You made a back up of all important datas. It's extremely unlikely that an error forces you to reinstall windows and eventualy to reformat thus to erase your hard drive. But for the sake of safety, please do it! 3/ You made a back up of your system files A copy of the "windows" and "Program Files" directories, at least the "windows" directory, preferably on a second physical hard drive or on CD or DVD or an external drive. This is usefull to revert back to a prior w98se install which was already updated and functioning well. Restoring windows 98 can be done simply be recopying all the system files back to their original location, in dos mode. The easiest way is to use a second physical (not a partition) and internal (not USB) hard drive. It's aslo a good idea to make sure a copy of the registry has been automaticaly preserved in the system files you backed up and to know how to restore the registry in ...

8,626
Dec 06, 2019
PROBLEMCHYLD