MeshLab v2020.07
MeshLab v2020.07 The open source system for processing and editing 3D triangular meshes. It provides a set of tools for editing, cleaning, healing, inspecting, rendering, texturing and converting meshes. It offers features for processing raw data produced by 3D digitization tools/devices and for preparing models for 3D printing. 3D Acquisition: Aligning The 3D data alignment phase (also known as registration) is a fundamental step in the pipeline for processing 3D scanned data. MeshLab provides a powerful tool for moving the different meshes into a common reference system, able to manage large set of range-maps. MeshLab implements a fine tuned ICP one-to-one alignment step, followed by a global bundle adjustment error-distribution step. The alignment can be performed on meshes and point clouds coming from several sources, including active (both short- and long-range) scanners and 3D-from-image tools. Visualization and Presentation The visualization features of MeshLab (including Decorators and Shaders) can help in graphically present the peculiar characteristics of a 3D model. It is possible to control the camera perspective/orthographic view parameters, and use predefined canonical views. MeshLab also offers a high-resolution screenshot feature, extremely useful in creating a graphical documentation of a survey. 3D Acquisition: Reconstruction The process of transforming independent acquisitions, or point clouds, into a single-surface triangulated mesh can be fulfilled with different algorithmic approaches. MeshLab provides several solutions to reconstruct the shape of an object, ranging from volumetric (Marching Cube) to implicit surfaces (Screened Poisson). Color Processing MeshLab can manipulate the vertex and face colors using a series of photoshop-like filters (gamma, saturation, brightness, contrast, levels, smoothing, sharpening). Automatic filters are available to calculate Ambient Occlusion and Volumetric Obscurance and to map it to vertex or face color. It is also possible to explicitly write color functions, to highlight specific characteristics of the 3D model. MeshLab also offers a painting interface for vertex colors. Scalar values, possibly the ...

2,485
Oct 11, 2020
Visual Computing Lab ISTI-CNR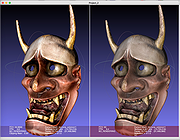 Pixopedia XE v2020.07
Pixopedia XE v2020.07 Pixopedia is a portable painting and image editing program. Freeware Rewritten from the scratch (again). New features, new GUI. Fast Intel IPP filters. New drawing engine. OpenCV filters and image processing routines. Still adding new features. Dock/undock possibility added to right bar tools: by double-clicking on the top header to undock/dock active tool. Stamp brush browsing and loading changed to more user friendly mode. Stamp brushes can be rotated. Selected stamp brush can be rotated on the fly, either by using fixed angle (jitter, cumulative +, cumulative -) or by dynamic angle (follow the stroke). Blur brush tip added to procedural brushes that use static brush tip (solid, hair, parallel) . New brush type added: pump brush. Similar to image nozzle, but it works with stamp brush collection packed in one file. Load from file option added to assistant images. If image has alpha channel, alpha channel will be used as a mask. Spread action->Stroke warper->Color picker mode->Step with brush color scheme mode moved to the bottom of radio-group. Bugs in previous version (resolved and fixed): Bug when invoking "Analyze me gently…" extra menu entry. Program throws "floating point operation exception". Fixed. Bug when rendering text shapes: does not render drop shadow although the shadow is on. Fixed. Bug when loading multi-layer image (extensions: ien, lyr, psd): program throws error when drawing on layer(s). Fixed. Bug in settings->rendering modes: regardless of user choice, automatic rendering mode is always on. Fixed. ...

2,162
Mar 22, 2021
Siniša Petrić