Buttercup v2.9.0
Buttercup v2.9.0 Cross-platform, free and open-source password manager based on NodeJS. Buttercup is a password manager - an assistant for helping you store all of your login credentials. Buttercup helps you keep your accounts safe and assists you when you want to log in - all you need to do is remember just one password: your master password. This is the Desktop application in the Buttercup suite, and there's also a mobile app and browser extension so that you can access your credentials anywhere. You store your credentials (login information) in a secure archive, which can then be stored on your own computer or any of our supported cloud services (like Dropbox, for example). Archives are encrypted using the AES specification, and cannot be read by anyone besides those with the master password. Brute-force decryption is not technically possible. You should not share your archive with anyone, but rest assured: your contents are safe. Why you need software like Buttercup Many of us have 10s or 100s of accounts, and it would be crazy to secure these with 1 or 2 passwords. Why? If an attacker gains access to one of the systems you have an account with, your password there may be easily stolen - if an attacker gets this it's highly likely they will try to log in to other accounts you have with the same password. If you're using the same password on more than one site, you risk having several accounts stolen if any one of them is breached. Buttercup helps you by remembering all of your passwords, and because you no longer have to remember them yourself, you can use different passwords for every single site. Protecting your details Buttercup provides a secure way of storing your details, but it is only as secure as how you treat your master password and ...

1,041
Jun 21, 2021
Perry Mitchell & Sallar Kaboli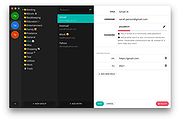 Sophos Virus Removal Tool v2.9.0
Sophos Virus Removal Tool v2.9.0 Infected with a virus? Unsure whether your existing antivirus software has detected and removed it? Still having problems and unsure where to turn to next? Sophos Virus Removal Tool can help. Using cutting edge technology found in our enterprise-grade software, this powerful tool detects all types of malicious software on your computer—including viruses, spyware, rootkits and Conficker—and returns it to a working state. The tool has direct access to virus data from SophosLabs, our global network of threat researchers, ensuring that even the very latest viruses are detected and removed. And it works alongside your existing antivirus. Here's how Download the tool, run the program and put the Virus Removal Tool on your desktop. Double click Sophos Virus Removal Tool and then click the Start scanning button The tool scans your computer and removes any viruses it finds You're done What it does With more than 100 million global users our Sophos Virus Removal Tool includes the same great security features available in our Sophos Enduser Protection solution: User memory scanning and cleaning Kernel memory scanning and cleaning File scanning When you run it, the Sophos Virus Removal Tool will identify and remove malware from a single Windows endpoint computer. The tool comes with the latest identities included. In order to stay current with the latest detections, the tool should be downloaded again when a new scan is required. Compatibility Windows 7 and above At least 256MB of RAM 80MB of disk space Click here to visit the author's website.

435
Apr 09, 2021
Sophos Ltd.