Desktop Info v2.7
Desktop Info v2.7 This little application displays system information on your desktop. Looks like wallpaper but stays resident in memory and updates in real time. Perfect for quick identification and walk-by monitoring of production or test server farms or any computer you're responsible for. Uses very little memory and nearly zero cpu. Everything is customisable including language. Features: Display every kind of metric about your Windows system Extensive display and data formatting options Bar charts and line charts Monitor files, registry keys and event logs Custom WMI queries Visual alerts Arithmetical expressions External command execution, Powershell etc Clickable controls Small memory footprint Low priority cpu Adjustable transparent background Fonts and colors configurable Pull data from http server Log raw data to csv files Display text from a file Display registry values Graphic Banner Screen saver Up to 9 pages of information Supports multi-display configurations Application logging to text file and/or Windows Event Logs Full multi-byte, Unicode multi language support Supports all Windows versions from 2000 onwards Comprehensive reference manual Much more… Desktop Info v2.7.0 Released 6 July, 2020 Change 1: Added an Export tool to the context menu. This exports all active, non-hidden items to a file using the selected template file. The menu is populated with files found in the templates directory. You can hide it by setting menu-export in the [text] section to blank. The ...

1,965
Jul 06, 2020
Glenn Delahoy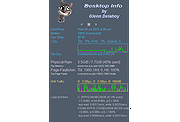 Dual Monitor Tools v2.7
Dual Monitor Tools v2.7 Dual Monitor Tools is a software package for Windows users with dual or multiple monitor setups. All the tools are open source and free, and each tool is independent so you only need to install or run what you want. The tools currently available are: Cursor - restricts cursor movement between monitors Launcher - launches and position applications Snap - takes snapshot of primary monitor Swap Screen - hotkeys to move windows around Wallpaper Changer - changes wallpaper Changes: 5 Jun 2018 - release 2.7 DMT Wallpaper changer image fill method is more configurable. Wallpaper changer properties show a few more details. Wallpaper changer updated for change to Unsplash website. Wallpaper changer can now enable/disable providers from grid. SwapScreen SDA option to put (transparent) border on outside of SDA.

5,939
Nov 19, 2019
Dual Monitor Tools