Anagram Generator v2.4
Anagram Generator v2.4 1. Creates anagrams and lexigrams. 2. Generates reverse dictionaries. 3. Word search / crossword solver function allows wildcard searches against dictionary. 4. Allows you to see if your phone number spells anything interesting. 5. Searches for palindromes. 6. Search for words that rhyme with other words. Ideal for song writers, musicians and poets. 7. Includes English, French, German, Italian, Japanese, Dutch and Spanish dictionaries. 8. Solves Jumble puzzles. 9. Saves all results as txt files for future viewing/editing/printing. 10. Non-encrypted dictionaries allow full customisation of words if required. 11. Manually edited English dictionary trimmed to generate interesting anagrams at a much faster speed. 12. Can be installed portable to run from removable USB devices. This software supports Windows XP/Vista/7/8/8.1/10.

1,850
Oct 30, 2019
Softology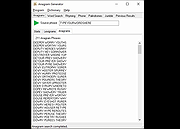 Public DNS Server Tool v2.4
Public DNS Server Tool v2.4 Public DNS Server Tool is a small utility for changing the DNS servers in Windows XP, Vista, 7, 8, 8.1 and 10 on the fly. In the past few years, many public DNS servers have been made available for everyone's use. Some of them are Cloudflare DNS, OpenDNS, Google, Norton, Comodo Secure etc. These DNS servers offer many security and protection layers in addition to being very fast. Even though these public DNS servers are available for everyone's use, setting up DNS servers in Windows is not an easy task. Therefore, I have created this little tool Public DNS Server Tool, using which you can easily set the domain name servers in Windows. It has been tested to work in Windows XP Professional SP3 (32-bit), Windows Vista SP2 (32-bit), Windows 7 (32-bit), Windows 8 (64-bit) and Windows 10 (32-bit). You can use a Public DNS Server Tool to quickly switch to a preset pair of public DNS servers. Currently, it has sixteen preset pairs of DNS servers — Google Public DNS Cloudflare DNS Verisign DNS OpenDNS OpenDNS FamilyShield (blocks sites inappropriate for family) Yandex Basic DNS Yandex Safe DNS Yandex Family DNS Norton ConnectSafe A (blocks malicious sites) Norton ConnectSafe B (blocks malicious sites + pornography sites) Norton ConnectSafe C (blocks malicious sites + pornography sites + non-family sites) Comodo Secure DNS (blocks malicious sites) Neustar General Neustar Threat Protection Neustar Family Secure Neustar Business Secure Backup and Restore Public DNS Server Tool allows you to backup your DNS server settings. To ...

1,894
Oct 16, 2019
TrishTech.com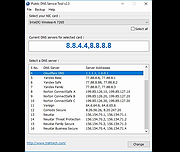 Steam Cleaner v2.4
Steam Cleaner v2.4 Steam Cleaner is a tool that will remove large amounts of data left behind by Steam, Origin, Uplay and GoG. This tool can clear up gigabytes of data in a few seconds. There is no configuration needed, simply run it and it will detect all your installed games and then some. Changelog: Steam Cleaner v2.4 Signs the binary since it was having issues on Windows 10 with smartscreen. Adds Rainway button to the main UI. Click here to visit the author's website.

2,291
Jan 30, 2020
Andrew Sampson