eDEX-UI v2.2.5
eDEX-UI v2.2.5 eDEX-UI is a fullscreen, cross-platform terminal emulator and system monitor that looks and feels like a sci-fi computer interface. Heavily inspired from the TRON Legacy movie effects (especially the Board Room sequence), the eDEX-UI project was originally meant to be "DEX-UI with less « art » and more « distributable software »". While keeping a futuristic look and feel, it strives to maintain a certain level of functionality and to be usable in real-life scenarios, with the larger goal of bringing science-fiction UXs to the mainstream. It might or might not be a joke taken too seriously. Features Fully featured terminal emulator with tabs, colors, mouse events, and support for curses and curses-like applications. Real-time system (CPU, RAM, swap, processes) and network (GeoIP, active connections, transfer rates) monitoring. Full support for touch-enabled displays, including an on-screen keyboard. Directory viewer that follows the CWD (current working directory) of the terminal. Advanced customization using themes, on-screen keyboard layouts, CSS injections. See the wiki for more info. Optional sound effects made by a talented sound designer for maximum Hollywood hacking vibe. This download is for the Windows version. If you need the MacOS version, download here. If you need the Linux Arm version, download here. If you need the Linux i386 version, download here. If you need the Linux x86_64 version, download here. eDEX-UI v2.2.5 Hotfix release Changelog af78a65 fix: upgrade geolite2-redist, close #941 a445205 feat: audio, video and pdf reader (#953) by @ghost-in-the-machine-86 @KjartanOli Q&A Can you disable the keyboard/the filesystem display? You can't disable them (yet) but you can hide them. See the tron-notype theme. Why is the file browser saying that "Tracking Failed"? (Windows only) On Linux and macOS, eDEX tracks where you're going in your terminal tab to display ...

800
Dec 22, 2020
Gaby - GitSquared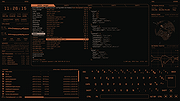 Extra Keys Pro v2.2.5
Extra Keys Pro v2.2.5 Type any accented characters for French, German, Spanish, Portuguese, Italian, Scandinavian and many other languages. Also Cyrillic, Greek and many other special symbols. This small Windows only desktop tool enables easy input of letters and symbols that may not appear on your normal keyboard. This is simply an alternative to to other methods such as the Windows character map. Many people have found Extra Keys a convenient, easy option and it requires no configuration changes to your system. Using the mouse, each letter will be typed directly into the selected application, at the current cursor position. The character is also copied to the Clipboard. In some situations, typing directly into another program may not work but the character can still be inserted by simply using Paste. Choice of 'key sets' - offers characters from the Western and Eastern European 'Latin' range, Cyrillic, Greek, Georgian and Armenian alphabets. Certain symbols may already present on some keyboard layouts, but are not readily accessible on other international layouts. When the characters are entered into your your application, most will display correctly with common Windows fonts. A few will need recent font file versions or an appropriate font choice. Safe to use - Extra Keys synthesizes keystrokes, exactly as if entered from the real keyboard. It does nothing else and does not interfere with the target applications in any way. Independent of the Windows operating system, it needs no special installation. Small, simple and minimal - the on-screen panel of keys is designed to be as compact as possible. A 'more/less' button enables rapid switching between display of alphabetic characters only or an expanded panel to add punctuation marks and special symbols. The program itself is also very small in memory, despite including its own embedded character font. Quick to access - the button panel window minimizes ...

581
Mar 31, 2021
Deeproot Software